Randy Jackson Drafts All-Star Team Of Artists For 'Randy Jackson's Music Club, Vol. 1'

Grammy-winning producer, virtuoso musician, hit songwriter, legendary A&R executive and, of course, lovable
American Idol
judge -
Randy Jackson
has called upon every aspect of his staggering career to produce
Randy Jackson's Music Club, Vol. 1
, his first solo album, which is due March 11, 2008, on his new label, Dream Merchant 21, and released through the Concord Music Group.
The album includes a stellar ensemble of artists and features the return of fellow Idol judge
Paula Abdul
who's track "Dance Like There's No Tomorrow" is her first release of new music in over a decade. Other guests on the album include Idol standouts
Katharine McPhee
and
Elliot Yamin
, U.K. phenom
Joss Stone
, country trailblazer
Travis Tritt
, pop-rock hitmaker
Jason Mraz
, ace country songwriter-producer John Rich (of
Big & Rich
), R&B luminary
Sam Moore
and
Bon Jovi
guitarist-harmonizer
Richie Sambora
. Randy also works once more with the incredible
Mariah Carey
who guests on the gospel track "Understand" along with
Bebe Winans
and
Hezekiah Walker
, Kim Burrell & Rance Allen. The collection also features major up and coming talent such as the wonderful Barbie Esco on the track "My R&B" and Kelli Selah on "Who's Gonna Love You Now" among many others.
With the release of
Randy Jackson's Music Club, Vol. 1
, Jackson has created a record he likens to "listening to a great radio station," albeit one that kicks down the walls of conventional formatting. Touching on R&B, pop, country, blues, hip-hop, rock, jazz, fusion, gospel and more, Jackson - who produced all the tracks, demonstrates his facility with virtually every modern musical style. "I didn't want to make it all one genre, because that's not who I am," Jackson insists. "There's something here for every listener."
"I'm really pleased that a bunch of wonderful, talented people showed up," Jackson said of his experience producing
Randy Jackson's Music Club, Vol. 1
. "I'm really blessed by the way it all came together."
The native of Baton Rouge, La., was recently named Senior A&R Consultant and Producer for Concord/Stax - which is apt, given that the Stax label's gritty, indelible R&B hits were among his earliest influences. "Growing up in the South, I loved
James Brown
, Motown and Stax," he remembers. "So working with Sam Moore of
Sam & Dave
has been incredible."
Moore, for whom Jackson produced the Grammy-nominated album
Overnight Sensational
, sings the blues classic "Wang Dang Doodle" on
Randy Jackson's Music Club, Vol. 1
, assisted by young lions
Keb Mo
and
Angie Stone
. "I always say the greats just get better," Jackson reflects. "Sam sounds better than ever, and he's in his seventies now."
He expresses gratitude to Idol for bringing him together with Elliot Yamin and Katherine McPhee. "When people hear them sing on this track," Jackson declares of 'Real Love', "they're going to be completely blown away."
Jackson adds that his Louisiana upbringing instilled in him not only a love for all kinds of music, but also a disregard for genre barriers; as he grew up, he came to adore the
Beatles
,
Jimi Hendrix
,
Led Zeppelin
,
Hank Williams
- in his words, "every kind of music known to man."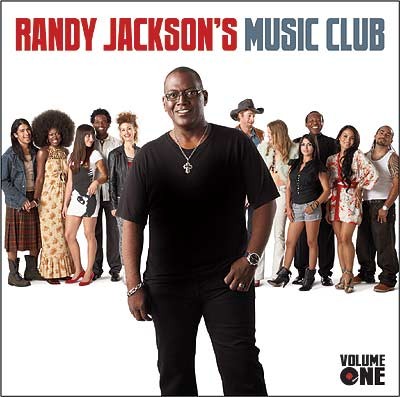 "I love people who break boundaries and always create something new and fresh," he points out. "I'm still true to my Southern roots." The disc's Tritt-Sambora collaboration, "Willing to Try" and the producer-musician's work with John Rich underscore this restlessly inventive Southern sensibility.
He describes
Randy Jackson's Music Club, Vol. 1
as "a great way to announce my new label, hear from some great established and new artists, and share a little musical history," adding "in a way, it's autobiographical - it covers a lot of my life experience."
That experience, of course, includes session and touring work with a who's who of popular music, 15 years as a major-label A&R executive and a sterling track record as a producer. Over the years, Jackson has worked, in one capacity or another, with Aretha Franklin, Mariah Carey,
Whitney Houston
,
Celine Dion
,
*NSYNC
,
Madonna
,
Elton John
,
Bruce Springsteen
,
Bob Dylan
,
Journey
,
Billy Joel
,
Herbie Hancock
,
Destiny's Child
and countless others.
"After everything I've done, I wasn't dying to make a solo album," the tireless music maker admits. "But this was an opportunity to bring together an amazing roster of artists and make a kind of potpourri of all the things I love. At the end of the day, I'm a song guy - and working on these songs has been a way to express my passion for music, which has never been stronger."
"Dance Like There's No Tomorrow":
Quicktime
|
Windows
Complete track listing:
1. Dance Like There's No Tomorrow - featuring Paula Abdul
2. Something To Believe In - featuring Jason Mraz,
Van Hunt
&
Jon McLaughlin
3. What Am I So Afraid Of - featuring Keke Wyatt, Trisha Covington & Kylie Dean
4. Just Walk On By - featuring Joss Stone &
Three 6 Mafia
5. Home - featuring John Rich, Anthony Hamilton & Sara Watkins
6. Wang Dang Doodle - featuring Sam Moore, Keb' Mo' & Angie Stone
7. Like A - featuring Crunk Squad
8. Who's Gonna Love You Now - featuring Kelli Selah
9. My R&B - featuring Barbi Esco
10. Real Love - featuring Katherine McPhee & Elliott Yamin
11. Willing To Try - featuring Richie Sambora, Travis Tritt &
Lucy Woodward
12. I Understand - featuring Bebe Winans, Kim Burrell, Rance Allen, Mariah Carey & Hezekiah Walker & The Love Fellowship Tabernacle Church Choir
(Streaming audio and/or video links may expire without notice)