'Raising The Bar': South Park Spoofs Honey Boo Boo & Cartman Gets A Mobility Scooter In Latest Episode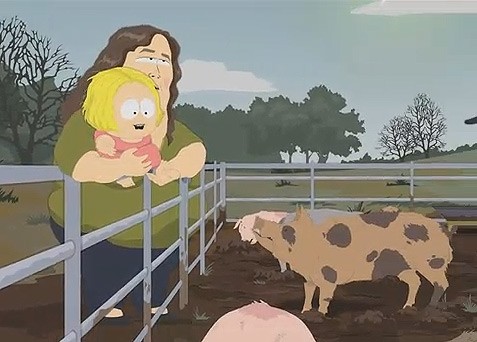 South Park is set to take a crack at Honey Boo Boo in an all-new episode airing Wednesday night at 10pm on Comedy Central.

The Toddlers & Tiaras star goes to a pig farm to pick out a pig for its heart in the episode titled "Raising The Bar"; and Cartman gets himself a mobility scooter after he admits he's obese, deciding that it's his right to do so, claiming that "Lady Gaga and Adele are right" that our culture "celebrates anorexia."

But it may, in fact, be Kyle who gives Cartman the idea to get the scooter after a trip to "Wall-Mart," where they see two very obese people riding through the aisles.

How does Honey Boo Boo (her real name is Alana Thompson) play into all this? Cartman and Alana end up becoming bitter rivals over something.

Find out what happens tonight at 10pm on Comedy Central; and check out the teaser clips from the show below.


Co-creators Trey Parker and Matt Stone are Executive Producers, along with Anne Garefino, of the Emmy® and Peabody® Award-winning "South Park." Frank C. Agnone II is the Supervising Producer. Eric Stough, Adrien Beard, Bruce Howell and Vernon Chatman are Producers. "South Park's" Web site is www.southparkstudios.com.