Rainn Wilson Stirs Controversy With Date Rape Joke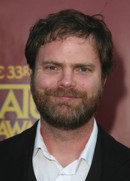 Comedian Rainn Wilson has vowed never to joke about date rape again after coming under fire for a crude remark he posted on Twitter.com on Monday.

The Office actor, 46, caused a stir when he tweeted, "if I were ever date raped, I would want it to be to 'Whole Lotta Love' by Led Zeppelin."

But his comment did not sit well with his followers and they immediately began bombarding him with complaints

The controversy prompted Wilson to delete the tweet and he tried to smooth over the incident by issuing an apology on Tuesday.

He wrote, "Apparently my poorly conceived date rape tweet upset a lot of folks. Not a good topic to joke about. Sorry and won't do that again."