Rain Enters The South Korean Army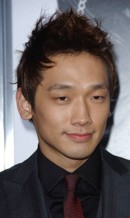 South Korean singer Rain fought back tears on Tuesday as fans gathered to bid him farewell ahead of his two years compulsory service with the army.

The star, real name Jung Ji-Hoon, has turned his back on his lengthy music career to serve in the military, as all able-bodied South Korean men are required to do for at least 24 months.

Rain gave a salute to fans as he entered an army base just north of the capital Seoul and became tearful as he told them, "Thank you for the 10 years of love."

Onlookers waved banners of support and cheered on the star as he stepped into the compound, where he will undergo boot camp training, according to the Associated Press.