Rage Against The Machine's Tom Morello Creates Comic Book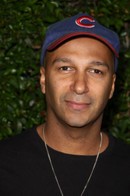 Rage Against The Machine star Tom Morello has teamed up with comic book bosses at Dark Horse to create a new graphic novel series, called Orchid.
 
The first issue of the rocker's new publication will hit comic book stores in October.  Orchid is a futuristic fantasy tale about a teenage prostitute living in a world full of ferocious new animal species.
 
He's not the first rocker to team up with Dark Horse for a comic book line - the firm also gave My Chemical Romance frontman Gerard Way the chance to realize his dream of becoming a graphic novelist when bosses released his The Umbrella Academy series.

Scott Hepburn has signed up to illustrate Orchid and street artist Shepard Fairey will provide an alternate collectors-item cover for the first issue.