Raekwon: 'Cee Lo Green Is Playing My Pops'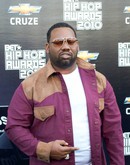 Singer Cee Lo Green is set to show off his acting skills by playing the father of rapper Raekwon in the hip-hop star's biopic.

The Wu-Tang Clan star recently penned his memoirs, and is planning on turning them into a big screen project, which will detail his early life in New York up to his rise to fame.

Green will play his dad in the movie, entitled C.R.E.A.M., and Raekwon has promised a whole set of stars will make up the film's cast.

He tells XXL Magazine, "Cee Lo Green is playing my pops in the film. Cee Lo is going to play Raekwon's old dad! He's a good friend of mine. When I called him and told him about it he was just overwhelmed."

"He's just one of the greats that are going to be on the project."