Radiohead Signs On With New Anti-Ticket Scalping Company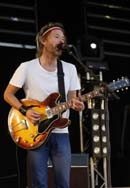 British rockers Radiohead have signed up to a new ethical ticket sales scheme to protect their fans from unscrupulous scalpers.

The "Creep" hitmakers will tour extensively across the globe this year, and now concertgoers who buy tickets through the band's fan club can resell their seats to other fans at cost price through Ticket Trust if they are no longer able to make the date.

The musicians hope the partnership will stop the sale of tickets on secondary websites for inflated prices.

Chris Hufford, of the band's Courtyard Management company, says, "Radiohead are fortunate enough to have a loyal and passionate fan base. In recent years, however, the band's enjoyment of their own shows has been marred by the knowledge that many of their fans have been obliged to pay well over face value for their tickets.

"Secondary ticketing is wrong on so many levels and as management, with ultimate responsibility for the welfare of the band, we must ensure that their fans are treated fairly."