Rachel Weisz Cosmetics Ad Banned In Britain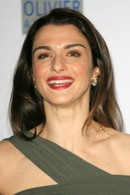 A cosmetics commercial starring Rachel Weisz has been banned in the U.K. after officials at a watchdog group ruled the L'Oreal ad misrepresented what the product could do.

Scottish politician Jo Swinson complained to the Advertising Standards Authority about the L'Oreal Paris Revitalift Repair ad, claiming it "misleadingly exaggerated" the performance of the product because Weisz's skin was digitally altered to make it look smoother, and officials have upheld the complaint, stating the commercial can no longer air in its current form.
 
ASA bosses have also ordered L'Oreal chiefs to avoid using techniques to misrepresent what their products can achieve.

In response to the ruling, Swinson says, "The beauty and advertising industries need to stop ripping off consumers with dishonest images. The banning of this advert, along with the previous ASA rulings banning heavily retouched ads featuring Twiggy, Julia Roberts and Christy Turlington should act as a wake-up call."
"Thankfully the advertising regulator has again acknowledged the fraudulent nature of excessive retouching."

A representative from L'Oreal insists they "sought to represent Rachel Weisz as favorably as possible and therefore every effort had gone into ensuring the most flattering set-up."