Rachel Nichols Books Christmas Flights Well In Advance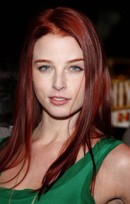 Actress Rachel Nichols has learned to book her flights home well in advance of the holidays after once celebrating Christmas Eve alone in an airport.

The Hollywood star lives in Los Angeles throughout much of the year, but when the holidays approach she always heads back east to be with her family in Maine.

However, the Star Trek beauty now allots herself more travel time after missing out on her favorite traditions last December when her plane was grounded due to poor weather conditions.

She tells WENN, "I'm from Maine. I eat apple pie for breakfast. I was trying to fly home from L.A. but my flight was canceled - there was (bad) weather in New England. I was able to fly to Boston (Massachusetts) but I missed my connection and by the time I landed in Boston, it was already technically Christmas Day.

"My parents had driven from Maine to come and pick me up and it was so cute because my mom brought a little cooler and she put it in the car and it had wine and cheese and bread and salami in it so that on the way home I could sort of do our Christmas Eve thing... I'm 31 but I still like going to bed on Christmas Eve and waking up in the morning."