Rachel Bilson: Skirt? Check. Bra? Check. Blouse…Blouse?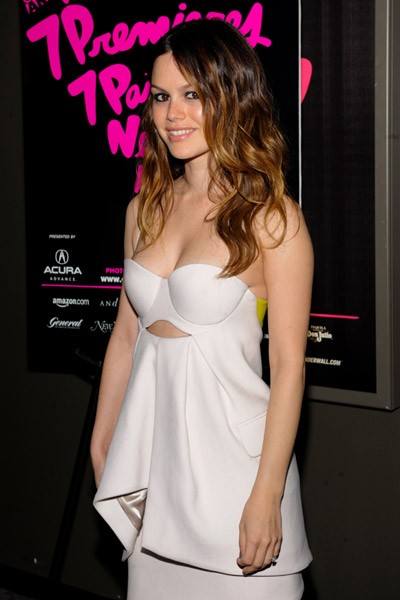 Rachel Bilson brought some sex appeal to last night's premiere of "Waiting for Forever" at the 15th Anniversary of the Gen Art Film Festival. But we're not sure what's going on with the bustier-inspired dress. What do you think?

Directed by James Keach, the film stars Bilson, Blythe Danner, Richard Jenkins, and Tom Sturridge.  It centers on Emma (Bilson) and Will (Sturridge), who play long lost best friends—or so Emma thinks. When her mediocre TV show is canceled and news of her father's illness spreads, Emma's forced back to her hometown, where she meets a new set of unexpected struggles that challenge her to redefine the meaning of family, love and how we live our lives.

The 15th Anniversary of the Gen Art Film Festival presented by Acura is comprised of seven features and seven shorts from emerging filmmakers, and allows directors, media, and audience members to share in the excitement.  Each premiere is followed by an after party, with the second night's party being held at SL. Other venue hot spots hosting the films' after parties throughout the week include Avenue and Hudson Terrace. Featured actors in the films include Adrian Grenier, Josh Radnor, Timothy Olyphant, Carla Gugino, Scott Caan, and Amy Sedaris, amongst others. 
Tickets and information on the films can be found at www.genart.org/filmfestival/newyork/2010
See more photos of Rachel here!