Rachael Leigh Cook, Scott Wolf Preview 'Perception' Season Finale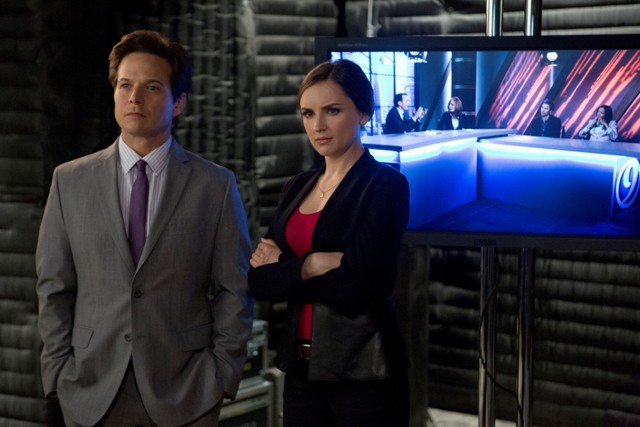 Their characters might be splitsville on TNT's Perception, but Rachael Leigh Cook and Scott Wolf get along famously. The charismatic pair - who play FBI agent Kate Moretti and her AUSA ex-husband Donnie Ryan on the drama - joined BFTV recently to dish on the season finale, which puts both characters in hot water, and if there's any chance for fresh sparks between the former spouses.
What did Rachael think when she got the news that Scott would be playing her ex? "I was thrilled that he took the job, of course. Please," she gushed. "Like, nobody in town has a better reputation than Scott Wolf. Nobody. He's a wonderful actor. He's perfect for the part. We're so, so lucky that he happened to be free."
Scott returned the favor when telling us about Rachael. "It was actually super-easy," he said of how he created such a great rapport with her. "She's such a great actor and a really cool person, and despite the fact that our characters had evety reason to have difficulty with each other, I really felt that [chemistry] right from the beginning. It's either there or it's not I suppose.
"I think the two of us just understood these two people and what they meant to each other," he continued. "There's a lot of stress between the two of them on some level [but] there's always this sense of their chemistry with each other. I never felt that I had to work at it."
There's a lot going on for both Kate and Donnie in the Perception closer, which once again stretches over two weeks, so we asked Rachael and Scott to tell us what they consider the highlights of the upcoming episodes. "I can't say that about anything that I'm in," quipped Rachael. "I'm excited for [the audience] to see this journey that Scott's character goes on in terms of our perception - every pun intended - of him. Where he sort of is able to reveal himself as the man of character that he truly is over the course of these next couple episodes in particular.
"There's a beautiful scene that I got to do with Scott where he has the opportunity to take advantage of a vulnerable situation and he doesn't," she explained, calling that moment "One of the most intricately acted that I think I've ever seen in two seasons on the show."
"I think probably the same thing," Scott agreed. "These last couple episodes are, just in terms of the case and what's at stake, pretty huge and everything is on the line, especially for Kate. She potentially jeopardizes her entire career and her life. There's huge implications for the characters.
"The thing that I'm proud of, too, is this culmination of a season long journey between Donnie and Kate," he continued. "In the beginning it was always hard to understand what Donnie's motives were. But there's a real honest attempt at redemption here. It's why I love to act, is to play scenes like the one Rachael was just talking about, and I think this show does it beautifully. The characters are so full and the stories are so human."
In two seasons, Kate's already had an interesting love life. How does Donnie stack up against her season one love interest, Dr. Michael Hathaway (Jamie Bamber)? "You don't hear me complaining. Nobody does," Rachael said with a laugh. "What can I say? The casting department has impeccable taste. Both guys are great actors who are not difficult to look at. And just like nice people too. Everyone who's been on the show, everyone's just really good people. It's a great group to have as your de facto family."
Given the quality of the work that Rachael and Scott are doing, despite the history between their two characters (we haven't forgotten that cheating thing), it's hard not to wonder if he ought to stick around for awhile longer. We asked both actors to weigh in on whether or not they think Kate and Donnie might get back together. 
"It's certainly laid the groundwork for that to be possible," Rachael commented. "We don't know what's going to happen any more than the audience does."
"As an observer of the story, I'd give it 50 percent," said Scott, but then he added, "As the guy that plays Donnie, I'm going to say 80." We've got our fingers crossed that he's right.
The two-part Perception season finale begins tonight at 10 PM ET/PT on TNT.
(c)2013 Brittany Frederick. Appears at Starpulse with permission. All rights reserved. No reproduction permitted. Visit my official website and follow me on Twitter at @tvbrittanyf.