Race Matters: Is Hollywood Truly Color Blind When It Comes To On-Screen Romance?

In John Grisham's bestselling novel "The Pelican Brief," investigative journalist Gray Grantham and law student Darby Shaw uncover a political conspiracy and in the process, end up between the sheets. In the
1993 film version
, Darby Shaw (played by
Julia Roberts
) and Grantham merely share a chaste hug in the film's conclusion. What happened between page and screen? One theory: In the novel Grantham is white; in the film, he's portrayed by Academy-Award winning - and black - actor
Denzel Washington
.
The stigma of interracial relationships in cinema can be traced back to the 1934 Motion Picture Production Code (or Hays Code), which forbade portrayals of "miscegenation" (sexual relationships between whites and blacks) on screen. Though the 1967 film
Guess Who's Coming to Dinner
(
Sidney Poitier
,
Katharine Houghton
) broke new ground, interracial relationships were still a rarity by the time
Spike Lee
released
Jungle Fever
(
Wesley Snipes
,
Annabella Sciorra
) 24 years later.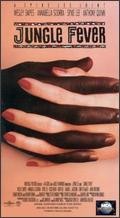 It would be disingenuous to claim that no progress has been made since that time; actors of color and relationships of all varieties are being shown on film in ways that weren't possible half a century ago. Still, in a town that prides itself for its liberalism and tolerance; in an industry that claims the only color it sees is green; when it comes to interracial relationships - especially those where the male actor is black - has Hollywood come far enough?
There is an old joke that lonely bartender Isaac (Ted Lange) on television's "The Love Boat" (1977) never got any action until a black actress came on board. Take Denzel today: When not romantically paired with black women, Washington is usually without a romantic lead (
Courage Under Fire
,
Fallen
,
Virtuosity
,
Man on Fire
,
Remember the Titans
, etc.) or trapped into roles that require him to play asexual opposite white leading ladies (The Pelican Brief,
The Bone Collector
). The same is true of
Will Smith
, who somehow didn't connect with the comely
Bridget Moynahan
in 2004's
I Robot
(ironically set in the future) and Wesley Snipes, who got no love from
Yancy Butler
in
Drop Zone
(1994).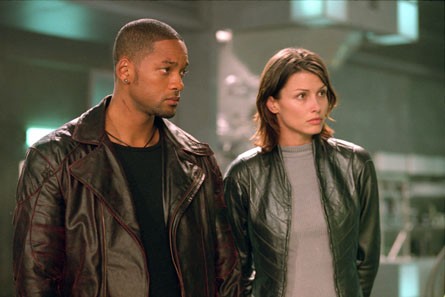 No love between Will Smith & Bridget Moynahan in I, Robot.
With a handful of exceptions, most examples of black actors paired romantically with white actresses take place in films where the subject matter directly concerns race.
Dennis Haysbert
played the taboo object of affection for 50/60's era middle-class white women in
Love Field
(
Michelle Pfeiffer
, 1992) and 2002's
Far From Heaven
(
Julianne Moore
).
Julia Stiles
was paired with both
Sean Patrick Thomas
and
Mekhi Phifer
in 2001, but those films -
Save the Last Dance
and
"O"
respectively - also focused on race-relations. From
Blazing Saddles
to
Purple Rain
to
Hairspray
- the list goes on. Even
Monster's Ball
, in which
Halle Berry
won the 2001 Best Actress Academy Award opposite on-screen love interest
Billy Bob Thornton
, touches on issues of racism and emphasizes the duo's "unlikely" romance.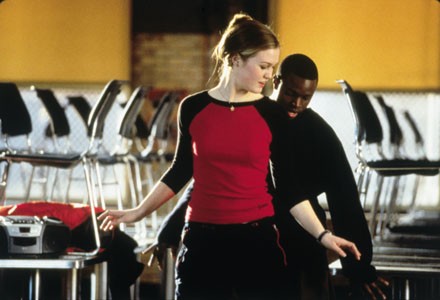 Julia Stiles & Sean Patrick Thomas in Save The Last Dance.
So, is it impossible in 2008 to have characters falling in love without their respective racial backgrounds being written into the script? It was for one film in 1962: "No Strings" was a musical that featured black actress
Diahann Carroll
opposite
Richard Kiley
, who was white. No issue is made of race and their relationship dissolves due to other reasons. The same is true of 1992's box-office hit
The Bodyguard
, which wasn't memorable cinematically but is noteworthy for the fact that the racial difference between lovers
Whitney Houston
and
Kevin Costner
is never even mentioned.
Of course, it's widely acknowledged that in terms of color casting, there is a double standard: Historically, Hollywood has been less squeamish about portraying interracial relationships between black women and men of other races. Halle Berry romanced
Pierce Brosnan's
Bond,
Benjamin Bratt
in
Catwoman
, and white costars in
Swordfish
,
Flintstones
and The Rich Man's Wife. Yet, for every
Die Another Day
, there's a
Bulworth
(which makes issue of race) or an
Eraser
(in which the chemistry between
Vanessa Williams
and
Arnold Schwarzenegger
is never acted upon).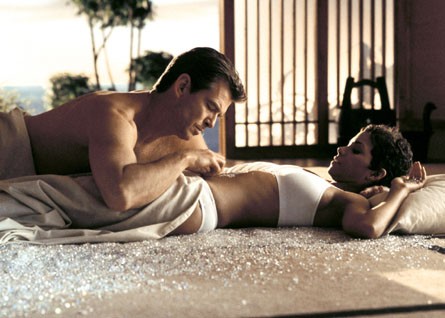 Pierce Brosnan & Halle Berry in Die Another Day.
Black actresses aren't the only women affected by color casting. One can't ignore the
Eva Mendes
factor: It seems when Denzel isn't married to a black woman, single or "just friends" with his white counterparts, he is cast opposite Cuban-American actress Eva Mendes, who portrayed Washington's wife in both
Training Day
and
Out of Time
. "In Hollywood logic," Mendes told the
L.A. Times
, "To pair a black woman and a black male makes a black movie. A white woman and a black male becomes a little controversial. It's much more acceptable to have a Latin woman with a black male."
As confirmation, see
Jennifer Lopez
opposite Wesley Snipes in 1995's
Money Train
,
Rosie Perez
with Spike Lee in
Do the Right Thing
(1989) or Will Smith with - you guessed it - Eva Mendes (
Hitch
, 2005). While it's refreshing to see more Latinas on screen and in varied relationships, the pathology behind this particular casting trend bears closer examination.
In terms of being romantically pigeon-holed on film, Latina actresses are not alone: Their male counterparts, historically portrayed as criminally delinquent or sexually threatening, have had to endure negative portrayals opposite white women, seen as far back in the silent picture "The Girl and the Greaser" (1913) or as witnessed in the rape of
Ally Sheedy
by
Esai Morales
in
Bad Boys
(1983).
Not immune, Asian actors have also been marginalized when it comes to romance in Western film. While not demonized, they are consistently emasculated by being relegated to non-sexual roles:
Jet Li
gets to protect but not serve
Bridget Fonda
in
Kiss of the Dragon
(2001) and after
Chow Yun Fat
was cast in a role originally written for a "
Bruce Willis
type" in 1998's
The Replacement Killers
, all traces of the intended romance between him and
Mira Sorvino
were wiped from the script.
There are those who might argue that race is not the only factor. Many films cited here are action films and there have long been complaints that love scenes in this genre can seem out of place. Further, some might claim it's refreshing not to endure a sometimes-forced romantic subplot. Valid, but still: In
The Bourne Identity
, audiences didn't blink an eye when
Matt Damon
ducked bullets in one scene, then bedded
Franka Potente
in the next. Sexual attraction/encounters - even in the midst of a fight for ones life - is de rigueur on screen. American audiences have come to expect romantic entanglements as natural; therefore, it's glaring when single, attractive, adrenalin-fueled characters (regardless of race) don't give in to their basic human instincts. Typical Hollywood plot conventions shouldn't apply only to white actors.
It's 2008; with a historic presidential election looming and barriers for all people being broken on stage and screen, perhaps the real question is what leads big-budget Hollywood to continue its stubborn insistence that contemporary audiences will somehow find certain on-screen relationships unpalatable or offensive? In an era where color-blind casting is more possible than ever before, what is truly offensive is underestimating your audience.
Think things aren't this black and white?
Give us your take in comments!
Story by
Shannon Peace
Starpulse contributing writer