Quintessential Dinosaur Hunter 'Turok' Debuts On DVD Feb. 5

A great warrior in a lost land is about to find his destiny when
Turok: Son Of Stone
charges onto DVD for the first time February 5th from Genius Products and Classic Media.
Presented by The Weinstein Company, this Gold Key Production draws on the original 1950s comic book series, as well as influences ranging from
Frank Miller
to
Akira Kurosawa
, to create a dark, intense, epic reimagining of Turok®'s origin story. For the generation of fans who grew up on Turok video games as well as new devotees of the legendary franchise, this film is a chance to peer into the heart of the hero - and witness the birth of the legend. Turok gamers will love this return to the original story.
Timed to coincide with the property's landmark re-launch, the
Turok: Son Of Stone
DVD features the vocal talents of
Adam Beach
(
Flags of Our Fathers
,
Law and Order: SVU
),
Robert Knepper
(
Prison Break
),
Cree Summer
(
A Different World
) and Irene Bedard (
Pocahontas
).
Turok: Son Of Stone
is directed by Frank Squillace (
X-Men: The Animated Series
), Curt Geda (Marvel's
Ultimate Avengers
), Dan Riba (
Batman Beyond
).
Tad Stones (
Hellboy: Blood and Iron
) is supervising director. Evan Baily (
Invader Zim
) produced the film. Tony Bedard, whose credits include comic book series "Negation" and "Route 666," wrote the screenplay from a story co-written with Baily. Michael Uslan (
Batman Begins
) and Deborah Dugan are Executive Producers.
During 20 years in exile, Turok has become a powerful and feared warrior. He now returns home to find his village destroyed and his family slaughtered at the hands of the ruthless tyrant Chichak. On a mission of vengeance, Turok must journey to the Lost Land, a savage place forgotten by time, where primeval beasts hunt all who enter. Turok will face his greatest battle as he fights man-eating dinosaurs, merciless cave dwellers, and the darkness inside himself to take revenge on his sworn enemy. In this epic journey, Turok will find his destiny. In this Lost Land… A legend is born.
The DVD contains exclusive bonus materials including an in-depth look at the Turok property from comic book to video game and now an animated movie. The DVD also includes a commentary by the creators of the film.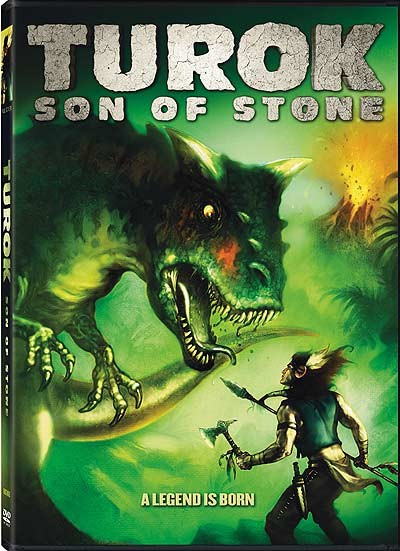 Special Features:
"Total Turok" - An in-depth look at the Turok property from comic book to video game and now an animated movie.
"Son of Stone Commentary" with Producer Evan Baily, Director Tad Stones, Director Dan Riba, Director Curt Geda, and Director Frank Squillace
About Genius Products: Genius Products, Inc. (OTCBB:GNPI), along with The Weinstein Company Holdings LLC, together owns Genius Products, LLC, a leading independent home-entertainment distribution company that produces, licenses and distributes a valuable library of motion pictures, television programming, family, lifestyle and trend entertainment on DVD and other emerging platforms through its expansive network of retailers throughout the U.S. Genius handles the distribution, marketing and sales for such brands as Animal Planet, Asia Extreme(TM), Discovery Kids(TM), Dragon Dynasty(TM), Dimension Films(TM), Entertainment Rights group companies (Entertainment Rights, Classic Media and Big Idea), ESPN®, IFC®, RHI Entertainment(TM), Sesame Workshop®, TLC, The Weinstein Company® and WWE®. Genius Products, Inc. is the managing member of Genius Products, LLC, in which it holds a 30% equity interest.
About Classic Media: Classic Media, an Entertainment Rights group company, owns, controls or manages some of the world's most recognizable brands across all media including feature film, television, digital, home video, and consumer products. The Company's extensive library features a diverse collection of popular animated and live-action characters such as The Lone Ranger®, George of the Jungle™ and Underdog®. Rights to Gold Key Comics titles including Turok®, Magnus Robot Fighter™, Doctor Solar™ and M.A.R.S.™ were acquired in 2001. Visit www.classicmedia.tv.