Queensryche Rocked Loud And Hard At Empire City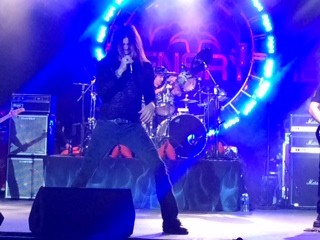 Queensryche rocked loud and hard and mesmerized the audience on the Empire City Casino concert stage in Yonkers, NY on July 20 with their wailing guitar licks, vocals and entertaining on-stage antics. This was my first concert at this outdoor venue, and it was definitely worth it!
For lead vocalist, Todd LaTorre; he's not only filling the shoes of former lead singer Geoff Tate, he's finally living his dream as a full-fledged rock icon.
LaTorre aimed to please; encouraging audience participation by enticing them to a sing-along while belting out many of Queensryche's classic hits, including, 'Silent Lucidity.' The crowd was really into their performance. They should be contenders for next year's Revolver Magazine's Golden God Awards!
There was not one bad seat in the house, and the evening was intimate and personal. The meet and greet was basically a stand and shoot, but everyone who attended didn't seem to mind, including myself. It was all part of the fun!
Many of Queensryche's songs I wasn't too familiar with except their famous hit, 'Silent Lucidity.' It didn't matter though, it added to the excitement of the evening!
The opening act had a weird name, Dead Fish Handshake. Their performance was impressive, but I think they could come up with a better name don't you? Afterward, I ran into the lead singer, Matthew Paul inside the casino of all coincidences and we talked for a bit and had our photo taken. Nice guy! I felt that Queensryche didn't really need an opening act. I thought they could stand out on their own!
Any concert at Empire City is highly recommended. The security is much tighter than any other venue I've been to, but you feel safe, secure, the crowd is very friendly and you'll have a great experience!
More information on Empire City Casino's Summer Concerts can be found here:
http://www.empirecitycasino.com/summerconcerts