Queen's Classic Wembley Stadium Show Streams Via YouTube To Mark Freddie Mercury's 65th Birthday (Watch It Here!)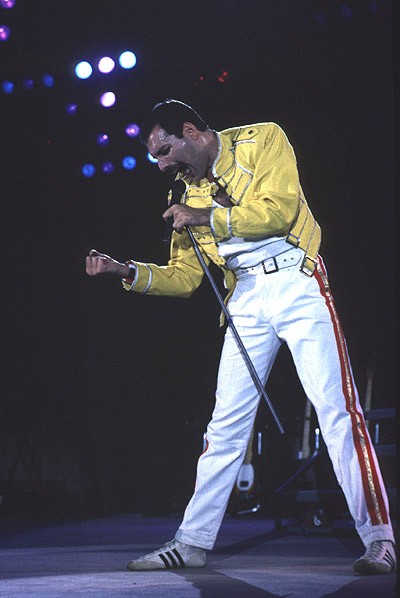 The Official Queen YouTube Channel is help raising awareness for the Mercury Phoenix Trust, a charity set up in late Queen lead singer Freddie Mercury's name back in 1992 to help raise money for the fight against HIV/AIDS around the world. September 5, 2011 marks what would have been Freddie's 65th birthday and the Freddie For a Day campaign is a way to honor the singer; whose untimely death rocked the world; and raise awareness for the global cause.

According to the Freddie For a Day website, the idea came from Mercury Phoenix Trust & London banker Liz Swanton, who decided to dress like Freddie for a day and ended up raising about $2000 for the charity. Now it's an annual event giving fans a chance to celebrate the flamboyant frontman's legacy by dressing like him or just wearing his iconic moustache (which you can get on the site or make your own).

Queen's "Live At Wembley Stadium" will stream in its entirety for 48 hours beginning September 5th on the band's official YouTube channel (watch it below!).

Head over to the official Queen YouTube page also to see the birthday wishes from his biggest fans, including Katy Perry, Foo Fighters drummer Taylor Hawkins, Smashing Pumpkins singer Billy Corgan and more.

Queen guitarist Brian May paid tribute to his former bandmate on his blog with a heart-felt message.

"Freddie would have been 65 this year, and even though physically he is not here, his presence seems more potent than ever. Freddie made the last person at the back of the furthest stand in a stadium feel that he was connected. He lived life to the full. He devoured life. He celebrated every minute. And, like a great comet, he left a luminous trail which will sparkle for many a generation to come. Happy birthday Freddie!" he wrote.

May also reflected on the first time the two met.

"I was first introduced to Freddie Mercury, a paradoxically shy yet flamboyant young man at the side of the stage at one of our early gigs," he writes.

"He told me he was excited by how we played, he had some ideas and he could sing! I'm not sure we took him very seriously, but he did have the air of someone who knew he was right."

The rock legend died from AIDS-related pneumonia in 1991 just a day after announcing that he had the autoimmune disease.
Here's the track listing for the concert:

1. One Vision
2. Tie Your Mother Down
3. In the Lap of the Gods
4. Seven Seas of Rhye
5. A Kind of Magic
6. Another One Bites the Dust
7. Who Wants To Live Forever
8. I Want to Break Free
9. Impromptu
10. Brighton Rock
11. Now I'm Here
12. Love of My Life
13. Is This the World We Created
14. Bohemian Rhapsody
15. Hammer To Fall
16. Crazy Little Thing Called Love
17. Radio Ga Ga
18. We Will Rock You
19. Friends Will Be Friends
20. We Are the Champions
21. God Save the Queen