Queen Of Rock Linda Ronstadt Writing Memoir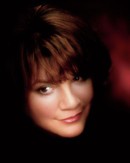 Veteran rock star Linda Ronstadt is opening up about her life in the limelight for her memoir.

The multiple Grammy Award winner-turned-activist will put pen to paper for "Heart Like a Wheel," named after her hit 1974 album.

Ronstadt, who was once dubbed the Queen of Rock, will detail her rise to fame and tell all about her love life with former California Governor Jerry Brown in the 1970s.

The autobiography, published by Simon & Schuster, will be released in 2013.