Queen Latifah's Father Bought Her A Gun At Age Five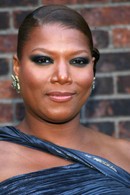 Queen Latifah learned how to protect herself at an early age after her dad bought her a gun when she was just five years old.

The R&B singer grew up in New Jersey with her older brother and together they were taught by their police officer father, Lancelot Owens, Sr., how to fend for themselves.

She tells TV host Jay Leno, "He bought us these guns! I was about five. Real guns. He bought me a German Luger (pistol) and he bought my brother a .38 Snub (nosed revolver). My brother was into the cowboy thing, so that kind of worked a little better for him. It was so cool."

However, the Chicago star admits the two were never in any real danger because her mom Rita quickly banned the guns from the house.

She adds, "That didn't last long, my mother snuck in and threw those guns right out the door. My mother had some sense, (she said), 'Get those guns away from my babies! What on earth Lance?'"