Qantas Strike Strands Dita Von Teese In Australia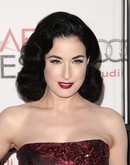 Burlesque dancer Dita Von Teese was caught up in travel chaos Down Under on Saturday after executives at an Australian airline grounded all flights over a strike dispute.

The sexy star has been on a promotional tour of Australia over the last week and was due to fly back to America when her work was over.

However, bosses at the country's Qantas airline grounded all domestic and international flights on Saturday due to ongoing industrial action by workers, and Von Teese found her journey disrupted.

In a post on her Twitter.com page, Von Teese writes, "Really Quantas?!? I thought I was finally going home to sleep in my own bed. Come on Qantas, get it together! How rude!!!!"

Von Teese managed to get a flight with another company, and later told her fans, "United Airlines saves the day!"

Kings of Leon rocker Nathan Followill was also caught up in the chaos, writing on his Twitter page, "Dear Qantas, u suck, thanks 4 f---ing up my trip 2 Oz. Joberg-Dubai-Sydney. 24 hours in the air. That's how much I love Oz."