Q&A: Zac Efron Says He & His 'Lorax' Character Are Hopeless Romantics, Kind Of Annoying & Pretty Funny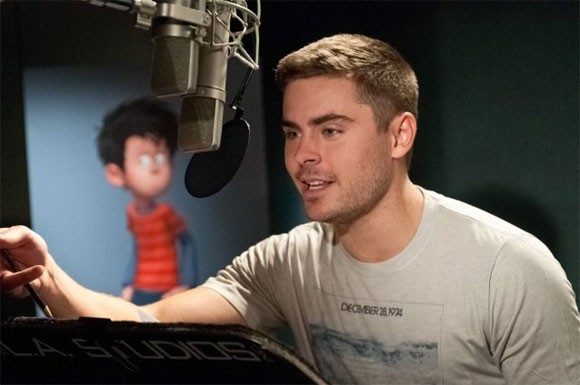 Zac Efron knows he's a hit with the high school contingent, and after three High School Musicals, they're growing up with him. Efron's done some more grown-up comedies like 17 Again and New Years Eve, and some drama in Charlie St. Cloud and Me and Orson Welles. Now he's going for an even younger audience.
The Lorax is Efron's first animated movie. He provides the voice of Ted, a young boy with a crush on Audrey (Taylor Swift). When Ted goes looking for the one last tree outside of town, he learns the story of the Lorax (Danny DeVito) and how an entrepreneur, The Once-ler (Ed Helms) talked the town into cutting down all its trees.
Efron met the press on the Universal Studios lot to talk about the film. Adapted from the classic Dr. Seuss book, the film is directed by Despicable Me's Chris Renaud and opens Friday.
Q: Do you have something in common with your character?
ZE: Yes, he's sort of a hopeless romantic. He's adventurous, he's persistent, he's stubborn, kind of annoying, pretty funny. He has a big imagination. I'd like to think I'm all those things. He learned that all for me. I taught him everything he knows.
Q: When you were 12 or 13 was there any cute girl down the block that you would fly your airplane plane into her yard, or any excuse to see the girl? What would you do?
ZE: I don't know. I had a babysitter named Brooke. I guess she was in high school so what was I? Was I 12 or was I younger? I had a big crush on her. She was really spontaneous and fun and loved to make us sing and dance and paint. I was like, "Gosh, she's the coolest person in the world!"  I guess I did have my young love.
Q: Did you do anything to impress her?
ZE: I did everything to impress her, everything possible. It was ridiculous.
Q: Ted just goes and risks his life practically to get this girl he likes a tree. Have you ever liked somebody so much that they wanted something bizarre and you went and got it for them?
ZE: Yes, sure. I like humor and spontaneity and something you wouldn't expect, so catching someone off-guard is always really fun. I'm a big practical joker and you can make those very romantic. Give them something funny or fun.
Q: Were you a Dr. Seuss fan from like way back and can you remember which book you first read either Dr. Seuss or any children's books?
ZE: Yea, I started reading them in high school. [Laughs] No, I have a lot of vivid memories of my parents and me reading these books. They would read them to me. It's frozen in my mind, I can see them all. I still have them in what used to be my room. It's been turned into a spare room at my house. I've been kicked out. My little brother took over my room.
Q: Was The Lorax in your childhood rotation?
ZE: It was. I was, yes. My parents read that to me a bunch when I was younger.
Q: When you were starting out in your acting career, is doing an animated voice something you wanted to do?
ZE: I always wondered if the opportunity would arise. I always hoped it would, dreamed it would. I wanted to try but everyone's voice is different. A lot of my friends do only voice-over work. It's crazy. I don't know if I have a voice for voice-over.
Q: Did you ask any advice from your friends?
ZE: Yeah, it's different. For me, I was trying not to make a voice so much as be my enthusiastic self. I don't have that many great altered voices that some people do have.
Q: What did you think of your animated character? At what point did you see it?
ZE: Early on I saw just a rough picture, it wasn't even computer animated yet. I had just seen sort of like a hand-drawn version. I really liked it. I thought it was cool. He seemed like your regular, spontaneous, too smart for his own good, young guy.
Q: How did you like the freedom of voicing an animated character?
ZE: I was nervous the first time. I was a bit self-conscious just because there is a camera on you and the microphone is so close. As with anything, you've just got to let go. You've just got to let go and don't be afraid to be crazy. I actually looked up a clip of Danny working on a previous project and saw how he was doing it. He's a wild man in there. He's a wild man! So the next time I went in there I said, "Screw it!" I went as crazy as possible and took it to the next level. It was fun.
Q: Danny DeVito did the voice of the Lorax in several languages. Have you seen yourself dubbed in other languages?
ZE: Actually, when we were doing High School Musical we did a big international press tour so we always wanted to hear at least a little bit of the movie in our voices. I'll never forget Italy and Spain, I think Corbin [Bleu] had the first voice and he had a beautiful, "Hola, como esta!" Vanessa [Hudgens] had a voice that sounded just like her. Ashley [Tisdale] had a very suave, cool voice. I got introduced and it was like, "Ay Dios mio." And I looked down the line and went, "Are you kidding me?" I thought I was being punk'd. I looked down the line and found out he was my voice. I guess he's the same guy that does the same voice even when you're young? Like you get assigned a voice when you're young? Usually that guy is older, so my voice is now a very, very high voice in Spain and Italy. I got to get on that.