Q&A: You Should Know Who 'Archer's' H. Jon Benjamin Is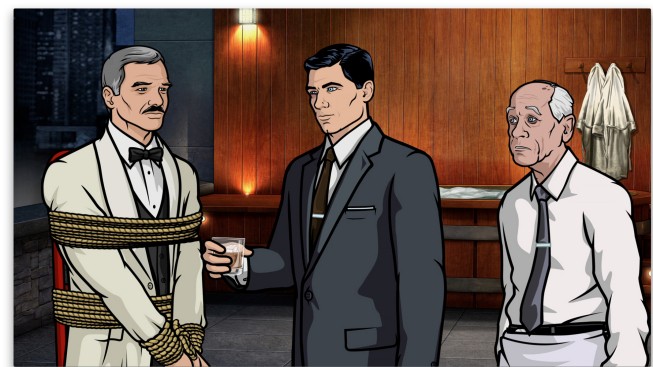 We move on to Burt Reynolds, who appears as himself in tonight's premiere.
"He was in it?" says Benjamin. "Oh man, no one tells me anything about this sh!t. That's great. I can't believe he's still doing stuff.  He should take a break.  It's been like 60 years.  Like just stop."
Seriously, though: "I think it was the natural...well, not the natural progression, but Archer's obviously referenced Burt Reynolds a lot, so I'm sure it popped into Adam Reed's head to just to try and cast him.  It's funny that I shouldn't be calling like these people and you must think like they'll never do it and then they're probably like, 'Of course, I'll do it.'"
Archer has referenced Burt Reynolds many a time (in the second-season episode "Pipeline Fever" for example), so actually meeting his hero should put a smile on his face. Is there anything else that would make Archer legitimately happy?
"Well, I don't think it would behoove the show for him to be happy, so I assume that will be avoided," he says. "I think, by nature, he's like a troubled character, so I don't think he'll ever be happy, but I got asked this recently, and I think my stock answer was that if his mother died. I'm not sure he'd be happy, but it would change everything for him and maybe he'd be happy. I just think that his mother created a lot of problems."
The conversation moves to what makes Benjamin happy about voicing Archer - namely, does he have a favorite line out of all Adam Reed's sharp, horribly inappropriate repartee?
"I really like doing [Archer's] answering machine messages because they're usually written out exactly as I do them.  They make me laugh every time because in real life I do that stuff.  So I like when he really f*cks with people on his answering machine.  That makes me giggle."
With everything Archer's done, which this season has included becoming a pirate king and will include going to space, one wonders if there's anything Benjamin would like to see on the show.
"There is so much, obviously, like spy world stuff to explore and I'm sure [Adam Reed] hasn't gotten to all the possibilities yet.  I guess I would want him to sing more, maybe.  Maybe start a band, like a really bad blues band or something.  You know, like Jim Belushi style."
At this point, with that visual in my head, I'm laughing so hard that soda comes out of my nose.
It takes me a minute before I can recover and ask my next question: how would Benjamin look in his alter-ego's 'tactical' black turtleneck?
"I can't imagine I would look good," he tells me. "I don't think anybody does.  Archer does look good and maybe Sammy Davis Jr. looked good and a few more, but I think nowadays it's probably a huge fashion faux pas to be walking around like that, unless you like work at a club called Turtlenecks."
The obvious question is saved for last: one can't discuss Archer without asking if Benjamin gets flak for its adult content. He says he does. Or does he?
"Sometimes, I'll be walking down the street and someone will say 'f*ck you,' sometimes, but I don't know if that's about the racy subject matter or not."
And that's how we end the conversation. This is H. Jon Benjamin: on-screen, he's the world's best secret agent (allegedly), but off-screen, he's the world's funniest human being (definitely).
Now that you know who he is, you can enjoy his humor for yourself as Archer premieres tonight at 10 PM ET/PT on FX. Stay tuned for my recap after the episode airs.
(c)2012 Brittany Frederick/Digital Airwaves. Appears at Starpulse with permission. All rights reserved. No reproduction permitted.