Q&A With 'Modern Familys' Julie Bowen, Ty Burrell & Jesse Tyler Ferguson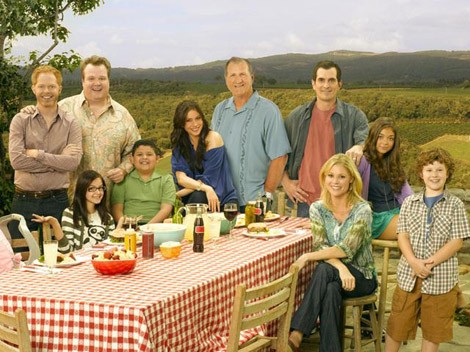 The cast of ABC's hit new comedy Modern Family earned another place in television history last week, presenting a panel at the Paley Center for Media's Paleyfest 2010. Every year, The Paley Center honors several TV shows with a night of screenings and panel discussions, giving fans a chance to meet the stars of their favorite shows.
On Modern Family's night, we got to speak with two of the three families on the show on the red carpet before they entered L.A.'s Saban Theater. First, Ty Burrell was kind enough to walk the red carpet backwards, so folks at the end of the line could get some interviews while the big camera crews shot video at the front. He plays Phil, the well meaning but goofily inept father of three.
What crazy shenanigans are coming up for Phil?
Ty Burrell: Man, almost too many to remember. All kinds of crazy stuff. Just more of the same. I will say that it's been really fun because I think the fact that the show has done well, the network and the studio have been really open to letting us kind of go out into the world like a family would. So we're getting to go to different [places], branch out a little bit so it's been really fun.
Phil tries so hard and he means so well, but he keeps missing a step. Will Phil ever be right?
TB: I hope not. I truly hope not. I would hate it if all of a sudden Phil became like expert and a tremendously perfect parent. I think he gets some things right even now, but just he's got to usually wade through quite a few mistakes to get to something good.
I'm thinking give him just one win.
TB: I think he's had his wins. I think his anniversary, he's a great gift giver. There are a couple others. He's had a couple. He's just not typically the guy who gets everything right.
Are you prepared for Phil to be the role you are forever known for?
TB: If that is the case, I certainly wouldn't be sad about that because I think he's a lovely, lovely character to play. I could certainly choose worse as far as if that was going to be a legacy but I think the good thing there is that I've played enough bad guys that this is in a way balancing out some of the other stuff that I've done. We'll see what happens from here. To answer your question, I would be okay with it.
Julie Bowen plays Phil's wife Claire. She has a little bit more savvy to deal with the kids, but even she gets it wrong, and hilarity ensues. You might also recognize her from shows like Boston Legal or Lost, on which she played Jack's wife in flashbacks. She looked Hollywood glamorous in a black dress with only a strap on the right shoulder, not the left.
You look fabulous. Is this your non momwear?
Julie Bowen: This is my non momwear, yes. This is Julie left the house for the first time in a month.
Claire is a stylish mom, isn't she?
JB: Claire doesn't like to wear sneakers apparently. I'm fighting for her to wear more sneakers but yeah, TV people are always going to be a little bit more pulled together than non-TV people. But she's pretty casual.
Did you just find out when you saw Lost last Wednesday that Jack had a son?
JB: Yes. Yes. Yes. Totally shocked. Like I almost fell over.
Did you have any theories about your relationship to Jack that this now contradicts?
JB: No, that's my kid.
How much time is there to get you back on the show?
JB: Not much time, tick tick tick tick tick. I don't know, maybe I'll come in the end, it'll be the last scene, you'll find out I was the smoke monster or the polar bear.
Well, we know you're not smokey.
JB: That's right, that's right, that's right.
But in that alternate present, you should be there.
JB: I know. Well, in an alternate present, anybody can be anywhere which is how they're getting all these people back on anyhow, right? So I could be there. There's no excuse. You're right, there's just no excuse.
Now Phil and Claire seem think correctly, yet kids defy logic, don't they?
JB: That's true. No, that is very true but I think that's true of most of life, that kids defy you. My children are really little so I'm not exactly sure, but I don't think that anybody's best laid plans are thrown aside.
But they're teaching good lessons, like the burned couch. If that had actually been the kids, they should have learned that lesson.
JB: Yeah, but that's what makes it a fun TV show and not actually real life. If it was really the lesson learned, then it would be sort of a very special episode of I don't even know what, something from back in the '80s. I'm really glad we're not doing that show.
We hear there's a vacation episode. What brings the family to Hawaii?
JB: Jay's birthday. It's Jay's birthday so we all go.
What crazy shenanigans happen there?
JB: I have no idea. We have the table read for it on Tuesday, so I'll find out then.
Is that the season finale?
JB: No, it's not. We're shooting out of order. We're actually shooting the season finale next week.
What other crazy shenanigans can we look forward to?
JB: It sounds so small and yet it is so much. A standoff. A full family standoff like in a Quentin Tarantino movie. Like all three legs of the family, so that's six people plus kids, 7, 8, 9, 10 all having a standoff and I'm not going to tell you why.
Are you prepared or do you think Claire will go down as Julie Bowen's definitive role?
JB: Boy, I would have no problem with that. I mean, every time I get a job, I can't believe it and I assume it's my last so I am absolutely thrilled. If it's Claire. If Claire is what people remember me for, thank God. So be it.
Jesse Tyler Ferguson plays one spouse in Modern Family's gay couple. In an age where gay couples are still fighting for the right to marry, it's an important TV milestone to feature them so prominently on the air. Ferguson plays Mitchell, the more straight laced and neurotic spouse to his more free spirit partner, Cameron.
How important is this great portrayal of the gay couple to you?
Jesse Tyler Ferguson: Oh, it's very important to me. I take it very seriously and I'm thrilled that I get to play this part. I love that I have the responsibility. I love Mitchell and Cameron and I think if I was watching the show, I would be jealous because I wasn't playing one of those characters. Here I am, I get to play one of them.
It shows they have the same problems as anyone else, right?
JTF: I know, isn't that great? What I love most is when straight couples come up to me and a guy'll be like, "Oh, my wife is totally Cameron" or "I'm totally Cameron." You always here, "I'm such a Claire or I'm such a Phil" but straight couples are actually putting themselves into our molds and that's great.
It's personality type, which goes beyond gender, right?
JTF: I think that people are humored by them and they kind of forget, people who had reservations about a gay couple, I think they kind of forget that they are a gay couple and they just enjoy Cameron and Mitchell. So I think we have the opportunity to make some huge strides with them.
Yet, they have sexual interests. Cameron's a horndog.
JTF: He is a horndog. On set and off, if you know what I mean, wink wink, nudge nudge.
But it's nice they can have that. They're not just the happy safe gay couple.
JTF: No, absolutely not and we're always pushing them to go further with that. It's small steps but I'm really excited with the direction they're going.
Mitchell's really gotten through to his father since the series premiere, hasn't he?
JTF: That's awesome because for me, I have a similar relationship with my dad so it's very poignant to me and I think it's very real as well. There are a lot of fathers who are very accepting of their gay children, but to what degree? There's that point where they aren't uncomfortable anymore. I think that's very real and very poignant. There's no reason to shy away from that relationships. There's a lot of comedy to be mined from that too. I mean, it can be very serious but the writers have done a really great job of taking that situation and making it very humorous and sweet.
But it's not just Jay's wrong all the time. Mitchell has his issues too.
JTF: Oh, Mitchell can be really tough absolutely. Mitchell's a tough cookie as well. He's definitely a product of his parents.
How does it feel to be part of the show that's coined the phrase "moon landing?"
JTF: Oh, right, right. That was monumental. That's the biggest honor we've had, that we have coined that phrase. I haven't had a moon landing yet. I've never had a moon landing. It seems a little far fetched but you know what? It could happen, I guess.
What's coming up?
JTF: I get stuck in my apartment with a wild pigeon which I'm terrified of, so that's a fun episode.
You already work with a baby. Why add animals?
JTF: I know, I'm a little terrified.
Is there a trained pigeon that can perform those stunts?
JTF: It's Los Angeles. They have something for everything. There's some company I'm sure that just specializes in trained pigeons somewhere.
How does Cameron deal with the pigeon?
JTF: He's abandoned me. He's actually singing in a friend's wedding so I am stuck with this pigeon by myself and he's not helping me, so yeah.
Erik Stonestreet plays Cameron, the proud father who holds his adopted baby up like The Lion King and dresses up as Fizbo the clown. He actually spoke the landmark phrase "moon landing" when he touched butts with Jay (Ed O'Neil) in the locker room.
What did you think when you got the Fizbo script?
Erik Stonestreet: I still have the picture of the script on my phone. The day that came out, because I knew the clown episode was coming, but I didn't know it was going to be called Fizbo which was really, really, really amazing. Very excited, couldn't believe that I was getting the opportunity to sort of bring how I synthesize as a child my desire to perform. I didn't want to be an actor as a kid. I wanted to be a clown in the circus, so just the opportunity that I got to bring that to a television show for millions of people to see was a dream come true.
Would you do it again?
ES: Oh, for sure. I don't think there's any way possible that you have seen the last of Fizbo.
What's coming up?
ES: We're shooting the season finale then we have a week to go to Hawaii, then we've got a lot of episodes in the bank if you will, in the can is the Hollyood term. There's not really a can anymore because there's not film. It's in the chip. So there's a story where I join Dylan's rock band because their drummer goes missing and I play the drums, so I sit in for them for a night. There's an episode where Sofia and I have a date together because I try to make up to her for something kind of offensive that I accidentally said in front of her, so I take her out for an evening on the town which goes horribly, horribly, horribly wrong.
How does it feel to coin the phrase "moon landing?"
ES: Oh, I didn't coin it. Bill Wrubel, our amazing writer coined that. I thought it was a known term already, and then when I found out that they wrote that, I was just blown away. I was like you guys are incredible. Our writers are so good.
Have people reported their real moon landings?
ES: I have gotten lots of tweets and texts from people saying that they've had moon landings in coffee shops. Not bare moon landings but butts on butts.
How great has it been to show Cameron as the horndog in a gay couple?
ES: I appreciate you thinking that because a lot of people criticize that they don't think we're affectionate enough, but we think it's written into the part that there's a passion that Mitchell and Cameron have. I love the character. I love playing the character every day. It's just a great opportunity and I'm happy to champion whatever I can.
Modern Family airs Wednesday nights on ABC.
Story/Interview by Fred Topel
Starpulse contributing writer Follow more of Fred Topel's Hollywood observations on Twitter