Q&A: What's Next For 'The Voice's' Javier Colon?
Wednesday night, Javier Colon was crowned the season one winner of The Voice - and Thursday afternoon he joined me to start talking about what happens next! Here's what the Connecticut native had to say about being on the hugely popular series, his future plans and of course, the most important subject...his family.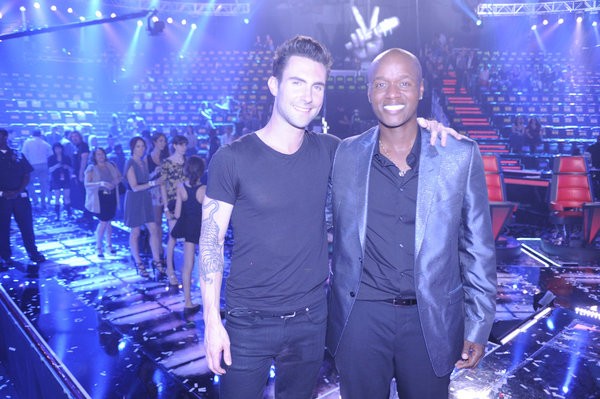 It's been less than 24 hours since your win. What have you been doing?
Javier Colon: There was a Voice wrap party that they had for us, which ironically was just right across the street from my old record label, Capitol Records. It was very strange to get out of the limo and then look across the street and there was the old record label.
It was a great, great night. We had a really, really fun time. We did some performances with some of the guys from the Voice band that are so amazing. We all got up there. We sang some Journey and Cee Lo [Green] got up there, Vicci [Martinez] got up there, Nakia, Curtis Grimes. A lot of the people from the top 16 were there too, which was really great. It was such a fun night.
What went through your head in that moment before you were announced? I can't begin to imagine what it must be like.
In that moment I was expecting Carson [Daly] to say "...and the winner of The Voice is Dia Frampton." That's what I was preparing myself for. I didn't think I was going to win; I just was preparing myself. I mean I've been through so much in the business. I have probably not the greatest habit of having either very low or no expectations at all based on just what my past experiences have been.
Dia is absolutely amazing. She's an incredible person, she's an incredible artist and if she had won I would have been extremely happy for her, and I would have completely supported her, I would have given her a hug and I would have told her how much I loved her. I would have supported her 100%.
And I really felt that that [was] what was going to happen. When he said my name I just honestly was in shock. I just couldn't believe that I had come so far and I actually won.
Even though everyone seemed to think you were the man to beat?
I knew what the talk was and I knew that folks were calling me the "frontrunner" or what have you. But it's just not in my nature to let that even seep into my brain for a second.

I knew how talented everybody was or is and I knew that basically you have to go out there and you have to perform your absolute best every week and if you don't you could be outsung or outperformed and you could go home. Even if you went out there and did your best you could still get outperformed or outsung and go home.

So the fact that people were saying things like that was really flattering but I mean it didn't seep in at all. I knew what my task at hand was and that was to go out every week and to focus on one song at a time and go out there and perform that song to the best of my ability. And that was the only thing in this competition that I myself could control.
Does this victory feel like validation for everything else you've been through?
It feels good. I'm a firm believer in what's meant to be is meant to be. I harbor no ill will towards Capitol Records or anybody in the building. I think everything happens for a reason. It just wasn't supposed to happen the way it did back then and I'm just glad that things came around and I was able to make it work this time. And I'm you know, hell bent on making sure that it works this time.
I think that back when I was with Capitol there was kind of a push to try to make me someone that I was not. I thought they were trying to kind of pigeon hole me into just a straight, strict R&B genre when I thought that it was more of a pop singer-songwriter kind of vibe. I felt at the time they didn't know where to put me with regards to the marketplace and genre. But I'm just glad that this time around I'm going to have a chance to be myself and to really show folks who I am.
Do you know yet anything about this new album you'll be working on?
The timeframe is going to be September from what I was told. And the type of album that I'm going to make is going to be kind of a mixture. I'm a singer-songwriter at heart. It's probably going to be more of a singer-songwriter pop thing. It's going to be kind of like a cross between you know, James Taylor meets Maxwell meets John Mayer meets like Babyface if that's possible.
With respect to the album, my goal is to have as much creative control as possible. I'm looking forward to working with the record company and I do think that they have hopefully the same artistic vision that I have, much more so than in my previous situation. I've learned from my mistakes from the last time in allowing folks to kind of, you know, steer me in the right direction instead of leading the way. And I'm going to make sure that I'm a bit more vocal about things if it's not something that I agree with.
But I'm really pleased with the folks that are at the label and how they have been so far. And I'm looking forward to working with them and I'm sure that things are going to be great.
The obvious question is if you'll continue to work with your coach, Adam Levine.
Adam and I were at the wrap party yesterday and we talked a lot about that, about getting in the studio and either him producing a track, or at least us getting to work on writing a song together. He had some ideas and he wanted to share them with me so I'm hoping that we get to do that really soon. He's pretty busy with his upcoming touring schedule and things like that, so I want to try to get together in the next few weeks to try and work out something.
I love working with him. I love singing with him. Singing "Man in the Mirror" with him was amazing. I thought our voices blended really well together and I'm looking forward to getting together with him on some more music in the future.
It seems like he was the perfect coach for you.
He was very animated when I was up there [during blind auditions], almost distracting at times when I was playing because he was trying to get Blake to [push his button]. And he was just jumping up and down and he just made it very clear that I was really important to him and that he wanted me to be on his team. And that spoke volumes to me and I was honored to be on his team.
How much did you interact with Blake Shelton? He was also very complimentary toward you throughout the show.
He's awesome. I spoke to him at length last night as well as with Miranda Lambert, his wife. And they are just such down to earth people. I absolutely love them. I'm actually going to send him a couple songs that I had written that I wanted to get his feedback on.
He welcomes everybody with open arms. Obviousoly, his artist was Dia, but he was just so friendly and so genuine with all of us. He's just an amazing guy and it's great to have gotten the chance to meet him though I didn't get a chance to work with him.
I think this with all the coaches. They are who you see. Adam is the same way - he's such a genuine, nice guy.
And you've formed friendships with many of your colleagues. Presumably you'll stay in touch?
Absolutely. Throughout the whole process I have met folks that are just absolutely amazing, even when we first started the journey and there were like 70 or 80 of us before the blind auditions.
Thinking obviously most recently of our final four in Beverly, Dia and Vicci - I absolutely love them to death and I love them like sisters. And we just share a unique bond going through this experience together, all wanting the same thing, which is just to be able to better our lives, and to be able to do something that we love so much, just to be able to sing music, to play and share our music with the world. I'm sure we're going to be very close for a long time.
When I interviewed Dia, she said something really interesting - that if this had been season two and she had seen how big the show was, she wouldn't have auditioned. What did you think of it all when you realized just how huge this was?
I too had no idea how big this was going to be. It exceeded my expectations for sure. I don't think we had a clue as to how big this opportunity was going to be for us. Not only that but just how great of a show it was and how well received it was.
Every week that we went out there, especially for the live performances, it felt like we were doing Grammy type performances, with the fire and the dancers and all of my string section that I had for "Angel." They really were just pulling [out] all the stops and just doing everything they could to make these performances amazing and we just weren't expecting that.
I don't think anyone was expecting the show to be as successful as it was. We're so obviously just so happy that people liked it and we're happy to be part of season one.
You've talked openly about how important your family is to you. What's it been like bringing them along for this whole experience?
Family is the biggest piece of me. Family always comes first. I've got a beautiful wife and two little girls that are 3 and a half and 22 months, and they're my world. They are the reason that I live and breathe and the reason that it was so important for me to get my career going, because if I didn't, if this show didn't come along, I guarantee you by this time I would have been doing something other than music to support my family because the income just unfortunately wasn't enough.
[Winning] means everything. It's a new life. It means that I get to support my family doing something that I love. It means stability for my family. It means hopefully not having to not pay one bill one month so that I can pay another one that is more important or that is more overdue. It just means that I can take care of my wife and my babies and that means the world to me.
My thanks to Javier Colon for this interview! Check out our profile for more on Javier - and you can download all of his Voice singles on iTunes.