Q&A: 'Vampire Diaries' Star Candice Accola Gets Candid About Fang Frenzy, Co-Stars & More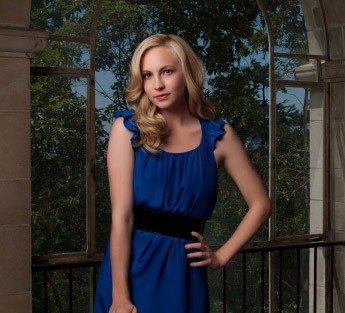 The Vampire Diaries
young starlet
Candice Accola
dishes with Starpulse about her very first television series. Revealing everything from her move to Hollywood at age 16 to the brilliance of the show's writers, she gives us the inside scoop straight from the down south set in Atlanta. The young actress is set to portray resident mean girl Caroline Forbes on the highly anticipated CW series premiering September 10.
Starpulse: How did you get started in this business? We heard you were a singer. How was the transition into acting?

Candice Accola: I moved to La when I was 16 and got record a deal with Maverick records-Warner Brothers. After I recorded the record they opened up the idea of auditioning and working towards getting into film and television as a way to market myself. I met a manager and I met with an agent and the more I started working the more I just really loved the job. So it just grew into its own thing and I never stopped and I love it more and more.
SP: Are there plans to try to incorporate acting and singing as you move through this career?
CA: I love making music. I don't want to necessarily become a performer and have Caroline be a singer on the show or anything. I definitely want to keep this separate. Music is more of my own thing in my own time. Right now I am really excited to be part of a series.
SP: On the show you play the character Caroline. We've heard she isn't the nicest girl. Any mean girl high school personal experience to draw from?
CA: Kevin Williamson (
Hidden Palms
,
Dawson's Creek
) and Julie Fleck, the writers of the show, did a really great job of giving everyone a character that has many layers. No, Caroline is not the nicest girl, but I think she is misunderstood. I had that experience in my school where there were always girls that weren't nice but there is a reason behind everything. I understood they weren't just being mean to be mean but they had other deeper issues that effected how they dealt with other people.
SP: "Vampire Diaries" has been portrayed very dark and romantic, but with a writer like Kevin Williamson there must be some great comedic moments. Does that affect your character?
CA: There are a lot of one liner-little nothings that happen that just fall out of Caroline's mouth. She doesn't think before she speaks so that brings a natural comedic quality to her character.
SP: Did you read the books in preparation for the series?
CA: At first I wanted to read the books, but after talking to the producers and the writers they are not sticking to it so much. We were kind of advised not to. I also didn't want to have a pre-conceived notion of who Caroline was when they were going to possibly write her in a different light. I opted not to read the books so I could find out who Caroline was on my own.
SP: What was it like working with the others actors especially series vets like Ian Somerhalder and Nina Dobrev?
CA: The whole cast-crew included get along great. Nina actually needed a place to stay after the pilot came out and she moved in with me so obviously we get along really well! The whole cast is getting together for barbeques at least once a week. Here in Atlanta my aunt and uncle have a lake house, and we have all gotten together there and gone tubing every weekend, even the producers! It is kind of disgusting how much we get along.
SP: Does what happens off set effect you on the set?
CA: (It) makes the process a little easier. There's that comfort to play around with the scenes. You can go there without feeling like the other person is going to judge you.
SP: You are filming in Atlanta. What are the advantages/disadvantages of working there?
CA: It's great to be back in the south, I am from Florida. Being in Atlanta has been really wonderful. Not only because it sets a different tone but no one really knows you. They aren't really pushing the marketing out here as much so it keeps us really humble.
SP: Is there anything we are going to see in the show that is unexpected based on the media that has been released?
CA: Yes 100%. I can tell you from a cast perspective that every time we open a script you hear gasps. We are shocked at everything that is coming up. The pilot is a beautiful introduction to the show. By episode two hold onto your britches!
SP: (Laughs) You really have been in the south saying "britches!"
CA: (Laughs) I've been drinking my sweet tea!
SP: With the success of "Twilight," "True Blood," and even "Buffy The Vampire Slayer's" continued cult following, are you a big fan of this vampire phenomenon?
CA: It is exciting to be part of this new wave of pop culture. I am a hug fan of the series "True Blood" - all of the cast is. A lot of the directors we are working with coming up in the next couple of shows have shot episodes of "True Blood" - exciting. It's also incredible what "Twlight" has become.
SP: As a new emerging actress who is doing the type of work would you like to be doing in the next 5 to 10 years?
CA: I love
Amy Adams
. She is wonderful.
Evan Rachel Wood
is a blast. I am also really excited about
Ari Graynor
from "
Nick and Norah's Infinite Playlist
" and "American Crime." I think it is an exciting time for young women in this industry. I am excited to make my own path.
SP: What is up next for you?

CA: I'm looking forward to new opportunities in the future. It is my first time on a series so I am focusing 100%.
SP: Any plans on how you are going to watch the premiere?
CA: We have all watched it a zillion times at this point. We are all just gonna get together and pop a bottle of champagne!
Check out "The Vampire Diaries" premiering Thursday, September 10, at 8 p.m. on the CW.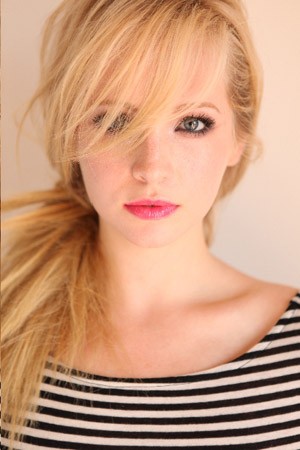 Image © Kate Romero
Interview by
Rebecca Kristen
Starpulse contributing writer