Q&A: 'True Blood' Snags A Talent In Kelly Overton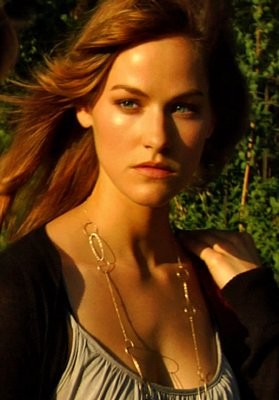 Tonight actress Kelly Overton joins HBO's True Blood as Rikki, the newest werewolf in Bon Temps.
Yet you should also know her from her guest-starring role as Detective Rena Yablonski on CBS' underappreciated medical drama Three Rivers, or a front-and-center part in one of the best episodes of the Eye's Cold Case. The Massachusetts native has a knack for performances that are memorable no matter the size of the role.
The True Blood part is particularly juicy for Overton given that she's a fan of the series. "I've been a huge fan of the show since day one," she told me recently. "I've seen every episode, so I was caught up on everything happening in Bon Temps. It's really amazing to be a part of something you love so much."
She can't say too much about the part, but here's what she can tell you: "I'm playing a new werewolf named Rikki. She's really tough, really resourceful, and pretty much the polar opposite of the damsel in distress.
"At the end of season four, the pack master has been killed, so at the beginning of season five, I'm pretty determined to figure out what happened.
"Being a wolf is unlike anything I've ever done before," she added. "Working with real wolves has been exhilarating. They're so amazing. They're these beautiful, brilliant animals and they're great to work with."
It's the latest addition to a resume with plenty of notable TV appearances. In 2007, she guest starred in the Cold Case episode "Blood on the Tracks," where she was a former 70's radical turned suburban wife who elected to murder her husband rather than let him go to the cops about a past crime. It's been five years and I think I've just now forgiven her for blowing up Jamie Bamber, who played her husband.
"He's just the sweetest guy. He was really a joy to work with," she said of Bamber, continuing, "That [episode] was pretty awesome. A good friend of mine directed that episode, Kevin Bray. He had directed a pilot I did for Joel Silver maybe a year before. And Cold Case, that's also how I first met Sam Trammell. It was so nice to have a reunion with him on True Blood."
Two years later, Overton snagged a key supporting role in Three Rivers as Rena, the estranged wife of series lead Andy Yablonski (played by current Hawaii Five-0 star Alex O'Loughlin). Though she was only in two episodes, Overton and O'Loughlin did a fantastic job of making the audience feel the history between their characters, and even hope for a reconciliation that sadly never happened.
"I loved, loved being a part of that show," she said. "That was one of my favorite jobs I've ever done. From my cast and my crew, and the storyline, and I loved working with Alex O'Loughlin [below right, with Overton and guest star Kari Coleman]."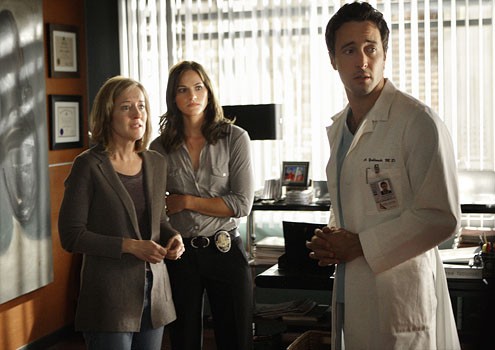 A future acting role she'd love to have? An appearance on Showtime's Homeland, one of her favorite series. "I'd love to work with them," she told me. Memo to executive producer Howard Gordon: cast this talented lady, ASAP!
In addition to her acting work, Overton is a multihyphenate behind the camera; she wrote, directed, produced and starred in the film The Collective in 2008, on which she collaborated with her husband, Judson Pearce Morgan.
"The longer I was in the business, it hit me that things are so accessible," she explained of how the project came about. "It's so much easier now with Final Cut and everything we can do on our computers, it dawned on me how easy it was to do. I was in New York and it really was kind of a passion project where it wasn't premeditated. It was very guerrilla style. We shot it in two weeks. We had no idea if anything, at the end of the day, was even in focus because we had never done it before. It was really just everything from scratch ourselves."
The experience "definitely kind of informed [me], being more aware of all the different aspects that go into storytelling. It has definitely enriched me in that."
With The Collective behind her, Overton sees herself as "definitely continuing to be an actor, no doubt about that. But directing and writing, editing and creating this whole movie, really kind of ignited a passion. It's easy to do. More than ever, we're at a time where you can create things yourselves. It's all about collaboration, and that's an art in itself too."
She might not have the biggest part in any project, but for Kelly Overton that's an afterthought: she makes something out of everything.
The Collective is available on DVD now. Three Rivers can be streamed on Amazon or downloaded on iTunes. For now, you can watch Kelly in the season premiere of True Blood, tonight at 9 PM ET/PT on HBO.
You can learn more about Kelly by following her on Twitter (@IAmKellyOverton). For more from Brittany Frederick, visit my Starpulse writer page and follow me on Twitter (@tvbrittanyf).
(c)2012 Brittany Frederick/Digital Airwaves. Appears at Starpulse with permission. All rights reserved. No reproduction permitted.