Q&A: Tracey Gold Helps Women In Need With 'Starving Secrets'
Tracey Gold has committed herself to shining a light on eating disorders - something she knows firsthand by having battled anorexia while in front of the camera as a television actress.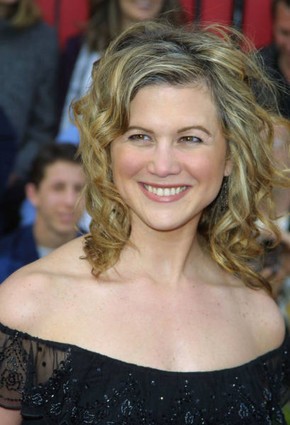 After nearly losing her life in a much-publicized battle with the condition, she bravely stepped into the lead role of a young woman with anorexia in the 1994 telefilm For The Love of Nancy, and became a public face for those struggling with eating disorders, speaking publicly about her experiences.
Now Tracey has partnered with Lifetime for the new series Starving Secrets With Tracey Gold, which aims to show a national audience the realities of eating disorders and their treatment, while helping women in need. In advance of the show's premiere next Friday (December 2 at 10 PM), she sat down with me to discuss what we can expect from the new series and why this remains such an important cause for her.
Let's start at the beginning: what can we expect from this show? We've seen a lot of these kinds of intervention-type shows, whether it's A&E's Intervention or something so out there like VH1's Celebrity Rehab.

What you can expect is a really deep, intense and honest look at what it's like to suffer from an eating disorder. It's not glamorous. It's a really raw, cold look at what an eating disorder really is - not the red carpet version.

You've always been dedicated to helping those with eating disorders, but what made you decide that a TV show was the way to go forward?

I've spoken at colleges and different organizations over the years since I've been sick, [and] I get so many people approaching me almost like it's this dark, dirty secret. I really thought there was a need to kind of shed a light on it, something that people could get a clear picture. Obviously, my format is TV, that's where I come from.
You created the series, executive produce it, and you host. Talk a bit about how much work that really is for you.
It's been two years of a labor of love. We started shooting this last January and the schedule was intense, because it was dictated by the women and the hospitals, which were all around Southern California. These women were in real treatment. Some of them are still in treatment today. The TV show was secondary; they were first.
I would say up until July it was continually shooting these episodes. Just intense and on the fly.
How did you balance the project with your marriage and family?
I have a really great work system. My husband and I have been together for 22 years and we make an awesome team. My parents live two miles away from me. It's just a great support system. I couldn't have done this without them.
How difficult was it for you to go back into this deeply personal subject and tackle it publicly yet again?
Interestingly enough, it was good. It was cathartic. It was something that you go in and you don't know, throwing yourself back into that world, how you're going to react. I found great strength in it.
I became the face of eating disorders for the 90's. I was outed when I was sick in 1992 and didn't know that my voice and my journey would mean so much to a lot of people. I have found that there's been many ways to help other women. This just felt like I could do it on a much bigger spectrum and reach many more people.
What will make you consider this series a success? Obviously it's not something you can measure by ratings.

I already consider it a success, because there are women out there who probably wouldn't have been alive today if they hadn't had the help that I offered them. To me that's success. A greater success would be for it to touch and reach people, and have them come away with a greater understanding of eating disorders.
What's next after this for you?
I have the show [and] I have my family. If the show's successful, I'd love to do a second round of it. You're dealing with real life and so much of it is out of your control and it's the unknown. I'd love to have a second opportunity to help more women with the knowledge we gained from the first season.
Is there a dream project you'd like to work on?
At this moment, this is my dream project. This is something I've dreamt about for a few years now. I can't believe it's actually happening. It's hard to see beyond this right now because this has been so intense.

Give a recommendation to our readers.
I'm a huge TV fan. I love The Office. American Horror Story I'm hooked on.
My thanks to Tracey Gold for this interview! Tracey Gold's Starving Secrets begins on Lifetime on December 2 at 10 PM ET/PT.

(c)2011 Brittany Frederick/Digital Airwaves. All rights reserved. No reproduction permitted.