Q&A: Thomas Ian Nicholas Returns For 'American Reunion' As Actor & Musician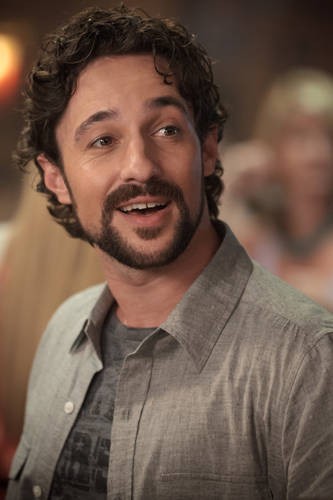 American Reunion opens tomorrow, and for Thomas Ian Nicholas, it's not just returning to the role of Kevin Myers. One of his songs is featured on the film's soundtrack and his band is coming to Universal CityWalk this Saturday to mark the occasion.
I recently connected with Thomas, who is a true multi-hyphenate (actor, singer, musician, producer, director and writer), to ask what it's like to step back into an old role and just how he keeps all those pursuits straight!
With American Reunion, you stepped back into a role that you haven't played in a few years. What did you have to do in order to do that? Was it a challenge?
As an actor, the hardest work is creating the backstory, which I did on the first [film]. So it's really easy to go back to a sequel and reprise the role. If you forget it, just watch the movie. (laughs) I was a little nervous about it but there wasn't really anything I could do. At the very first table reading, even just being there, there's an energy that exists in this cast. I think it's the reason we all work so well together. I'm very thankful to be a part of this franchise.
It's not just an acting role for you this time. You've got a song on the soundtrack. How did that come about?
I've had a band for awhile. I've tried to get a song on the soundtrack of all of the films and it just never ended up working out. I ended up playing the wrap party, and they were all, "We have to put a song of yours on the soundtrack!"
You've got about six titles to your name. How did you get started trying all these different aspects of the business?
I like to stay busy and I never sleep. (laughs) I don't like waiting around for work, and sometimes as an actor you're forced into that position, so that's sort of how I got into writing, producing and directing. I didn't have the patience to wait around for my next role. Music is another aspect that keeps me busy, so that in between films, I'm touring around.
Did you have a particular moment when you decided this was going to be your career path?
That moment happened in 1986. I moved with my mom to Los Angeles for her to pursue her acting career, and she got a job casting atmosphere in some independent films. They needed an altar boy, so my mom was like, "You're coming to set with mom and playing this altar boy," because there was no other choice at the moment. I just loved being on set, and after that experience, I started pursuing my career.
Other than the American Pie series, is there a role that you'd say you're the most proud of or would like fans to check out?
I think most recently, that would be Please Give. I really enjoyed working on that film. Nicole Holofcener's movies always have such great, layered characters with flaws, and you don't find that a lot in movies. Jake Gyllenhaal was in one of her films and that really set things off for him. I ran into him at a restaurant last year and he was like, "I saw you in Please Give, you were amazing." We won the Robert Altman Award at the Independent Spirit Awards.
Are there certain actors who inspire you?
I'm a big fan of character actors like Johnny Depp and Gary Oldman. My goal is to continue playing character roles in indie films and move into playing character leads.
One of the things I found interesting about you is that you're also very active when it comes to social media.
I've been on like the forefront of social media. I run all my own pages, and this is back to MySpace and answering my own emails in like 2006. Even before that, I always had websites with emails that dropped directly to me. I always felt it was more interactive than fanmail. It breaks down the barrier. It gives people an opportunity to connect with their favorite actors in a different way.
What are the shows, movies or musical artists that you enjoy?
I definitely try to steer away from reality TV as much as possible. Just because that takes away work from my friends and myself. The only reality TV that's allowed is like, cooking shows. They're not trying to be actors and then we can find out where all their restaurants are.
I'm a big fan of all the HBO and Showtime original programming, like True Blood. I watch Modern Family. I am obsessed with the Foo Fighters. Musically speaking, I want to tour with the Foo Fighters. [And] Shawshank Redemption [is] the best movie ever.
My thanks to Thomas Ian Nicholas for taking the time for this interview! You can catch him in American Reunion, which opens April 6, and his band will be playing a concert at Universal CityWalk on April 7 at 8 PM. For more on him, check out his website and give him a follow on Twitter.
(c)2012 Brittany Frederick/Digital Airwaves. Appears at Starpulse with permission. All rights reserved. No reproduction permitted.