Q&A: 'The Client List' Star Naturi Naughton: 'There Are So Many Things I Want To Do'
Lifetime's The Client List premieres tonight (10 PM ET/PT). You've seen the saucy ads of Jennifer Love Hewitt as Riley Parks, who works at a day spa that has a little something extra going on. But she's not the only one who's a part of the story.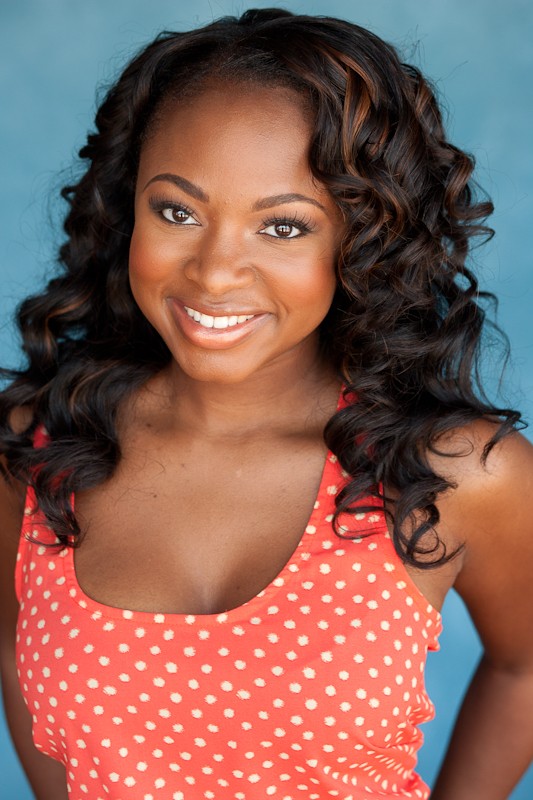 I recently caught up with singer/actress Naturi Naughton, who co-stars with Hewitt in the Lifetime original series, to ask her about her role in the new show, her experience coming off the similarly sexy The Playboy Club, and her other aspirations.
What was the moment when you decided on an entertainment career?

I was pretty young when I decided I wanted to, well, moreso be a singer. I started singing in church in my hometown, East Orange, New Jersey. I knew when I was about five or six that I wanted to be a performer.

Does your musical background help you in acting, since you're already familiar with performing in front of a potentially large audience?

I think it does. Starting in music, where I get a chance to connect with the lyrics of a song, I learned so much about performing on stage and connecting to your audience and to what you're singing about. Singing is very emotional. Every song has its own purpose. And it's kind of similar to how every scene has its own journey.

How did you make the jump from music to acting?

I was in a Broadway show called Hairspray. I was on Broadway for about three years and I had the time of my life. I was learning so much about acting on stage, singing and of course dancing, which I've always loved to do.
Because I was doing Broadway, I had the opportunity to network with a lot of people, so I started auditioning for commercials. The transition happened while I was still in Hairspray. I got an audition for Notorious and I booked it. It was a natural progression.

You had one of the leads on the short-lived The Playboy Club. How difficult is it to get into a character and have the show axed so early?

It's hard with short-lived shows. That show was such a great show and we actually got to shoot seven episodes. I heard some buzz about a DVD where people can see the rest of our season. I did have a blast being a Bunny from 1963 and getting the opportunity to wear the amazing clothes and the big hair. And the experience to live in Chicago, and the friends that I made and opportunities that I had.

So many things happen in the business. Most professionals, we all have moments where that song was not really the hit song or a movie doesn't go as well as you thought. There's always going to be some bumps in the road but when you get a new project, you're just as excited. I feel like this is a whole new page in the chapter.
That brings you to The Client List. How do you describe Kendra?

Kendra is a young 23-year-old girl who works in the spa with Jennifer Love Hewitt and Loretta Devine's characters. Kendra's a sweet girl from Texas. She happens to be very, very optimistic. She's the girl that's reading affirmations and giving positivity all day long. She's also very naive. She looks at life through such youthful eyes, [and] as we grow up, we all have growing pains. The show is going to be so fun, so sexy and so drama-filled.

What are you looking for when you're starting a new role like this?

I pretty much feel the vibe when I meet the producers. After they're interested in me, I pretty much think about where the character will go. I'm one of those people who really wants to see that the growth of the character and concept for her is somewhere I want to go. As long as the story's compelling, unique, interesting fan and the character has a purpose, I usually want to go for it.

You're probably best known for your role in Notorious, where you played Lil Kim. How much work did you have to do in order to portray a real person?
I was playing a hip-hop icon [so] I had to learn how to rap. I wasn't a rapper. I did a ton of research. I met with different people who grew up there with Biggie and Lil Kim. Puffy was on set and gave me some guidance. Junior Mafia really took me under their wing.
I would watch and listen to Lil Kim all day every day. I read a lot about her home life growing up. I just wanted to embody the character in every aspect. It was challenging, but it was a good challenge for me to break out like that.

What shows, movies or musicians are you a fan of?

I'm obsessed with the show Parenthood. I just think Parenthood is so good of a show and I connect to all these different stories. I'm also a huge fan of Shameless. I think that show is awesome.

I am inspired by Viola Davis. I've always thought she was fantastic. And I am inspired by Denzel Washington's career. I'm inspired by Halle Berry and Angela Bassett, people that have paved the way for me to even be here.

I have grown up obsessed with Whitney Houston. I literally was obsessed with Whitney. I followed her in so many different ways, especially since she was from New Jersey. Today, she still is my biggest inspiration. Beyonce is a huge inspiration in music for me too.
Going forward, are there certain things you'd love to accomplish in your career?
There are so many things I want to do. I can go from one end of the spectrum to the other, which is something I love about myself. I think it's nice to have a broad palate of things.
I want to be back on Broadway one day. That's a dream of mine. There's nothing like live theater and I think it's so important for me to be able to be on stage with an audience that responds. I want to get into writing. I'm actually aspiring to write my own film and get it produced. I want to create new stories that audiences haven't seen.
My thanks to Naturi Naughton for this interview! Follow her on Twitter at @NaturiNaughton, and check out the promotional spot for The Client List below. The show premieres tonight at 10 PM ET/PT on Lifetime.
(c)2012 Brittany Frederick/Digital Airwaves. Appears at Starpulse with permission. All rights reserved. No reproduction permitted.