Q&A: Sarah Clarke - From '24' To 'Twilight'
Sarah Clarke became part of the TV consciousness when she starred in the first season of 24. Since then, she's rightfully built an impressive career. You might have heard of this thing called Twilight...?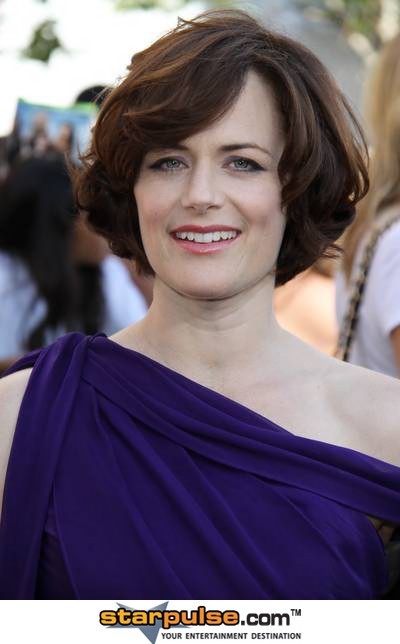 To Twilight fans, she's Bella Swan's mom, Renee. Yet the St. Louis native has made a lasting impression in many other projects, including strong guest appearances on shows like House, Las Vegas, and The Cleaner. When I caught up with her, it had just been announced that she'll be appearing on the hit CW series Nikita, which stars her husband, Xander Berkeley (who is himself a fantastic actor).
Since 24, Sarah has always been one of my favorite actresses to watch (I wouldn't have been so upset about Nina if Sarah hadn't made me care so much about her!). I was thrilled to sit down with her recently and ask what it's like to be part of not one, but two projects that are part of pop-culture history.
You first came to my attention when you played Nina Myers on 24. You're always going to be Nina to the die-hard fans. What's it like for you to realize that you've made a lasting impression with a particular role?
It is kind of funny, because as an actor, you hang on to something for a little while but then you let it go. It's fun, the people who are just now watching it for the first time or rediscovering it, and then they see me, it's always a little startling to them. It was groundbreaking.
When did you realize that 24 was going to be a big deal?
It was a slow burn for sure. We didn't think we were going to be renewed. Back then, the chatter and everything after each show, it was there but you kind of had to look for it. By the second season, when we saw people want to come back, that was when we knew it was a phenomenon.

24 was the first time you were part of something with a cult following but it wasn't the last, thanks to your role in the Twilight films. How is it being involved in a project like 24 or Twilight that's so big to so many people?
I've got the best possible option for me; I sort of step in and out of the world. Playing Bella's mother is a good, fun experience and then I can walk away from it. People who are there for the entire shoot, you're in it for the long haul. For me, I get to go in and experience, and then I get to come home.

You've done films but you've also done a lot of television. Do you have a preference between the two mediums?
I do, but they're becoming more and more similar as the years go on. I've worked on TV that's been very cinematic. TV is quicker; you get a lot more bang for your dollar. It really comes down to what the story is.

It's just been put out there that you're going to be guesting on your husband's series, Nikita. Are you at liberty to say anything about that just yet?
I was happy to come up. Going into the second season, I was anxious. (laughs) You'll have to wait and see, but it's going to be good, I promise.
That will be at least the fifth time you and Xander have worked on a project together. What's it like to share the screen with him?
It's fabulous. We really were laughing. It's really fun to come and share that part of our lives. I think he's one of the best actors out there.

You have a knack for creating some truly distinctive characters. What do you look for in a role?
For me, it definitely has got to be layered characters. I always look for the writers and what they're creating. If it's something I don't buy, it's really hard for me to play it. To me, it has to be grounded in some sort of reality. It's really hard to go to these extreme places if they're not grounded. Even as crazy as Nina got, you could buy it. It was a slow burn. Renee was a challenge for me to get my head around in the beginning. She seemed sort of weak in the books.

What's the one thing on your resume that you're the most proud of?
I have to say I loved working on Men of a Certain Age. It was a real shame when that show got canceled. They were talking about bringing me back for the third season; I really loved working with them. There was a little movie I did called Women In Trouble that a friend of mine made. That to me was a very satisfying project. It was shot so quickly during the writer's strike and there was no money. It was a really fun project.
Is there a dream role or project out there for you?
There's plenty. I would love to do a Western someday. Every time I watch any of them, I'm so envious.

Aside from Breaking Dawn, what comes next for you?

Nikita's the most recent. There's a few things that are sort of brewing, but nothing's finalized.

Give a recommendation to our readers. What are you watching?
Xander and I watch The Daily Show and The Colbert Report every night. It's so fun watching The Walking Dead.

My thanks to Sarah for this interview! Keep your eyes open during the second half of this season of Nikita to see her, and you can also catch her in The Twilight Saga: Breaking Dawn, Part I which opens November 18.
(c)2011 Brittany Frederick/Digital Airwaves. All rights reserved. No reproduction permitted.