Q&A: Sam Witwer Back For More 'Being Human'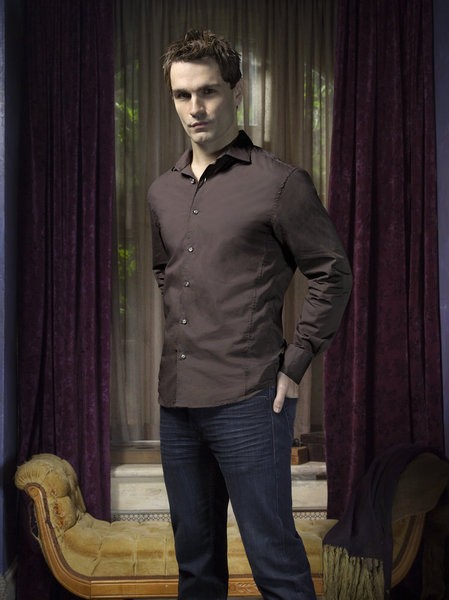 You've got to keep your eye on Sam Witwer.
As the vampire Aidan on SyFy's Being Human, he could take a bite out of you if he wanted. But offscreen, the Battlestar Galactica veteran's wit as is sharp as his alter-ego's fangs. He's also a man of multiple talents, not only an actor but a musician.
As Being Human starts its second season on January 16, Sam sat down with me to discuss what's next for his character, what he's up to when the cameras aren't rolling, and if being a sci-fi success also allows him to be a fanboy.
"It's interesting," he said of coming back for a sophomore run. "We all arrived back, and me and Sammy [Sam Huntington] and Meghan [Rath] were all questioning whether we knew the characters or not - 'Am I doing it right?' Now that we've seen a bunch of the episodes, I think we settled right in. I think we underestimated [ourselves]."
"The thing I always enjoy the most is working with Sam and Meghan," he added. "Whenever the three characters are together, I think we're at our best."
Individually, Aidan has a lot on his plate for season two. "One way you could look at this season, and it's certainly not the definitive way, is that with Bishop gone, everyone's like 'Who's the bad guy?' and in some ways, that would be Aidan," Witwer explained. "He takes some very dark turns this season, some of which are not his fault. He deals with vampires quite a bit, and where that's going to leave us...I think we're ultimately building toward trying to bring out his dark side and then [have him] reintroduced into the populace."
Witwer is a familiar face in sci-fi by now, having played on not just Galactica, but also Smallville and having been a part of numerous games in the Star Wars universe. It's a perfect fit for him, because he's partial to the genre.
"I'm a big fan of all this stuff," he enthused. "And maybe that's partially why I get hired; I think I 'get them' more than most people who audition. For Battlestar, they commented on [the fact that] I pronounced everything correctly."
Of course, every sci-fi fan has their fan moment, and Witwer is no different. In fact, he has quite a few.
"I'm going to have a fanboy moment coming up next week; I've done a lot of work for Lucasfilm and they've been kind enough to invite me to stay at Skywalker Ranch. That's pretty cool," he told me. "I did a couple of episodes of Enterprise where they built the original series bridge. I was at a restaurant with Drew Struzan and Frank Darabont and got a tap on the shoulder, and this guy said, 'I love your show and Being Human is wonderful.' And it was Alice Cooper."
But as this is his business, he doesn't totally fall over himself like you or I might. "When you meet a lot of these people, if you're in this sort of world, they're just people. They're people whose work you greatly admire."
Asked to name something off his own resume that he's proud of, Witwer's choices were outside the sci-fi genre.
"I really liked playing [Neil Perry] on Dexter, because he's quite far away from what I'm like as a person. I was proud to pull that off. I really, really wanted to do that and they let me. And that really helped my career at that point. I really appreciated Frank Darabont giving me the role that he did in The Mist, because it was sort of a key role; it didn't appear in the book. It was a risk. If it didn't work, the movie was going to fall flat at a key point."
When he's not vamping out, Witwer is also a musician. He's released an album with his band, The Crashtones, but you might be surprised to hear him describe either of those things.
"When we play live, it's a bunch of industry buddies, and we act like idiots," he told me. "It's some really weird, whacked-out rap music. Every song is very, very different from the next. It's a very interesting listen to say the least. I have the follow-up album half finished on my hard drive. The fortunate thing is I've been too busy to really concentrate on that. I want to corrupt some minds and make some people sorry they bought it."
Don't say he didn't warn you.
My thanks to Sam Witwer for this interview! The second season of Being Human premieres Monday, January 16 at 9 PM ET/PT (8 CT) on SyFy.
(c)2012 Brittany Frederick/Digital Airwaves. All rights reserved. No reproduction permitted.