Q&A: Rob Gonzalez & Kevin Richardson Come 'Home' For Cancer Benefit
The holiday season is one for giving, and Rob Gonzalez and Kevin Richardson are definitely in the holiday spirit. The two have combined their talents for a seasonal concert to benefit the fight against cancer.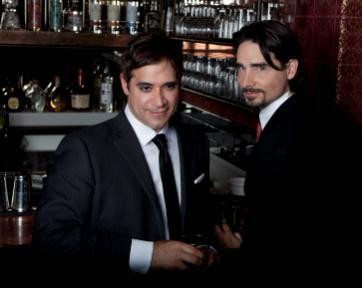 Gonzalez, the performer in residence at the Montage Beverly Hills luxury hotel, and former Backstreet Boy Richardson are the headliners of Home For The Holidays, hosted by the Montage on December 18. The concert supports The Angeles Clinic Foundation of Los Angeles. The pair have made it a love letter to music and the season, crafting an entertaining evening that is influenced by classic artists like Dean Martin and Frank Sinatra, and including dancers, musicians and more.
In the middle of rehearsals for the show, Rob and Kevin took time out of their busy schedule to sit down with me and talk about their labor of love and the things closest to their hearts.
How did the idea for this concert come about?
Rob Gonzalez: It's a combination of things. About six years ago I got a little fed up with the music industry. I saw a lot of artists in it for the wrong reasons. They weren't doing it because they love music. I was fed up with how the focus was always on money or the fame. That's not it for me.
What happened was Kevin and I met because his wife and my girlfriend are best friends. One night we were at his place [and] he has a piano there, [so] I started playing and he started singing. We just realized we had a shared interest in certain types of music. We sang some Sinatra, Dean Martin, Michael Buble, Elton John, Billy Joel. I was just so impressed with his voice and his depth
Kevin has a really wide range of styles; he actually can cover a lot of ground really, really well. I didn't know that prior to that night. I invited him to sit in with my band at the Montage Beverly Hills. That's where I've been the featured performer for the past two and a half years. He came in and was great. I said, "Let's take this a step further."
Tell me a bit more about this particular charity and why you chose it.
Rob: Along the way I've met a lot of great people who are all doing wonderful things. I met Dr. Lawrence Piro. He's done amazing things with cancer research. He has a facility called the Angeles Clinic and there's a segment of that clinic set up as a foundation, The Angeles Clinic Foundation. I actually contacted him to ask if we knew of any hospitals that we could do this concert for, and he said, "How about the foundation?"
Are there any other charitable causes that are important to you?

Rob: There's a lot, really. There was a time when I was doing a lot for The One Campaign. Anything involving children's charities is generally really important to me, and anything involving starvation and hunger is really important to me.
How much work did it take for you to pull the whole show together?
Rob: The easy part was getting Kevin and the charity, and Montage was pretty easy too. Everything else has been a challenge in part because Kevin and I didn't come up with the idea until September-October. It's  been kind of doing everything sort of at the last minute. It's really just been getting everything done in time, because this isn't just like a band plays on a stage and there's a concert. We're doing it in the style of an old-school Rat Pack variety show.

Is there a particular part of the show that you're particularly excited about or that we should look out for?

Rob: It's the entire program. There's going to be some numbers where some of the dancers will come out and interact with Kevin and he'll do some choreography with them. There's some songs where a we'll have six-piece string section come out and join us. There's going to be a part of the show where we're going to get the audience up on their feet.
Kevin, you've done some work on Broadway - so the choreography must have been easy for you.
Kevin Richardson: It's more movement than dancing. I'm not doing anything too complicated. We have some beautiful, professional dancers that are really going to be putting on a beautiful performance and I'm just going to be moving along with them.
You've come a long way since your days with the Backstreet Boys, but most people still associate you with that. Has that ever been difficult for you?
Kevin: That's basically what most people know me from. That's something that will always be a part of my life.  It's a bit of a hurdle sometimes but sometimes it's a great blessing, so I accept that. It's just something that you're grateful for.
Do either of you have any particular favorite Christmas songs?
Rob: All the ones we picked for the show. We both grew up listening to the old classic timeless songs, the Bing Crosby and the Nat King Cole, the Dean Martin, the Frank Sinatra.
What future projects are next for the both of you?
Kevin: For me, all the holiday festivities, the show here, and then traveling to visit my family back in Kentucky with my wife and my son. I have a couple of film projects I'm working on. I'm contemplating a solo project as well.
Rob: The last album I put out was in 2007, so I'm really overdue for another project. Working on these songs has been a source of inspiration to me to do some timeless classic stuff and really get into the arrangements.
My thanks to Rob and Kevin for this interview! In order to purchase tickets for Home For The Holidays, visit this website, and here's a tip: email info@robgonzalez.com for a special promotional code!
(c)2011 Brittany Frederick/Digital Airwaves. All rights reserved. No reproduction permitted.