Q&A: 'Revenge' Star Christa B. Allen
ABC's Revenge is heating up Wednesday nights with mystery and scandal - and as Charlotte Grayson, actress Christa B. Allen is right in the middle of the intrigue.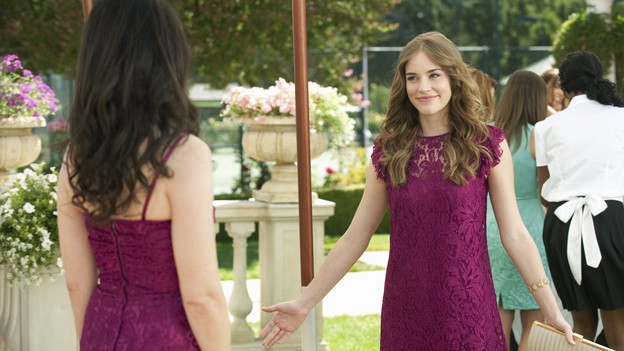 I recently sat down with Christa to talk about where Charlotte may be headed next, and what it's like to be a part of a series where anything can happen.
Think fast: give me the first reason off the top of your head why people should tune into Revenge.
Hot guys. (laughing) It's true.

Without giving away too many spoilers, what can we expect for Charlotte coming up?
As you've seen, Victoria hasn't treated her so nicely as of late. Charlotte's taking things in her own direction, not with too much concern for her mother's feelings.
Is there anything from the show so far that you're particularly proud of?

Oh, my gosh. All of it's so good, but I don't want to say all of it. That sounds like I'm full of myself. I'm really proud to be working with the people that I am. We put in such effort that whatever we do, we're really proud of.
I always feel like my scenes with Madeleine [Stowe, who plays Charlotte's mother Victoria] go really well, because she gives me so much to work off of. Episode 110, coming up, has some really good stuff in it.

Revenge is built on suspense. Has there been anything that's genuinely surprised you?
Some things that have yet to be revealed in the story that are going to tell you a lot about why Charlotte is there, which unfortunately is all I can say. And Lydia, hello! What happened to her. I literally gasped out loud when I read that.
The premise of the show seems like it's very self-contained. If there's a second season, is there a direction you'd like the show to go, or something you'd like to see?
I think that's something the writers are kind of fleshing out right now. It gets easier and easier as we see the relationships change and evolve and the chemistry that the actors have. We're all sitting and reading to see what happens. People get concerned that once Emily [VanCamp] carries out her revenge plot, there's nothing left, but it's really about all of these characters and how they interact with each other.

You worked on one of my favorite shows, CBS's Cold Case. How was that experience?
Cold Case was an absolute blast. That was another one where I read the script and it just felt like I had to be part of it. At that point in my life, I kind of was that free-spirited girl and that was fun for me to play. We created our own miniature version of Woodstock; as someone too young to have been there, that's the next best thing. It was a dream come true.
If you had to recommend one piece of your work to someone, which project would it be and why?
Oh, Revenge, completely. Just because were I not involved with this show, I'd still be a fan. I'm in it heart and soul.

Is there a dream role or project out there that you'd love to tackle?
I can't name one specifically, but eventually I'd love to play some sort of ass-kicking superhero kind of role. Much like Jennifer Garner's Alias character.
How do you balance your acting career with the other interests of a 19-year-old, like potentially going to college or having a social life?
It's quite easy. I love school, but when I was going to school, I sort of used it as an opportunity to figure out what I love to do. This is what I love to do and I'm fortunate enough to be doing it now at this age. When I get a little more free time I'll go back to school, but right now this is what I want to be doing.

Give a recommendation to our readers. What shows do you enjoy?
Watch New Girl. It's hilarious. Once Upon A Time is wonderful, but I'm a sucker for a good fairy tale.

My thanks to Christa for this interview! Check out Christa in an all-new Revenge, airing tonight at 10 PM ET/PT on ABC.