Q&A: 'Psych's' Maggie Lawson Tells All About Juliet!
USA's Psych is on a roll so far in its sixth season. Before tonight's Halloween-themed episode, I sat down with star Maggie Lawson to ask her what else we can look forward to - and the journey her character, Juliet O'Hara, has taken.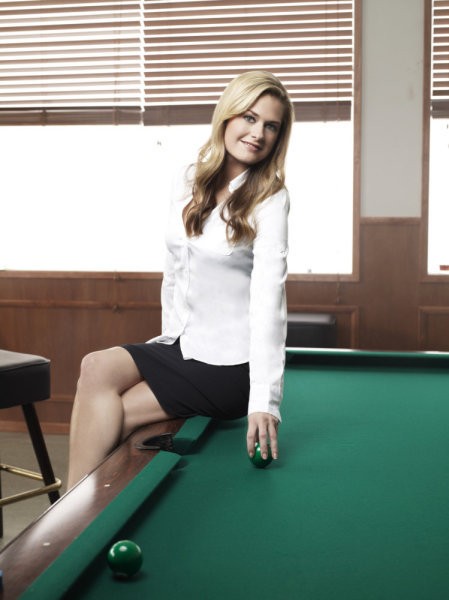 You've wrapped shooting season six - so what are you doing with your downtime?
I'm spending a lot of time with my dog. There's some other work and stuff that's out there; hopefully I'll get to do some stuff. Eventually, I'd like that, but honestly right now I'm just chilling and catching up with my family, my friends and my dog. Life is good.

What from this season are you the most proud of?
I would say I'm proud of the character development that's happened this year. I'm proud of our writers for keeping everything really fresh and finding new angles and turning over new leaves and discovering new emotions. It's really special. There's an episode coming up that I really love, that our fans will too because William Shatner is in it. It was a really different take on Juliet and where she came from and I love that we got into that a little bit. That's the stuff that keeps us going and keeps us excited. We still love this show.
Is there anything you've wanted to do on the show that you haven't yet? If we gave you the chance, is there something you'd like to see happen for Juliet?
It would involve probably our musical episode. It's weird. I feel like I've been able to do so much on the show. It would probably be going undercover again as something really broad and insane like a circus performer, in an I Love Lucy vein. I feel so blessed that I've gotten to do so much between all these different angles on the show.
Speaking of things that haven't yet happened, rumor is the musical episode is still on its way. Do you have any songs you'd love to get a shot at when that does come to pass?
It would have to be something [by] Pat Benatar.

There was some criticism last season that pairing Juliet with Shawn made her less an individual and more of his girlfriend. What was your reaction to them finally getting together? Were you concerned at all?
I wasn't too worried because it had been so many seasons that we had danced around that idea. I have full faith in our writers to handle that delicately and the right way, because that's the trick. You can jump the shark, but I felt like we've built it up and handled it nicely. We're in a relationship but we didn't change, the show didn't change, and Shawn's partner is still Gus and mine is still [Lassiter]. Everything stayed intact. Every now and again you get this reminder that these two are a couple but it's very subtle, and I think that was the only way that was going to work.
She does have really interesting family. We already met one of her brothers (John Cena) and we're about to meet her father (William Shatner). What's it been like working with your TV family?
Totally awesome. I love my family so much. John Cena was the coolest guy; he was so much fun, really came to play. I would love for him to come back. Shatner - he came to set, he knew all of his lines, he's so funny, he's so dry. He had so many great ideas for the character. We have that enthusiasm ourselves but to see it in other actors, and somebody like William Shatner. He is a dream guest star and to have him come up and be so exciting.
You also have a great partner in the fantastic Tim Omundson. The two of you work very well together. What do you think makes him so good?
It's those blue eyes. He's just so, so unbelievably talented and he's so kind. Tim Omundson this year is - he's doing some really incredible stuff. Lassiter has this hard shell and we all see it, and then this whole new storyline develops for him this year and we see him in a whole new light. I was really blown away by Tim the actor and where the writers took this character.

James Roday mentioned in a conference call recently how much he thought both you and your character have "come of age" over the course of the show. Let's take the first part first: when you look at Juliet, how far do you think she's come?
When I first started the show, I look twelve. (laughs) I think Juliet as a character was this junior detective, it was overwhelming, she was entirely surrounded by men and had to carve out her own voice. Over these six seasons, I feel like Juliet's become her own person. She's a woman who holds her own. She's earned the respect of her peers. It's been a really cool thing to watch.
Again, so much credit to our writers; this sort of girl becoming a woman thing is tricky. Our writers do a good job of watching us and how we are growing as people and I think that's what they write. They write as much as they can to that as well. We have the best team behind us on television. Anytime you go through this much with people, and on a show, you're bound to watch people grow up a little bit. I feel like I have a lot on this show.
Now the second part: how much of a journey has this been for you personally?
I always feel like, as actors, we never feel like you're there. You keep going. And you know what, this is one of those extra special blessings. Honestly we're so blessed, because we all love each other so much. We work in another country together for six months of the year; we really have become each other's family. I feel like I've learned so much and I've had the most wonderful people around me to do that with. I'm inspired by all of them every day.
Steve Franks told us that he has an ending for the show in mind. Have you thought at all about where you'd like Juliet to end up when it's all over?
You know what, as sad as I would be to not be partners with Lassiter anymore, I would love to see Juliet make head detective. I think that would be something incredibly special. I'd like to see her get that.

My thanks to Maggie Lawson for this interview! Catch her in an all-new Psych tonight at 10 PM ET/PT on USA.