Q&A: Porcelain Black Is One Naughty Naughty Rad Chick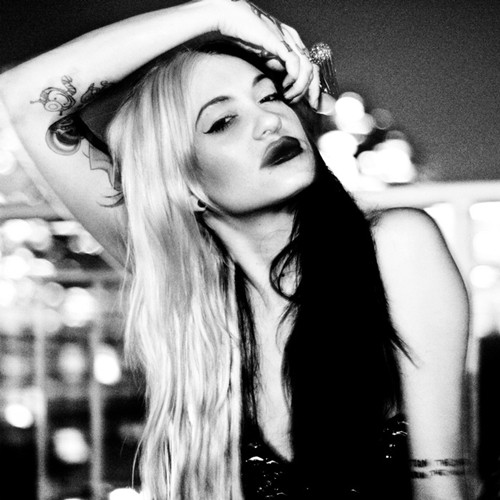 Starpulse: Tell me about your single, Naughty Naughty.
Porcelain Black: It's a fun dance song about being a bad girl.
Starpulse: Whose idea was it for the video? Where was it filmed?
Porcelain Black: That's not the music video, the music video hasn't been shot yet so that was just a viral video.
Starpulse: So there will be an actual video when the album comes out?
Porcelain Black: We'll probably shoot the video for it in a couple of weeks.
Starpulse: When is the album coming out?
Porcelain Black:  I'm not sure, I wrote a bunch but I decided I wanted to go back into the studio and work on some more stuff so I am going to be doing that. And once I am done with that, the record should be out.
Starpulse: You were on the "I Am Music II Tour"- how was that?
Porcelain Black: We did the I Am Music Tour and then we did the I Am Still Music Tour and then I've just been playing around at club shows and events and stuff that that, so that's really cool. In March I am going to Shanghai to play a huge show and that's going to be really cool- it's like a fashion show with music and all sorts of stuff.
Starpulse: Who are your musical inspirations?
Porcelain Black: Trent Reznor- I love all Nine Inch Nails stuff, I love Britney Spears, I love Marilyn Manson.
Starpulse: Coincidentally on your website, you were also described as an offspring of Marilyn Manson and Britney Spears- how do you feel about that, that's a pretty rad combo!
Porcelain Black: Well, I came up with that (laughing). Everyone asked me how I would describe my music and I said if Marilyn and Britney got together and had a crazy kid, it would be me. And they were like, oh, okay, I get it!
Starpulse: You have a very unique look- do you pick out everything you wear on stage or do you have a stylist?
Porcelain Black: That's my style every day.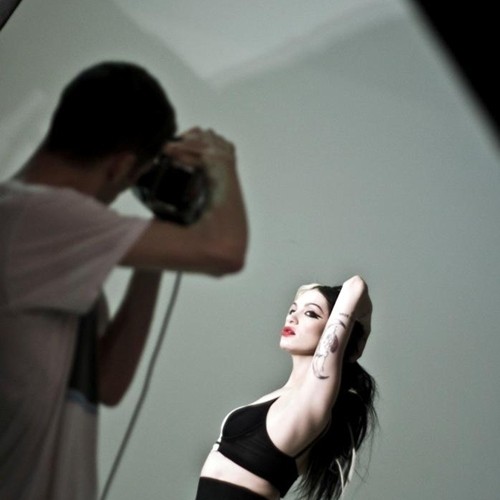 Starpulse: Do you have any fashion tips for our readers?
Porcelain Black: Go shopping at thrift stores because it's cheap and you're not going to see some other girl at the club wearing the same thing, which is the most annoying thing ever. I just love vintage pieces- vintage furs and seven inch heels- I always wear heels.
Starpulse: Tell me about the tattoo of the girl on your arm- is that you?
Porcelain Black: It's by a French Graffiti artist- she's an amazing artist who has murals everywhere, and that's one that she did for me. I got that tattoo about five years ago but I have wanted it for a really long time, so when I got it I was pretty stoked.
Starpulse: What is the Train Wreck Street Team?
Porcelain Black: It's a way of life and what I call myself and my fans. It's not necessarily being a train wreck and being a piece of sh*t, you know? It's more about the way you live your life, being carefree and not give a f*@k about what other people think of you. Just doing what you got to do that makes yourself happy and having fun.
Starpulse: How did you come up with the name "Porcelain Black?"
Porcelain Black: I used to have all these creepy porcelain dolls that my aunt would buy me when I was little and there was this one that looked just like me, so they started calling me 'Porcelain' as a nickname and that stuck. And my favorite color is black and I like black guys, so…
Starpulse: I read that you described yourself as a "mix of dark and light"- can you explain that in more detail?
Porcelain Black: I mean, I always say in order to be a badass, you don't have to be a bad person. You can still be a badass and be a good person at the same time. I guess the mix of light and dark is how my music is too- there are some light poppy elements and then there's some dark screaming elements too. I think it's good to mix stuff up.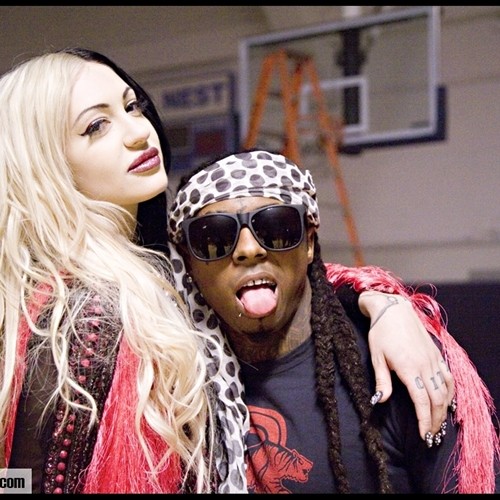 Starpulse: If you weren't an artist, what would you want to do?
Porcelain Black: If I wasn't an artist, I'd probably just write songs for other artists. Or I would do something in fashion.
Starpulse: Did you grow up with musical parents or have you just always wanted to be in the industry?
Porcelain Black: My dad owned a hair salon, so I grew up like backstage at fashion shows and all kinds of stuff. He was super rock and roll and loved ACDC- he was always dressing up. He would dress up like Kurt Cobain and put on the blonde wig at his hair salon and play Nirvana songs while his client's hair was getting done. The whole environment where I grew up swayed me to be who I am today. Fashion, supermodels, music, craziness.
Starpulse: You obviously share your music with your fans through Twitter and Facebook- how has social media helped your career?
Porcelain Black: I think it's amazing- my other project I have called Porcelain and the Tramp- I had like 10 million views on My Space in one year and it was like the #1 viewed and a lot of people became familiar with me so I am all about social media and Twitter and Facebook and all that. That's how a lot of artists make it now with the viral videos- it is definitely an important part.
Starpulse: What do you do in your downtime?
Porcelain Black: I go to the Korean spa, like every day. I shop and hang out with friends. I just moved into a new place right now so I have been decorating.
Starpulse: What's up next for you?
Porcelain Black: I have a shoe, handbag and accessory line that is coming out in the spring called 'Porcelain Black' that I designed all the stuff for- super dope platform heels and all kinds of other cool stuff. I'm in Rock of Ages with Tom Cruise which is coming out- I play a rock star in that. Got a couple other things like TV shows but I'm not really allowed to talk about that.
Make sure to follow Porcelain Black on Twitter @PorcelainBlack, check out her Facebook page http://www.facebook.com/#!/PorcelainBlackMusic and get a free download of her hit single, "Naughty Naughty" at http://www.porcelainblack.net/.