Q&A: 'Person of Interest' Star Kevin Chapman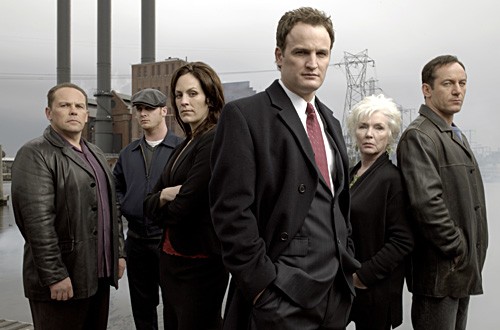 You were also on one of my all-time favorite shows, Showtime's Brotherhood. What was it like playing gangster Freddie Cork for three seasons?
I really enjoyed playing Freddie Cork. People are always scared to approach me because of the character I played in Brotherhood. The writing was very smart. [Series creator] Blake [Masters]'s a good guy and he's an incredible writer. That guy's going to have a long career. We had a cast that was much like Person of Interest. I honestly feel that was the best unwatched television series out there. It's just so unfortunate. I feel like a lot of people found that after it was cancelled.
I feel that Person of Interest is the same quality as Brotherhood. I think it's one of the smartest network television shows on the air today. The audience is a wide range of individuals.
You've appeared on a number of other great TV series like Cold Case, Rescue Me and 24. Do you have a favorite TV role you've played? Is there a show you'd still like to do?
They're all favorite to me at the time, because they're taking me in different directions. The stuff I did in Rescue Me was great. It gave me the opportunity to play comedy and Denis Leary was the first one to take a chance with me. And from that experience, we had a comedy pilot that we did that I was going to play the lead in. And then Person of Interest came along. They're all new experiences.
There are some film projects out there; I know there's some Whitey Bulger films being made. I'd like to try to get into a little more comedy as well. I've always played these characters where I'm somewhat menacing and kind of disturbing. Lionel's kind of the comic relief in the drama.
You've worked with some fantastic actors, from Jason Isaacs and Jason Clarke in Brotherhood to now Jim Caviezel and Michael Emerson in Person of Interest, and that's just in TV. Any favorite co-stars?
I've worked with Sean Penn twice, Al Pacino, Denzel Washington...I've worked with some of these "A" list people on the film side. It's just different experiences.
I love working with [his Person of Interest co-star] Taraji P. Henson. We have a good time together.
What's your process in creating these complex characters?
 I like the duality of some of the characters that I've played, like the duality that Lionel has. The thing I try to stay consistent with is to find the truth in them. If I can read something and find the truth of it.
Do you have a favorite line on your resume? One you'd recommend to Person of Interest fans?
Mystic River, Ladder 49...more recently, Unstoppable. I did a film called Black Dynamite that was very, very funny. That seems to be a film that's kind of a cult classic. I was in the original Boondock Saints as well. My work on Rescue Me in season five; I did seven episodes where I played the obnoxious brother Terrance. I try to keep it as broad as possible.
What TV shows do you watch?
I don't get to see the show I'm on because I'm always working. I watch Boardwalk Empire, usually my thing is 60 Minutes, football.
Do you watch any of your own work?
I don't mind. I think when I watch myself and I realize it is myself, that's when I feel like my performance needs some type of adjustment.
Even when I work on set, I don't ever think beyond the moment that I'm in. I was at a party and Robin Williams came up to me and said, "You scared me in Mystic River," and that was when it hit me. Robin Williams has seen my movie.
My thanks to Kevin Chapman for this interview! You can connect with him on Twitter, and don't miss Person of Interest tonight on CBS.
(c)2012 Brittany Frederick/Digital Airwaves. Appears at Starpulse with permission. All rights reserved. No reproduction permitted.