Q&A: Penelope Cruz On 'Broken Embrace,' Her Career And Much More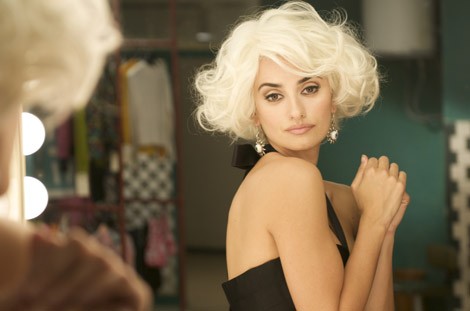 Everything
Penelope Cruz
does generates lots of interest and attention. She came to Hollywood after acclaimed and controversial foreign films, only to date the most famous movie star in the world. Even without celebrity beauxs, her films generate lots of attention on their own, from the voluptuous murderer of
Volver
to the threesome of
Vicky Cristina Barcelona
.
Cruz is back with another duo of highly anticipated films.
Nine
is the movie adaptation of the stage musical and
Broken Embraces
reunites her again with her Spanish director
Pedro Almodovar
. In her fifth film with Almodovar, she plays the tragically lost love of an author's life, Lena. As an actress, Lena also plays the role of Pina.
Broken Embraces expands its release this weekend and Nine opens December 25. Look for both films to generate buzz as we enter awards season, but you can see what Penelope Cruz has to say right now.
Starpulse: We've seen you over the years do so many powerful roles. Obviously you're very comfortable in your own skin with your sexuality uninhibited and you portray women who have maybe done drugs or women in power. Is there any role that you would not do or have said no to?
Penelope Cruz:
I mean there are roles I have said no to but for different reasons. I never talk about those because I feel it's un-respectful, to say, "Oh, I said no to that project or that other project." I'd rather talk about the ones that I said "yes" to and the reasons why. When I read a script I try not to judge the characters. I try to have an open mind and really see what it makes me feel. When I close a script and I can't stop thinking about it and I feel that I need to be part of that project that is a very, very good feeling. It doesn't happen a lot but it's a wonderful feeling when you can not stop thinking about that character and that story. And it happens a lot to me with Pedro. Every time he has given me one of his scripts I just could not stop thinking about these women and these stories that he wrote and I wanted to be part of that world.
You've been compared over the years with other great actors that have come before you, and in this one you basically kind of do a takeoff a little bit on Audrey Hepburn. Do you see her as someone that you kind of have modeled yourself on a little bit?
No, I see her as someone that I have always admired very much. I think she was a great actress and she was very unique. And Pedro wanted a very specific look for the character of Pina and a very specific one for Lena, actually for the two Lenas because it's really like two in one. But the same way, like in Volver, he asked me to review a lot of the movies from the Italian neorealism and look at the energy of the women from the south of Italy. And he asked me not to look at anybody in particular, just to watch those films again to capture that energy. And he chose that look for that character of Raimunda in Volver. And here he chose the look of Audrey in movies like Funny Face and Breakfast at Tiffany's but it was really the look that he imagined that Mateo would have chosen for Pina and it didn't go further than that.
Do you think that you've been given better roles, better directors, when you were overseas?
No, I feel very grateful for the opportunities that I get in America also. More and more with the time, knowing now that I am also more comfortable with English, the roles become more demanding and more challenging in different ways. But I'm really grateful to every opportunity that I've gotten here or in Europe, because I've been able to have a career with a continuity, to be able to make a living out of the passion that I feel for acting. That really was like science fiction for me when I was growing up and dreaming about being an actress. So I am very grateful and happy that I can work in something that I love so much. For example, Woody is American and he's one of the greatest American directors, and we really had a very good relationship working, we understand each other really well. He gave me one of the best opportunities somebody has ever given me in my career. I've been very lucky to work with great people like Cameron Crowe or Stephen Frears, a British director, and Sergio Castellitto, an Italian director. I've been really, really lucky to be able to work in all these different countries and in different languages, and that people have given me the opportunity to work in America when I was 20 and I didn't speak the language, I only knew the dialogue for my character. They didn't know that because I did the casting and I put myself on tape. Then when I met them they realized that that's all I knew, the lines for the character. I was very young and I think now or I look back and I think I really owe them a lot, you know for trusting me. I mean I did the casting like everybody else and I got the part, but they had faith in me and they allowed me to do the movie knowing that all the English I knew was the dialogue for the part.
In every movie that you have a cooking scene or cutting vegetable scene, I'm kind of wondering are you good at cooking and do you have any signature dish and do you like cooking more than eating out?
I can cook a little bit. I can cook a few Spanish dishes but it looks, in movies, that I cook much better than I cook. The things I can make can taste pretty well but I am not the most organized person in the kitchen but I took a lot of lessons. Because I've played a chef once, a Brazilian chef, and then in Volver somebody who owns a restaurant so I really have to know how to cook, and I took lessons both times. But my lessons were more like to be the assistant of a chef so I could learn to cut very fast, the vegetables. I can do all of those things really well but then I'm not that good at cooking. So we learn to do a lot of strange things with movies. I know how to gallop a camel, things that maybe I don't know if I will ever have to use in my life.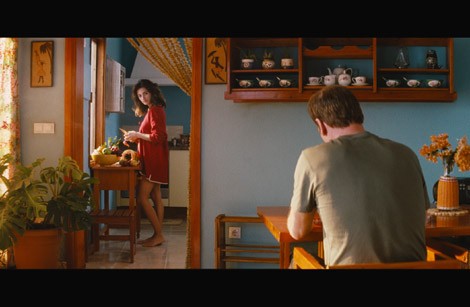 Image © Sony Pictures Classics
Which of the roles Pedro has given to you is the most demanding in your part?
I think all of them have been equally demanding and fun and challenging. You can never be bored next to Pedro. Every day is a huge adventure. You never know what he's going to ask you to do next and you never know what is going to come out of his mouth. He likes playing with fire you know but, at the same time, he's a very kind man. We have this dance working together of trust and risk that is really beautiful. We both enjoy it very much because it's also a lot of years of friendship now. I met him when I was 16.
How do you feel that you've grown as an actress from the first time you worked with him till now?
I think we have both grown and changed. Because I was a teenager when I met him, so it would be very strange to say that I have not changed, and he has changed, too. But we all are constantly changing every day of our life. So it's beautiful that we have seen each other, you know as work collaborators and as friends. We have shared with each other so many special moments of our lives. And then when we are on the set the relationship changes a little bit and it's a little bit more serious, more the director and the actress, and we don't really talk about our things or hang out or go do the things that we normally do when we are not shooting. I think that that changes, as a natural way for us to protect the work relationship and the friendship. But Pedro and I have never talked about it. It just naturally changes when we are on set.
It's an interesting coincidence that you have two films back-to-back that involve the difficulties that a director has getting this project as his next project done. Do you think that people understand this difficulty, or is it something they might be envious of that these characters even have jobs in filmmaking?
To tell you the truth there is the magic factor that is sometimes on a movie set that is a really, really beautiful thing that cannot be compared to anything else, if you are somebody that is really passionate about acting or about directing or the world of movies. Sometimes when things go well on a set or when you are working with somebody like Pedro or Woody or Rob Marshall or somebody so talented and so inspiring, it's really beautiful what happens there. And it's true that those two movies are in a way a homage to the world of cinema, and it was very, very beautiful to see that. For example, in Broken Embraces, we have two crews, the real one and the fake one. The first few days it was a little bit confusing to know who was real and who was an actor, and I would step back and take pictures of the two sets. It was so huge, the set, and so alive and such a beautiful chaos, because there is a lot of chaos in a movie set, which Nine is a lot about. Nine is a lot about the chaos of creating and the crisis of a director. So, yeah, it's been very interesting for me. The whole year has been into movies that were a homage to cinema.
I mean is this like a year that you've stretched yourself do you think as an actress? I mean did you gain a lot from like doing so much in so many different sides of your talent?
Yeah, I feel I learned a lot because of working with all these amazing people. I enjoyed the process a lot of making both movies, and they could not be more different. Then to be able to explore the genre of the musical, Nine, to be able to sing for the first time professionally and dance, something that I did growing up but I had not done for many, many years. It was a scary experience but, at the same time, I think everyone who was there will tell you that we all had an amazing time. Everybody had a smile on their faces the whole time because music was very present. Because we were training for like five hours a day, so everybody was very peaceful because we were all very exhausted. So it's for sure a year that I will always remember, as kind of a dream to be able to go to do these two movies in one year.
You're such an inspiring woman for so many people on how they're - do you consider yourself a role model for women in Hollywood?
No, I don't really see myself like that and I am not somebody who likes very much to give advice or anything like that, unless it's my closest people or family or you know the people that are closer to me. In interviews or things like that is like when it feels so unnatural to give advice about anything. So, no, I really don't feel like that at all.
Well in terms of feminism, is that something that you're comfortable or one you don't really think about?
I just try not to label myself in any way. I just have a kind of allergy to labels in general. But I can tell you that I am surrounded by very strong women and that I really appreciate that and, but I'd rather not label myself. Sorry.
You talked earlier about some of the skills you acquired as a result of acting, and one of them apparently was galloping on a camel. You said it was probably something you would never use. However, if we had brought a camel in here would you have?
No, no. I can't wait to co back to Morocco so I can impress everybody around me. So believe me, if I can, I will use it. What happened is that I had to shoot an action sequence, so I had to train for one month because when I saw a camel and it's three meters, four meters tall and they told me, "You are going to have to gallop this." Like when they showed me the choreography for Nine, for "A Call from the Vatican," my solo number, I looked at the dancer doing the number, the choreography that Rob Marshall and John DeLuca put together, and I almost fainted. I thought this is impossible that I will get to do that. You start, and day after day, put in the hours every day, you feel that it starts getting shape and finally you do it, and the sense, the feeling of freedom is amazing. So that's something that I really like about this job. That when you really have the preparation time and things start getting the shape that they need, it's a beautiful feeling that comes from the hard work.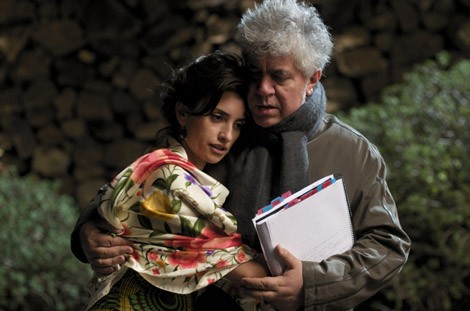 Image © Sony Pictures Classics
Is it sort of a juggling act, you're doing a film and also learning an entirely different skill as if it were a life skill that you would probably never use again for the rest of your life?
Well the film is a musical so it was really a lot about that. I mean there was no way to do that movie without learning those things, the same way we had to audition for the singing and the dancing, and it was a huge part of it. There was no way to fake anything.
When you danced when you were younger, was that more for pleasure than dancing in a musical, when you're trying to express something about a character?
No, it was to express because I was four or five when they took me to the ballet school. I had too much energy as a kid, so it was great for my parents that we found that because that was the place where I could release all that energy. But around that time, that was the age when I realized for the first time that I was acting, when I was playing a character in the ballet school when I was playing with my girlfriends, or when I was in the hair salon. My mother had a hair salon and I spent a lot of time there pretending to do my homework but I was really studying all those women. I suddenly was aware that they were acting and that they were pretending to be somebody else, and I became very curious about what acting was and about why we are all constantly acting in life. I became very curious about human behavior, and I think you have to have that curiosity in order to really want to be an actor. So it was around that time that, yeah, like four or five years old. Then I really got hooked into the classical ballet and for many years I thought that's what I wanted to do. I wanted that to be my profession, and then I stopped when I was a teenager because of movies.
You've been working with Pedro so many times, so many years. Do you have any favorite moment, especially in this project?
For me, something happened in this movie when we were rehearsing. We rehearsed for a couple of months. When we were trying to find the look for Lena and Pina, we were also rehearsing in the mornings so we were doing both things, rehearsals in the morning, finding the look in the afternoon. That took a long time because it was for the three characters, for the two Lenas and one Pina. And there was one moment when we discovered the blonde wig and Pedro started to play Mateo. He and I had a beautiful moment when he was taking pictures through the mirror. Something happened to both of us when we looked at each other and said like, "mm". We just, in this second we just understood so much about the relationship between Mateo and Lena, and I understood a lot about who this woman was in that moment. That's the magic of this work, that sometimes things like that happen and out of the blue you can get a bunch of answers that you were really trying to find. It's like a little angel comes in the room and talks to you, and it's something that should not be put into words because it's a very abstract thing but it's very real at the same time. That happened for us that day and I think from the whole period of rehearsing and shooting that that is my favorite moment, because it also had to do with my relationship with Pedro. It was also a very personal thing but it was also very much about Lena and the story.
Story/Interview by
Fred Topel
Starpulse contributing writer
(Starpulse in Hollywood)
: Every week, Hollywood's biggest stars are meeting in the hot spots and Starpulse is there.