Q&A: Nathaniel Flatt Of The New Boy Band V Factory

Nathaniel Flatt
of up-and-coming boy band
V Factory
took the time to sit down with Starpulse's Larry Gould and discuss his path to stardom, his influences and what that mysterious "V" in the band's name stands for. V Factory recently cracked the Top 40 with their debut single "Love Struck" and are readying their as-yet-untitled debut album for a release later this year.
Nathaniel Flatt first realized his calling at the tender age of five when he saw a musical production of
Peter Pan
in his hometown of Cookeville, Tennessee. It proved to be a pivotal point in his life, thus beginning his quest to be in the spotlight. When he was older he did what every aspiring star does: he moved to Los Angeles to pursue his dreams.
Early on he found success in commercials for such big household names as Target, Sony and the Disney Channel and was soon discovered by a talent scout who recruited himself and the other four members of V Factory - Asher Brook, Jared Murillo, Wesley Quinn, and Nick Teti - literally from all different parts of the United States. And despite a wide range of different backgrounds Nathaniel says they all "get along great" - certainly a necessity for any type of success in the music business. Nathaniel says he knew he "wanted to be in front of people performing, but had no idea it would turn out like this."
Nathaniel, who is considered the "eldest and wisest" in the group at age 26, says he was unaware of the title, but is quite flattered by it. As the band's first music video, "Love Struck," was days away from being released, we asked Nathaniel how it felt to be on the heels on such a major turning point in his life and for the group. "Unbelievable," he said, "The guys and I are so excited, I can't begin to tell you."
In the video for the high energy, extremely catchy tune, the band is portrayed doing their thing - dancing and singing - while a female fan lurks in the background, clearly "love struck" by each and every member. It's an angle that he says, "is different from what most people assume about
Love Struck
, they assume it is one of us who is love struck with someone, so we decided to turn it around and have someone be love struck with us."
"Love Struck"

And just what does that "V" in V Factory stand for? Well, according to Nathaniel, "that's a secret between us band members." The same goes for the title of the group's debut album. Nathaniel's keeping hush hush on that one too. But not one to give up easily, we persisted and he did reveal how the "Factory" part of the name came about - it stems from
The Sound Factory
nightclub in New York City. The very same club our writer had frequented back in the mid 90s. How did a group of young men only now in their 20s find their roots in a nightclub that they would have been way too young to get into back then?
Regardless, after listening to a few of the songs the group has ready for the album, you can hear the influence that the
Factory
had on this group right there in V Factory's music and our writer was instantly reminded of those many nights he'd spent in that very club. Some of Nathaniel's influences are also evident - new wave artists such as
Depeche Mode
and
Erasure
- and a current one who he would "love" to work with in the near future -
Lady Gaga
.
Then came that one burning question that's sure to be on everyone's mind, how it feels to inevitably be compared to such huge boy bands such as
Backstreet Boys
and
N*Sync
. Nathaniel humbly states that V Factory "welcome the comparison - those guys did amazing things and it's flattering to hear that we are actually being compared to some of the biggest, most successful names in music history!" Although he stresses that the band has an "eclectic and different" sound than boy bands of the past, he is excited to hear buzz about even being considered in the same realm.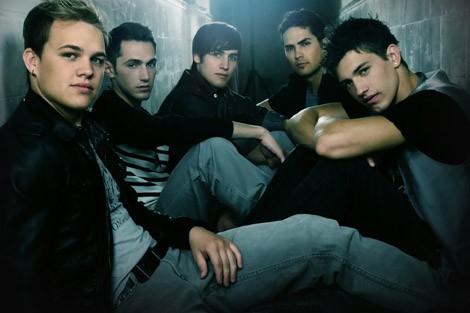 Image © Geffen
After a small summer tour highlighting their new single that will see the band performing for numerous radio shows and at the Hawaii and Virginia State Fairs, the guys will head back to Los Angeles and get ready for the release of their first studio album. Nathaniel says that after that they plan to take their show on the road again, visiting more states on a full promotional tour for the album.
And as for that mysterious "V" in V Factory, we're just gonna have to wait until the band's ready to let us in on that secret.
Story by
Lawrence Gould
Starpulse contributing writer