Q&A: Music's Underrated Star Jesse Macht
Last week, I introduced you to Jesse Macht - a talented musician you should be listening to. If you're not convinced yet, I recently sat down with Jesse to get his story in his own words.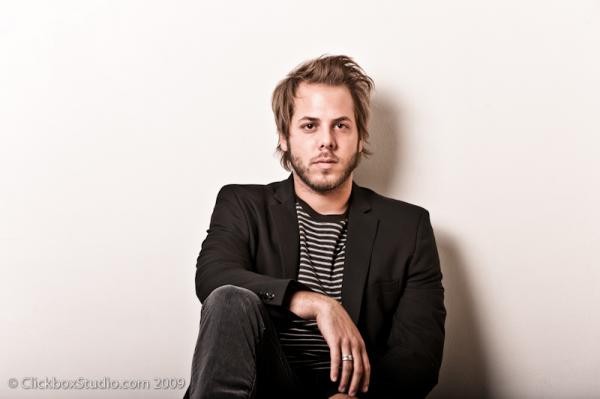 I've spent the past year on a journey of musical discovery, and Jesse - not just his music, but who he is as a person - is everything that I've come to love about the art. He's simply great at what he does, relying on hard work and passion rather than a gimmick or a technological advantage. In this world of lip-synched concerts and pyrotechnics, there's something to be commended about a musician comfortable in his own skin and successful on his own merits.
My respect of him goes beyond his talent, though. Like his brother, Suits star Gabriel Macht, Jesse is possessed of a real depth of thought and command of language that you almost never see anymore. I've had the opportunity to interview both of them, and both times I've come away feeling like a better person for the experience. Their dedication to their respective crafts is obvious in how articulate and thoughtful they both are, and that's inspired me.
Yet to leave Jesse in his brother's shadow would be a mistake. I might have discovered him because I'm a fan of Gabriel's, but I've become an equal supporter of Jesse's in his own right. He can put a song together with complex lyrics and real sentiment. Listening to him, it's clear why he succeeds. Talent is one thing, but it's nothing if you don't have the heart to make things happen. Here, then, is Jesse Macht - not just a gifted musician, but somebody we could all learn a thing or two from.
You might be a fresh name to our readers, but you've been at this a long time. Walk me through your musical history.
I played a lot since I was a kid - played around with a bunch of different instruments. I grew up being forced to play piano and violin, and I quickly got frustrated with that. I convinced my mom to let me play the drums. I played the drums for about four years. I couldn't sing and play drums at the same time, so I started learning bass. Eventually I just got the courage, and I picked up my brother's guitar and asked him how to play it. Gabriel taught me the basic chords and from then on, I had a little cover band in high school. We had a wonderful singer and we would win all the talent shows.
Eventually, this kid wanted to join our band, but he didn't want it to be a cover band. That sounded like a lot of fun, and he and I sat down and started writing. Before we knew it, we were playing around L.A. I had never experienced that, and it felt like everything that I enjoyed doing came together. From there, I just kept playing. I had things that I thought about how music was created, and supposed to be written, and supposed to sound - and looking back on it now, I had the luxury of being with some really great guys - most notably the guys in [his former band] Burn Down The Mission - who were patient.
What's your musical process? How do songs come together for you?

It really depends. Sometimes I feel the guitar next to me and fool around and something comes together, and the same thing with the piano. Generally, I don't like sitting on my tush too long, so I keep myself busy trying to write songs. I like listening to music and I have eclectic taste, but something has always driven me to try and write my own songs. I don't get too much fulfillment playing other people's songs.

You've released three EPs on iTunes. Why do it that way and not wait to put out a full-length album?

I would love to wait and put out a full album. The problem is that I'm just so impatient. I have so many songs already in my repertoire. The reality of being in this business is that it takes time and money, and I'm not willing to sacrifice quality just to get more songs out there. For me, it takes a lot of time to get the stuff together. I really enjoy working with creative people. The guy who's produced two of those EP's, Aaron Tap, he's so good. He plays with Matt Nathanson.
I want to try and do the best I can at getting stuff out there as fast as I can. Unfortunately in this past year, I've only been able to release seven songs that I'm really proud of. The other day I put in my EP's and my single and for the first time, I really listened to the catalog, and that was so satisfying. Sometimes you're blind to it when it happens so slowly.

Is there a song that you're the most proud of?
No way. I don't think I'll ever feel that way. I definitely feel proud, and happy to have finished all these songs, but there's something - maybe being a perfectionist - I come real close but there's not one that really stands out. "New Vaccine" was really a big step for me. After writing that song, I felt like a whole world of songwriting opened up to me.
"Now I Know" is not a song that most people necessarily compliment, but it meant a lot. I wrote that when I was in Burn Down The Mission and this [solo career] was starting, and that helped me really find my voice and my footing. "Now I Know" was the first song where I felt, if I died tomorrow, I could say "This is where I feel I am in my life."

You also do film and TV composition. How did that enter into your repertoire, and how different is it from your regular music?

It's different and it's not different. Some of the main stuff that I'm trying to do in both is really try to write hooks and melodies that are easily remembered and super catchy. I think there's really a wonderful craft and simplicity in hooks and I think I'll be cultivating that for the rest of my life.
I got into it just on a lucky streak. A few people asked me to do some stuff for some student movies, and I had a family friend who got me in touch with Nickelodeon. The guy who hired me had just come to one of my first solo shows, and I said "Why don't you send me some of your clips? I can just practice and I'd love to get your take on it." So he sent me some clips and I worked something out, and he's like, "Dude, I really like this." He asked me to do a few more jobs for him and I really love it. It's really short but it's another part of my musical brain that I love exercising.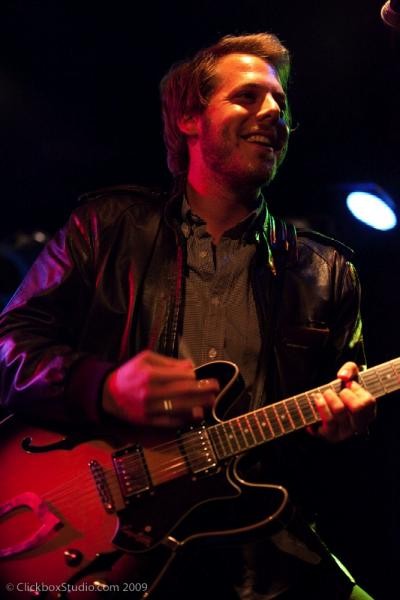 How do you define your success? Is it in album downloads or is it something else?

I got into writing music for myself. I felt like I needed a scrapbook in my own life of my songwriting. I devoted so much time and effort to my old band and my musical efforts that when it started to break down, that was a really frustating thing for me. I needed to have something I could look back on and say, "This is what I created and how it paid off." I'm not really willing to give up that aspect of music.
My first goal was really just personal, in getting my own voice out. Showing them to friends and showing them to family, it picked up momentum. Now I have this desire to perform. For me, as long as people keep coming, it's fulfilling.
Obviously I have some big goals. I had a lot resting on the big ideas of being a superstar; for me now, I feel fulfilled at the end of the day with the songs I'm writing.

You're performing next month with The Voice semifinalist Nakia at the Hotel Cafe in Los Angeles. That's going to be a great gig.

That was a really welcome surprise. I watched a little bit of The Voice this year and it happened to be when Nakia was on, so I'm totally psyched to share the stage. That guy can really sing.
I can't talk about The Voice without admitting that I'm a huge Maroon 5 fan.
I am a big Maroon 5 fan myself. My old band, Burn Down The Mission, Maroon 5 were huge mentors of ours. We would go to their shows when two people were there. They were always so super-talented.
Are there any artists that you'd love to collaborate with?
I have dreams of big stars I'd like to collaborate with. One of my most favorite producers is Jon Brion, he's a super-famous music producer, composer and songwriter. He's my dream guy, and then there's a few local artists who I think are really cool. They're playing in the Hotel Cafe circuit. One is a guy named Rob Giles and a band called The Rescues. There's another guy named Stephen Wrabel. He plays at Room 5 all the time. I'd love to try and write a song with him.

What's your ultimate career aspiration? Any specific goals for the future?

I've got a million goals. I think a lot of us do. I've got a lot of different interests, and my music has always been my main focus. I am also an actor, and I'm trying to get my acting going. I'm also really inspired by trying to create fiction and media, so I have a script I've started working on with my brother Ari. It's a project that we're going to be trying to do.
In a dream world, I would love to fashion a lot of my goals like Michael Stipe. He's a songwriter and a singer, but he loves movies and he loves art, too. I would love to run a production company of sorts, whether it's music, television programs, movies, all sorts of things. I'd like to help out as many [people] as I can.

What do you do when you're not working? It seems like you have a lot on your plate!

It does seem like it's a lot when I say it! I teach music to kids. I love baseball; I'm a baseball coach as well [and] I play a lot of softball. I'm a huge Yankee fan. My whole family was born in New York. I was the only one born in L.A. My dad was a huge Yankee fan and I'm a fan of my dad. I have so many friends from L.A.; they hate that I say I'm a Dodger fan second. And I went to college in St. Louis. I'm a baseball fan, really. Even though the Yankees lost, it was okay because Boston lost first [and] it's hard to root against Detroit. I'm really happy to see small-market teams doing really well.
In between all that is when I'm doing composing work, and auditions, and taking acting class. I'm really hustling a lot.
I have a beautiful girlfriend and I love hanging out with her and her family. My family is really big. I've got my brother Gabriel and his wife and their baby, and my other brother and his wife and their three kids, and my sister and her husband and their four kids, and a bunch of cousins, and my mom and dad. They're super supportive of everyone. We believe a lot in family. Every week there's something - a birthday, a concert, a TV show.

With all that you've done, you've probably got a good recommendation for our readers.
Right now, there's a band called The Spring Standards, they are wonderful. I already mentioned Jon Brion, and The Rescues. I'm such a TV fan; I'm hoping everyone has watched The Wire and The Sopranos. Go watch some of my brother's old films. There's a film he did called Middle Men that just came out on DVD.
My thanks to Jesse Macht for this interview! You have multiple chances to catch him across California over the next two months. Here's his upcoming schedule.
On October 21, Jesse makes his first-ever stop in San Diego when he plays an acoustic set with his colleague Brian Bachman at Across The Street at Mueller College at 8 PM. Memo to my fellow San Diegans: let's turn out and give him a warm welcome! I'll be at this show myself, so if you do come, stop and say hello.
October 26, Jesse will be visiting Room 5 Lounge in Los Angeles.
He'll head up north to San Francisco to visit The Brainwash Cafe on November 10 before he returns to Los Angeles to play alongside Nakia at The Hotel Cafe on November 17.
December 10, he returns to San Francisco to play at The Hotel Utah.
That's not all. For more information, you can visit Jesse's official website and his MySpace page. You can also follow him on Twitter. Don't hesitate to give him a listen by visiting his profile on iTunes - you'll thank me later.