Q&A: More 'Pretend Time' With Nick Swardson
Nick Swardson is going to push your buttons and enjoy doing it. With Nick Swardson's Pretend Time, he's got a platform to cover everything from a parody of 16 and Pregnant to alien paternity tests.
As the show returns for its second season tomorrow night on Comedy Central, Nick recently stopped by to chat with me about what makes up one of the most twisted shows on television and who he finds funny.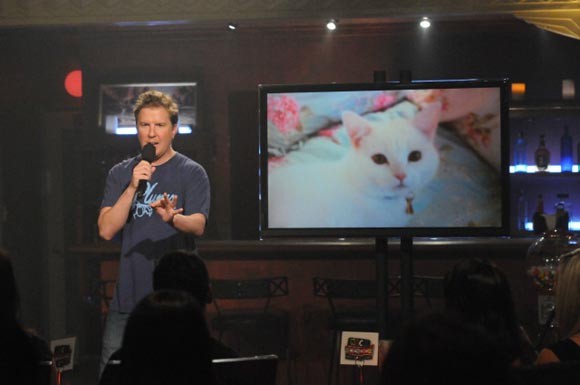 Now that you're working on the second season of Pretend Time, what are some of the differences between season one and season two?

The content I think is even more aggressive, which I didn't think was possible. But we've counterbalanced it now. I'm more hosting the show, doing stand-up, telling stories. We've counterbalanced it with more accessibility.
This is a show that seems to delight in the outrageous. How much censorship do you face?

Somehow we got away with a lot. The show's a late-night show, so we get a lot of leeway, but we pushed it for sure.
Can you walk me through the writing process? Is it more difficult to write a sketch show as opposed to a stand-up act that is continuous?
I've got amazing writers on the show, really great people. I'm always writing sketches down, so I came in with a ton of material. A lot of my stand-up was sketch-oriented. It was hard to write both at the same time. The show kind of replaced my stand-up. I've done stand up for 17 years so I'd kind of done a lot. I was kind of ready to try a new medium and the sketch show really allowed that.
What sketches are you most proud of in this new season?

There's two sketches right now that are on comedycentral.com. They're two of my favorites. One of them is an alien paternity test and the other is an ab infomercial. It's really weird and out there.
What guests do you have lined up? Anyone that you'd love to work with and haven't yet?
We don't really have a lot of guest stars. I kind of want more no-names because it helps you believe the sketch more. I've got some random appearances. Ron Perlman from Sons of Anarchy, he's really funny and does a great job. I would love for Daniel Day-Lewis to do my show. That'd be epic.
Sometimes comedians' acts are really different from who they are in person. How close is what we see to who you are when the cameras aren't rolling?
It's pretty much me. There's not too much of a separation. I am who I am on the stage.
You talked in a previous interview about a possible retirement from stand-up comedy. Have you reconsidered that at all?
I don't think I'll ever give up stand-up. It's just hard to write a new act that I think is strong enough to tour. Hopefully I'll be back out on tour. I am working on it.
Do you have any other projects in the work besides the show?
I'm taking a hiatus right now to find out what my next move is. I'm writing a couple scripts and I've got a couple more at [Adam] Sandler's company that we've been developing. I just did [the film] Bucky Larson, and I kind of want to do something more in my own voice. There's a script I'm writing right now that I'd consider a dream project. I'm really excited about it. It's kind of like Couples Retreat meets Die Hard.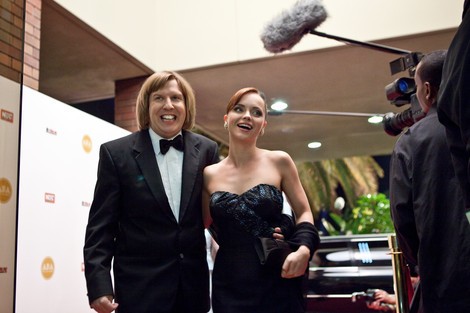 Recommend a comedian to me. Who do you find funny?
Bill Burr, to me, is the best comedian in the country.
What's on your TV watch list?
I don't particularly watch comedies. I watch like Game of Thrones and Walking Dead and Mad Men, shows like that. I tend to go towards more dramas.
My thanks to Nick Swardson for this interview! Nick Swardson's Pretend Time airs Wednesdays starting tomorrow, October 5, at 10:30 PM ET/PT on Comedy Central. You can check out video from the show at the official website.