Q&A: Meet Punchline's Steve Soboslai
Steve Soboslai is a guy your mother would love. I know this because the day I first heard of him, my mother turned to me and said, "Why can't you bring a nice boy like that home?"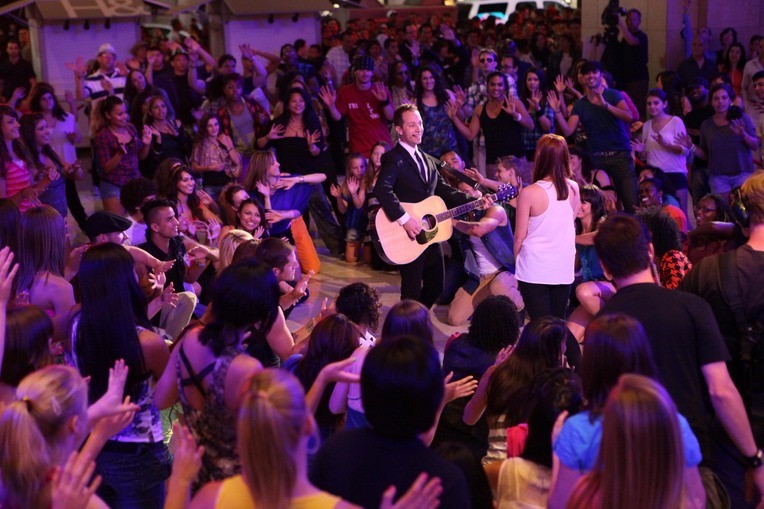 Unfortunately for her, he's already got a girlfriend. Steve is known to TV audiences for his recent appearance on FOX's Mobbed, where he enlisted Howie Mandel and a flash mob to profess his feelings to Dana, the woman he loved. With that grand gesture, Steve proved that romance isn't dead.
But as awesome as that was, it's only half of his story. He's also a successful musician, one-fourth of the band Punchline (you may have seen his bandmates helping him out on Mobbed). Their most recent single "Universe" will get stuck in your head in a very good way.
For once, the spotlight shone on one of life's good guys.
"We're a band of nice, small-town dudes," Steve told me when we connected recently. "We started in high school, when I was 16, which was 15 years ago. We were really bad," he added with a laugh. "It's only been seriously for about a decade."
In that decade, they accomplished quite a bit to be proud of. Punchline paid their dues, building up a local fan base before touring regionally and then nationally. They found themselves signed to Fueled by Ramen, the same label that boasts Fall Out Boy and Paramore.
Eventually, they decided it was time for them to strike out on their own.
"We've always done just our own thing," Steve said. "We were kind of the more punk band. I would say that we are punk-influenced pop-rock, similar to Green Day [and] Jimmy Eat World. We left that label, started our own label [Modern Short Stories], and we've now released records for other bands [and] our own. After we left that label, we saw so many bands ride the coattails of Fall Out Boy, and that just wasn't our thing.
"You have to be unique. And I think if you're not real, people will see through that. If you're not real, you may achieve some moderate success. In the long run, it won't work."
They've found success on their own terms. Their newest EP, So Nice To Meet You, rose to #1 on the iTunes Rock charts. It coincidentally released on the day before Steve's episode of Mobbed aired. But don't call it a publicity stunt: the benchmark was achieved independently of the TV gig.
"We were number one before the show aired, which was really funny," Steve explained. "It came out the day before and we were trying to rally our fans to support us, and they came out in droves. That outsold our [previous] biggest release, which was in 2004. We destroyed that. That was something we were pretty happy about. That's kind of our crowning accomplishment of our musical career."
That's not to say the Mobbed experience didn't have its benefits.
"I'm really impressed by the number of people who looked up the band after the TV show," he told me, adding that "That kind of thing can only get you so far, but your music has to be good enough to keep them listening."
In support of that ambition, Steve is plugged in to social media, which he said has "helped immensely. It's definitely helped a band like us more than it could have ever hurt us. If the Internet didn't exist, there would be less bands." He added that the resulting increased competition "makes you have to work that much harder. This year, I've been working really hard to write and record as much as I can."
With what little free time he has, he cited his favorite TV shows as The Wire, Breaking Bad, and Lost (about which Punchline wrote a song).
As far as music: "I really like a lot of the artists on my label," he said. "My biggest influences are the people that are around me," including The Composure. With a laugh, he added, "I'm kind of bad at listening to music. Every time I start listening to music, it gives me an idea."
With all the effort that he's putting in, I asked him what his specific goals were for the future. It turns out he's already achieved them and then some.
"I feel like I've been chasing the dream of being a professional musician and now at this point, I'm a singer in a band. I'm a songwriter. I run a record label," he elaborated. "I'm at the point where I'm like, 'I can't do all of these things and do them very well.' I wish that I could write, tour full time, and run a record label.
"My favorite of the three is definitely songwriting. I want to make a career out of being a songwriter. That's the dream at this point. Punchline will always be a band; we'll always be making records. That's not going to change."
Even as he's getting plenty of fan mail.
"I get a lot of messages from older women that they wish there were more guys like me," he confided. My mother would be proud.
And so am I, to say that I've gotten to know him, a talented musician and a true gentleman. You should do the same.
My thanks to Steve for this interview! For more on Punchline, be sure to drop by their Facebook page and their official website. And click the album cover below to download Punchline's new EP!
(c)2012 Brittany Frederick/Digital Airwaves. All rights reserved. No reproduction permitted.