Q&A: Meet 'Mike & Molly' Star Nyambi Nyambi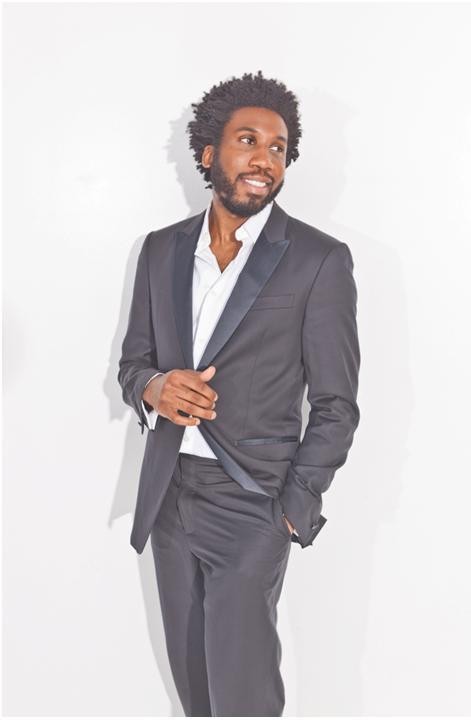 The grind of television work can be grueling for some, but not so for Nyambi, who comes from a heavy theater background. He tells me that his average schedule on Broadway was heavier than the one he currently has for
Mike & Molly
. What does he love about the stage, and how does it compare to TV?
"The process of developing a character from the ground up in theater is awesome. You get a couple months rehearsal with it and then you're in front of a live audience. What's amazing is that every audience is different and every show you do is different," he says. "Doing a sitcom, especially a multi-camera sitcom, we tape in front of a live audience, so there's that thrill. The only thing with television is that you can start and stop."
He goes on to tell me, "My favorite playwright is August Wilson, and my favorite play is Joe Turner's Come and Gone, and I got the opportunity to be a part of the Broadway production of that. I understudied two characters in that, and it so happened that the lead guy, three days before we closed, he lost his voice halfway through the show. I had to go on and do the second act. It was one of the most scary, thrilling, amazing experiences I've ever had."
It's no surprise, then, that his dream roles have stage roots. "I'm a big Shakespeare guy. I'd love to play Leontes in A Winter's Tale in a film. And anything August Wilson," he says when I ask him what his future ambitions are. "I do want to eventually run a production company, that's for sure, and then be able to do things globally, as far as charity work and artistic work."
Nyambi has another quality that's important for anyone in the entertainment industry: yes, he's an actor but he's also still a fan. Last year, motivated by a Netflix rental that had sat on top of his TV, he watched 365 movies in 365 days. So naturally, he has plenty of recommendations to give out.
"There's a movie that I love from 1981 called Diner. The Lives of Others is another movie I love," he offers. "I watch all the CBS shows, of course, on Monday. I love Big Bang Theory. I've watched every episode of The Office, even the British version. Fawlty Towers, I love that show. I also like all the singing competition shows. I like American Idol, I like The Voice, then ESPN First Take."
In addition to his diverse viewing preferences, Nyambi has also tuned in to the one thing some actors can't watch: his own work.
"I just have to suck it up. It's how you improve," he says with a chuckle. "I love when I can get to the point where I'm not watching myself, I'm watching the show, and I feel like I've gotten to that point. I'm just enjoying the show."
And no doubt, Mike & Molly fans are enjoying having him as part of it.
My thanks to Nyambi Nyambi for this interview! To find out more about him, follow him on Twitter or visit him on Facebook, and watch him tonight in Mike & Molly at 9:30 PM ET/PT on CBS.
(c)2012 Brittany Frederick/Digital Airwaves. Appears at Starpulse with permission. All rights reserved. No reproduction permitted.