Q&A: Meet 'Mike & Molly' Star Nyambi Nyambi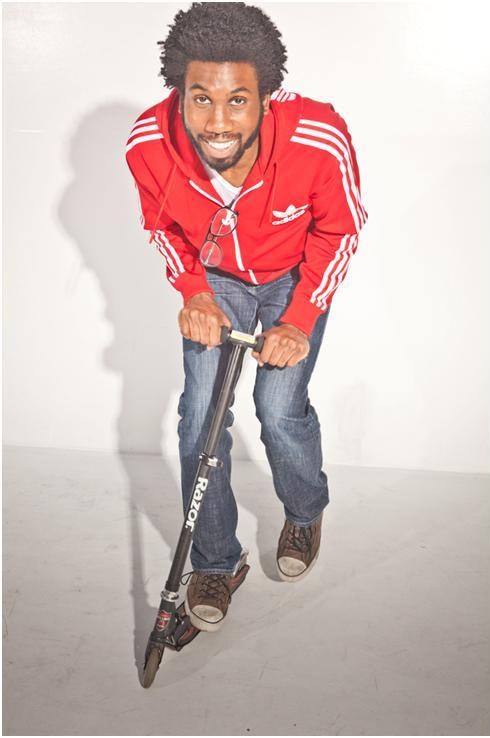 On the CBS sitcom Mike & Molly, he's the sharp-witted Samuel...but don't let the fact that he plays a waiter fool you. Actor Nyambi Nyambi has a lot to say.
"The way I like to say it is I've been an actor all my life, but I never called it acting," the Oklahoma native tells me. "I was always cutting up. I'd make fun of our relatives that would come over. I was always doing the loud Nigerian, the quiet Nigerian. Doing skits from In Living Color [and] random impressions. That was how I liked to be around my family."
It wasn't until his senior year at Bucknell University, when he was giving a speech at a Martin Luther King Jr. gala, that someone pointed out to him his natural talent. "When the night came to do the speech, it was like this light hit me and I realized it was the spotlight. It was like something came over me," he explains. "I got a standing ovation and afterwards, one of my professors said to me 'Nyambi, you're an actor.' It was the first time someone had put a name to what I love to do."
With that in his mind, Nyambi graduated from Bucknell and left behind a successful college basketball career to enroll in NYU's Graduate Acting program. There, he met Law & Order: Special Victims Unit star Danny Pino, who became a significant influence for him. "At NYU we all get mentors, and [Danny] was the one who was assigned to me," he says. "He's just one of those guys that you talk to him, he's so cool."
When Nyambi flew to Los Angeles for an acting showcase, Pino gave him an opportunity that would help him not just then, but later on in his career. "Danny was like, 'Why don't you come out to Warner Brothers?' I met him, we met the cast of Cold Case, did a little tour, and we had a little talk. It was great. Then fast-forward, when I got the call to test for Mike & Molly, I get to Gate 7 and I'm like, 'Wait a minute, I know all this.' I go to the building and I'm like, 'This is the same building Danny and I were having this talk [in].' It took away any nerves that I had about going to a major studio because I'd already done it thanks to Danny."
Ironically, Nyambi's first major role after leaving NYU was on the original Law & Order. He guest-starred in an episode ("Four Cops Shot") of what would prove to be the venerable show's final season. "I had just graduated from NYU and it was my first on-camera job that I'd gotten," he tells me. "I was blessed that they even wanted me to be a part of the episode. That experience was an important experience because being on set with Anthony Anderson and Jeremy Sisto, S. Epatha Merkerson, they were so nice and so open and really cool. I was sitting in my trailer thinking, 'Man, I'm ready for this.' Literally a week later I got the call that they wanted to test me for Mike & Molly."
Playing a character in a sitcom requires a different approach, one that he embraces. "For me, comedy is hard. It is subjective, but at the end of the day, I've got to slant it with my own point of view, as far as what I find interesting and funny," he explains when I ask how he approaches the role of Samuel. "That's what I did when I got the job. It was all about celebrating what I found funny. If you bring your own originality, that's all you can control, and I think people will recognize that."