Q&A: Meet 'Gone' Star Sam Upton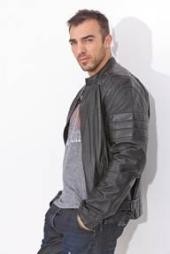 If you catch the new Amanda Seyfried thriller Gone this weekend, you'll catch another interesting actor: Sam Upton. Who is he? An incredibly versatile player.
In Gone, Upton plays McKay, one of the police officers that Jill (Seyfried) turns to in order to catch the serial killer who once came after her and has now targeted her sister. The flick has a cast of names that TV buffs will adore, from Dexter star Jennifer Carpenter to Justified boss Nick Searcy, but don't overlook the affable Upton, who recently chatted with me about the film and the many other interests he has.
Let's start at the beginning. What motivated you to choose a career as an actor?
I'm one of those guys who grew up acting, like in middle school. I went to a really amazing middle school that was heavily focused on the arts. I was kind of the jock thespian. I tried to harness all the attention into a positive outlet, and acting was the most amazing one.
Was there ever a Plan B?
No, and I think that's a great line, because if there's a Plan B, you should take it. If you have a Plan B, it's over before it starts.
Tell me about what it was like working on Gone with an amazing cast, including Jennifer Carpenter, Nick Searcy and Rescue Me's Daniel Sunjata.

Going to Portland, Oregon - which is such a great town to shoot in - I was able to bring my wife and my daughter, which was just incredible. The director [Heitor Dhalia] was such a joy. He's so soft-spoken and yet everything he says is three sentences to you and they mean like seven paragraphs. He's so polite and insightful.
[Jennifer]'s awesome, and Amanda Seyfried by the way, she came in there and absolutely smashed it. She walked up and just knocked it out of the park.
This is my second film with Lakeshore Entertainment, and Tom Rosenberg has sort of taken my under his wing, and I was so flattered. He called me up after The Lincoln Lawyer. That just never happens in Hollywood, to have the head of the studio go to bat for you. He's been such a positive influence in my life.
What attracted you to the project? What are you looking for in material?
To be perfectly humble and honest, I'm at the point in my career where I can't really say no to anything. There's such a discrepancy between the people who are working and the people who aren't.
Lately I've been very blessed. I played a CIA agent in this movie The Take, I played another cop in Lincoln Lawyer. My dear friend Brad Furman was the director [of both films]
Is there another project on your resume that you're particularly proud of or that you'd like more people to have seen?
I have to say that if they haven't seen The Take, I have a couple scenes in there but it's such an incredible movie. It's a movie on a shoestring budget. Of course, they're going to go see Lincoln Lawyer after that. My dear friend Brad Furman, if you haven't heard of him yet, you'll hear of him soon.
Aside from being an actor, you've also written a short film. How much has the experience of writing informed your experience in acting?
Tremendously. I've done it all in the business. I've worked with directors, producers, screenwriters. I think every single actor should go through the process of A) writing a screenplay and B) trying to figure out how to get that screenplay made. We learn so many valuable lessons in the art of filmmaking. You learn so much about the bigger picture of the film. If you look at the greats...I idolize [Marlon] Brando and [Elia] Kazan, that was a true collaboration. Great filmmakers, they all have their muse. That's not just a one-way street.
We always ask writers what their writing process is; what's your acting process once you've gotten a script?
That's sort of a two-part question. Approaching a page one in a screenplay is so much different than getting a script. For me, the first read is very important. I don't like to just rush in to reading a piece. I try to have like a quiet, special moment for that first experience with the piece is really fresh.
Then it's about - and my screenwriting background comes into play here - how can I best help tell the story in the broader context of the piece? I'll read the screenplay five or six times over. It's all about finding the reality.
Then I have to learn my lines! There's a disconnect that happens if you're not on-book. I'll spend hours and hours trying to get those words.
Is there a specific career goal you've set for yourself?

My goal is to be a hyphenate. I want to write, I want to produce, and I want to direct, and I want to act. I want to do it all. If you could tap me on the head with a magic wand and it would happen tomorrow, I would love to have the career of Mark Wahlberg or George Clooney. Both those guys have production companies. Both those guys are major movie stars. Both those guys write and produce. I would die to have what they have.
Is there anyone you'd love to work with?
Daniel Day-Lewis. I would pay to just like hold his sandwich. I would really love to work with Sean Penn. I love Javier Bardem. Ryan Gosling, I think he's just absolutely fantastic.
Outside of acting, IMDB tells me you're also a drummer. Do you play actively, or is it more of a hobby? What music do you listen to?
Music is a huge, huge passion. My dad is a world-class jazz trumpet player. I grew up playing in nightclubs with my dad, playing drums. Music is a huge, huge passion. I think music and film would come pouring out of my veins.
I listen to such a wide variety of stuff. When you grow up playing jazz, you love everything. I love anything by Miles Davis. Herbie Hancock is probsbly my music idol. I love Jon McLaughlin, The Mars Volta, James Brown, Earth Wind and Fire, and I like all kinds of Brazilian music.
What do you watch? What holds your interest?
I'm so old-school. My favorite film of all time is a black-and-white movie, The Seven Samurai by Akira Kurosawa. Going back to Daniel Day-Lewis, The Crucible is one of my favorites. I love old Marx Brothers movies; I just think they were genius. Jerry Lewis's The Errand Boy. I love a movie called The Killing Fields, that won an Academy Award.
I saw The Grey the other day with my wife. That was amazing. There's nothing better than going to the movies and seeing an amazing movie. It like literally changes you.
My thanks to Sam Upton for this interview! You can see him in Gone, in theaters now.
(c)2012 Brittany Frederick/Digital Airwaves. Appears at Starpulse with permission. All rights reserved. No reproduction permitted.