Q&A: Meet Disney XD's 'Mr. Young' Star, Brendan Meyer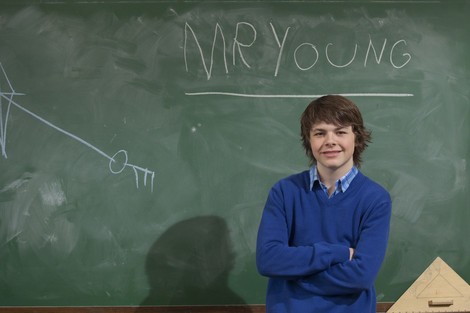 Disney XD's Mr. Young is a show about a child prodigy who returns to school to teach kids his own age. I recently had a chance to talk to Brendan Meyer, the star of Mr. Young. Here's what went down.
Q: The lead in a TV show is an opportunity most actors spend an entire career waiting for; what has it been like for you to achieve this at such a young age?

Brendan Meyer: It has been a real thrill to achieve a success like this. I did a lot of work in Film/TV in 2006-2008, but in the year before Mr. Young I didn't work a lot. So, I was really able to appreciate what I got with this role. Any time you have steady work in acting it's a great gift, and you get a chance to learn a lot.
Q: I watched several episodes of Mr. Young and though the show is aimed at a demographic much younger than mine, I still found the show genuinely funny and entertaining. What is it about Mr. Young that allows the show to appeal to a broader audience?

BM: I think the writers on Mr. Young have really aimed for more than just low brow jokes and have tried to make the show funny for parents and kids. They rely on a lot of clever word play. As a seventeen year old, I am outside of the target audience for the show too, but I still find it really funny. I am very biased but still...
 Q: Most 17 year olds are preparing for end of semester finals right now before Christmas break. Are you able to fit school into your busy schedule? Are you planning to attend a University?

BM: I try to fit school in as best I can. I have to be very flexible, as being on Mr. Young is like having a full-time job. I am getting close to finishing my high school diploma. I have not yet decided on University. It will depend if I continue to work regularly.
Q: As a fan of all three actors involved, I was excited to see that you are in the upcoming movie This Means War. Did you get to work with any of the leads closely and if so what was that experience like?

BM: I don't have a big part, so I was only set two days – but, I did meet Chris Pine and Tom Hardy. They were both cool! I talked to Tom Hardy for a while as I am a big fan of his. He was really nice! Getting to watch the two male leads do a scene from close range was very cool.
Q: As you move forward in your career and take on bigger movie roles, is there a genre of movie you'd like to focus on? Action, Comedy, Drama?

BM: I just like to do good work. I enjoy movies of all different genres. I just want to play fun and challenging characters in great projects.
Q: I see you are from Edmonton. Are you an Oilers fan? Do you play hockey? If so, are you able to find time to be on the ice amidst your busy schedule?

BM: I do cheer for the Oilers, but I don't play hockey. I'm not the greatest skater, so I think it's best for my safety and for the safety of others that I stay off the ice. 
 Q: It appears you have a love for the stage in addition to the screen. What is your favorite Shakespearean role you have done so far?

BM: Yeah, I really love Shakespeare. I've played a lot of the kid roles in Shakespeare's plays, as well as a few bigger adult roles. My favourite role was Young Lucius in Titus Andronicus. Titus is my favourite of Shakespeare's plays. The director really beefed up the role of Young Lucius, so he was a big part of the over all arc of the show. It was an amazing production and I learned a lot.
 Q: As you mature as an actor, is there a Shakespearean role you would love to play?

BM: I think there are dozens of great Shakespeare parts I want to play but if I had to pick one, I would say Richard III. It is very demanding and there is so much you can do with it. I was in a production of it, and I think it's a great play.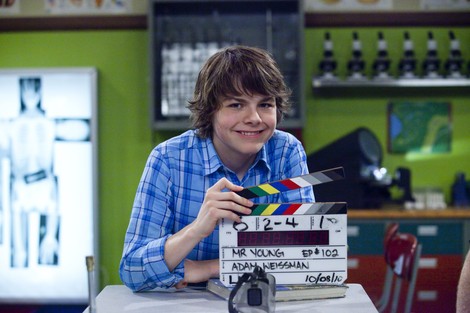 Q: Are you still involved with the Celsius Youth Theatre? If so, take us through your role there and how you got involved.

BM: Since I'm so busy with Mr. Young, I was not in Celsius' last show, but I am still involved somewhat behind the scenes. Celsius was founded by me and my two best friends Daniel & Calla, as a chance to give youth actors an opportunity to get the experience of doing a full length play and taking on full sized roles. I learned a lot about what goes into getting a show on its feet from booking the venue to getting all the props, making all the costumes, and many other things.
Q: Other than Mr. Young and the other fine shows on the Disney networks, what is your favorite show on TV right now?

BM: My favourite show on TV would be Breaking Bad. It's very intense and exciting. The acting is fantastic and the writing is top notch. It's almost perfect on every level.
Q: Other actors I've spoken with often talk about seeing a truly great movie or play and being inspired by the performances. Have you seen a movie or play recently that had that effect on you?

BM: I was greatly inspired by the performances in Warrior. Tom Hardy, Nick Nolte and Joel Edgerton all gave great performances. The scenes between the three actors were great as they were all very subtle and honest and didn't do a lot of "showy" acting. They were just natural.
 Q: Finally, I know Thanksgiving in celebrated in October in Canada, but I'm sure you spend plenty of time in the US. When was your Thanksgiving this year, and what's your favorite Thanksgiving food?

BM: I was in Canada for American Thanksgiving and America for Canadian Thanksgiving, so I didn't really celebrate in a big way this year. When I do, I really love the turkey. Gravy makes everything better. Well not everything but most things. 
As you can see, like the character he plays, Brendan Meyer is an actor way ahead of his time. I think we can expect great things from him on both the stage and screen for years to come.