Q&A: Meet Ana de la Reguera
"You have to be very humble to start over," says Latin actress Ana de la Reguera when we connect very early on a Monday morning.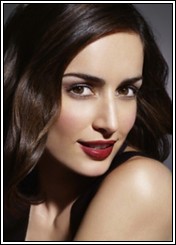 That's something she knows firsthand. She's just now arriving home after working through the night. It's not the kind of work schedule you'd expect for an actress who's considered "one of the most influential Latinas in the United States" according to Univision and who's been feted by - or on the cover of - various international publications like Glamour Mexico, Vogue Latinoamerica, and People en Espanol.
While all the accolades in Latin America are appreciated, de la Reguera has taken the big and admirable step of trying to establish an equally successful career in the United States, no matter how strange the hours starting over requires.
"Sometimes I don't feel that free to improvise [but] I'm comfortable working in English," she explains. "Sometimes certain words, or certain meanings, aren't that clear for me, but people explain it to [me]. I just need to study twice [as hard] as I study in Spanish."
Her hard work has yielded results. This year she was part of the talented ensemble in Universal's sci-fi/Western hybrid Cowboys & Aliens, playing Maria, the wife of saloon owner Doc (Sam Rockwell) who is abducted when aliens land in their small town. The flick put her in enviable company, including stars Daniel Craig and Harrison Ford, and director Jon Favreau.
"Being able to work with them was a dream," she says. "I was a huge Daniel Craig fan. I'd been following his career; he's an amazing actor. And Jon, it's great what he's done as a director and also as an actor. I [was] very lucky to work with them. I'd love to work with them again."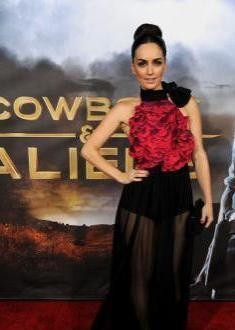 The major motion picture is but one credit to her name. She's also found success on the small screen, including in season two of HBO's Eastbound & Down as Vida, the love interest to Kenny Powers (Danny McBride). She has recently wrapped the HBO Latin America series Capadocia, where she has a lead role as Lorena, an inmate in an "experimental penal complex" in Mexico City.
"It's a really, really good show," she enthuses. "And you can have a real taste of Mexico, our society."
She also has a particular soft spot for the stage. "I feel like I prefer movies, but, at the same time, theater is so exciting when you're doing it. It's a harder job doing theater."
"I still want to do something musical. I'm taking singing lessons right now," she says. "I still want to do good movies and look back. I just want to keep working. I've just been so fortunate. I feel honored that people hire me."
With a successful career in multiple mediums in two parts of the world, de la Reguera has accomplished more than enough to be proud of. Yet the achievement of which she speaks most fondly is her charity work. She is the founder of the organization VeracruzANA AC, which has been helping rebuild de la Reguera's hometown of Antigua after the city was badly damaged by Hurricane Karl.
"I love to do it. We're building shops and things like that," she explains. The organization was finally able to open a long-awaited touristic boulevard in Antigua in June.
Whether it's in the United States or Latin America, in film, television or theater, or in charitable efforts, Ana de la Reguera has found multiple paths to success. She's not just starting over, she's just getting started.
You can find out more about Ana by visiting her official website.
(c)2011 Brittany Frederick/Digital Airwaves. Appears at Starpulse with permission. All rights reserved. No reproduction permitted.