Q&A: Marisol Nichols On Her 'Absolutely Hysterical' New Series 'GCB'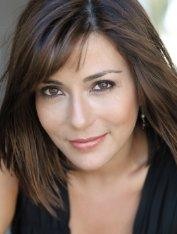 Actress Marisol Nichols, who plays Heather Cruz in ABC's new show GCB, calls the already much-talked about series "absolutely hysterical."
Based on the book Good Christian B--ches by Kim Gatlin, the series is clearly positioned to succeed Desperate Housewives as ABC's prime-time soap (it even follows Housewives tonight at 10 PM ET/PT). It centers around Amanda Vaughn (Leslie Bibb), who returns home to Dallas after a scandal to "sympathy and scheming," according to the network press release.
The series is a different flavor for Nichols, who's established herself playing a number of strong women on much more serious shows, including CTU boss Nadia Yassir on 24 and Detective Karen Bettancourt in Blind Justice. Yet she also demonstrated a vulnerable side with her sympathetic portrayal of Elisa, the mentally ill girlfriend of Detective Scotty Valens (Danny Pino) in the first year of Cold Case. Look for her to continue branching out with this role.
Here's what she had to say about the new series and her impressive TV resume.
Let's talk about this new show GCB. Who do you play, and how was it working on this first season?

Heather Cruz - in the book she is older than I am, but then they changed it once I got the role. She's the single one out of all the girls. She's a complete slut in the book; in the show she's a little bit more desperate. She kind of goes back and forth between the two worlds [because] she becomes friends with Amanda.
It was very, very busy. We shot a lot of nights, a lot of Saturdays, a lot of early morning calls. It was pretty amazing. But what ends up being in the final cut is going to be absolutely hysterical.
It's based on a book - did you read the book at any point? How much does the show differ from the book in your opinion?
[The show] pays more homage to the book that it was based on. I read the script and thought it was hilarious, then when I got the role I read the book. I'm an avid reader; you get into the world without ever going to the world. I ended up doing more research just being in Dallas. This was sort of building it from the ground up.
I want to take a step back with you: I know you best as Nadia Yassir in the 2007 season of 24. What was that role like for you?
Stepping into that season six, it was so special. It's funny because I had never seen the show when I got the role. I had no idea what a phenomenon it was.
I was like, "They hate me. I auditioned for this three times [for the roles of Carrie Turner, Michelle Dessler and Claudia Hernandez]." By the time Nadia had come along, it was Natalie Barnes. [Director] Jon Cassar told me they just hadn't found the right role for me.
You've done a lot of interesting TV series - 24, Life, Cold Case - do you have a favorite among them? What do you look for in a project?
I think Blind Justice. Out of all the characters, that's my favorite character. It was such a jaded character. She was a tough cop in New York, a homicide detective. I got to do all the ride-alongs. I really liked playing her.
I look for something that I would want to do for 7 years. I have to like the writing. It's really hard when you get a pilot because you only get one. You have to trust that it's going to carry out. If I don't want to watch it, then who cares? I have to want to watch it.

Do you have a particular piece of work that you're the most proud of?
This movie I did called Felon with Stephen Dorff. By far, that would be my first thing. I'm so proud of that role. It was so fantastic. You don't get well-established good actors like that for almost no money without a dynamite script.
Is there a dream role, guest star or project out there for you?
I would love to do a really stupid character on The Office. I'm so an Office fan. I really want to work with Tim Burton and Johnny Depp. He creates these characters that are so quirky and always have a sense of humor.

What do you do when you're not working?

I have a daughter, so I'm spending as much time as I can with her. We sort of took off for Chicago; I got to see my family and do some shopping and hang out and take her with me everywhere, so mainly that. It's just trying to balance that out and play catch-up.
I don't know if you can call going to the movies a hobby. Going to a great theater; I love the Arclight. Listening to the soundtrack, seeing cinematography the way it was meant to be seen...here's something about actually experiencing the whole thing.

Since you've mentioned that you're an avid reader and a movie buff, I have to ask you for some recommendations.

If you want a favorite book, Orson Scott Card's Ender's Game. You'll be hooked. I think he's written like twelve or thirteen. There's a great book that Syriana was based on. It's called See No Evil.
The Devil's Double is a really interesting film. I was really glad I saw it because it made me appreciate America so much more. It stayed with me. It's one of those films that haunt you.
My thanks to Marisol Nichols for this interview! You can follow her on Twitter and see her when GCB premieres tonight at 10 PM ET/PT on ABC.
(c)2012 Brittany Frederick/Digital Airwaves. Appears at Starpulse with permission. All rights reserved. No reproduction permitted.