Q&A: Marianas Trench's Mike Ayley
You may not have heard of Canadian pop-punk rockers Marianas Trench, but you should remember their name. After enjoying plenty of success in their native country - they garnered three MuchMusic Video Award nominations this year - they're on their way to take the United States by storm.
They've appeared as themselves on ABC Family's Kyle XY, and their music has been heard on the CW hit The Vampire Diaries (the song "Cross My Heart" was included in season 1) and Degrassi: The Next Generation.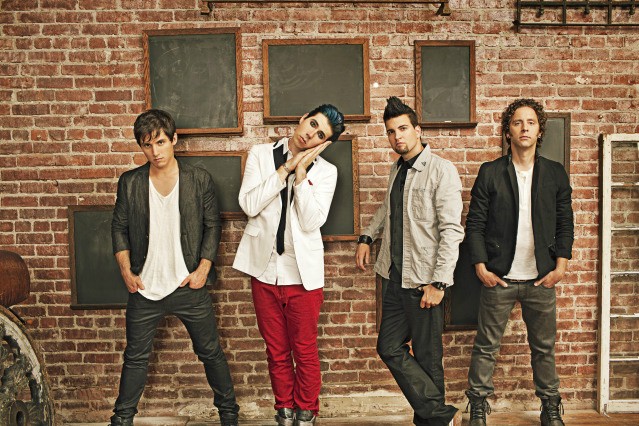 As the band prepares to release their third album, Ever After (set for November 29), and head out on tour with the likes of Simple Plan and The Cab starting a month from today, bassist Mike Ayley (third from left) dropped by to chat about their sound and how they are most decidedly not a "boy band."
For those who don't know, let's take a quick trip through the band's musical history. How did we get to where you are today?
Musically, we recorded an album in 2006 called Fix Me, which didn't do too well, but we toured our asses off, met everyone who came to every show, and all of a sudden we had this little mini army. We did one more video and one more song, and it ended up going to number one in Muchmusic in Canada because we had those fans. We have the best fans; they're so hardcore.
We did a second album called Masterpiece Theater and sold a bunch of records, and we even released it in the States because we did well enough in Canada. Now here we are releasing more music to the United States.
How did the band's unique name come about?
I actually have no idea where the name came from. We try to make up some funny story every time [someone asks]. I'm  sure there is one, but I don't know it, and I'm in the band.
You're four photogenic young guys in a pop band - so have you ever been saddled with the "boy band" misconception?

Especially before we put any records out, because we do a lot of harmonies and stuff. Just because we can all sing, you're instantly thrown into that category. It's supposed to be Beach Boys and Queen, not Backstreet Boys.
Give me an artist or artists that you admire or would love to collaborate with.

I would've loved to, especially in the American Idiot era, toured with Green Day. I think that was a great record that opened up some more options for other bands. Everybody in the band likes Foo Fighters. [Lead singer, guitarist and pianist] Josh [Ramsay] would probably like to work with Brian Wilson.

Your last album, Masterpiece Theater, was described on your website as "high-concept." It's the kind of thematic concept I haven't come across since Styx released Kilroy Was Here. How did the idea of that album come to be?
I don't know. It just sort of happened. It doesn't make sense to me that people are doing albums that aren't a big piece of work. The album itself is a complete piece of work. Years from now, an album that's got four or five singles and then some filler, that won't stand on its own.
Your third album is scheduled to arrive in November 2011. What can fans expect from it?
This record is actually even more of a theme and concept [album]. It's sort of a dark fairytale from start to finish. Because the last one seemed to work, [for] this one we decided to take it even further. This new album is a similar idea where the outside the box songs may even be more outside the box. My favorite song on the record is the first one called "Ever After." It's the best thing Josh has ever written.
You're touring with Simple Plan starting in October. Any particular tour stops that you're looking forward to?
I want to play New York City again. We played there once and it was a blast. We've never played Los Angeles before. Las Vegas we get to play, which will be fun, and there are a couple days off after that so the night after might get a little messy. (laughs)
I love touring. I just love it; it's my favorite part of the job. There have been maybe three times in the last six years where I've been just kind of neutral. I really, really like playing [live] because the crowd is different every night. If it was lip-synced and on tape, it would be really boring, but I like the nerves and the edge of playing live - when some days your voice is a little rocky or you're more tired. I like our songs, so I get really excited.
Every tour has something unique about it. What's your set going to be like?
I think on this US tour we're the opening act, so we'll get like 30 minutes. The songs might be a little bit limited depending on time, but the actual personal connection will be different. The thing about our sets is there's not scripted dialogue. There's a lot of interaction with the fans. If you go on tour with a lot of bands, you'll see their show's the same day after day after day. Each show is going to be fresh and unique to the vibe of the day.

Is there a song or songs of yours that you're most proud of - the one that you would recommend to someone as your best work?

I'm going to pick three. The opening track from the new one, called "Ever After," "Masterpiece Theater III," and there's a song on the new [album] called "Fallout" which is my favorite of the singles by far. There's a single called "Celebrity Status" [from Masterpiece Theater] that I really like.
What's the one track that you most enjoy performing live?
"Lover Dearest" and "Masterpiece Theater III." Those I still get goosebumps when I play them.

What's one musical recommendation you'd give to our readers? A favorite album or song that you've been listening to?

I am a little bit odd in my taste compared to the other guys in the band. I don't really pick artists that I choose to like. A good pop song is a good pop song to me, even if it's not your style. So I sort of more really like good writing when it comes to singles, but when it comes to albums, I like really heavy background stuff. My Bloody Valentine, Sigur Ros, really moody stuff.
My thanks to Mike for this interview! Keep an ear out for him and Marianas Trench when they arrive on their US tour beginning October 28. For tour dates and more information on the band, visit their official website, and you can also follow them on Twitter (@MTrench).