Q&A: Lucy Lawless Dishes On Sexy 'Spartacus' Scenes, Hurt 'Xena' Fans & More
It's been nearly a decade since 41-year-old actress Lucy Lawless starred as a leather-loving heroine, but that's ancient history.  After "Xena: Warrior Princess" came to an end in 2001, the New Zealand icon continued her adventures in Hollywood, doing everything from minor television roles to showing off her singing pipes on "Celebrity Duets."
Fortunately, Lawless has made a triumphant comeback as Lucretia in Starz's television series, "Spartacus: Gods of the Arena." While Lawless did co-star in the previous "Spartacus: Blood and Sand" as the sinfully seductive wife of a gladiator trainer, her character Lucretia wasn't supposed to return for the six-part prequel. By popular demand, not only is Lawless back, but she's here to say. Diehard fans must have gotten the memo because 2.8 million viewers tuned in last Friday for the show's premiere.
Starpulse chatted with Lawless during her brief visit to New York City about filming those dangerous nude scenes, meeting the new Spartacus, and showing off her merkin.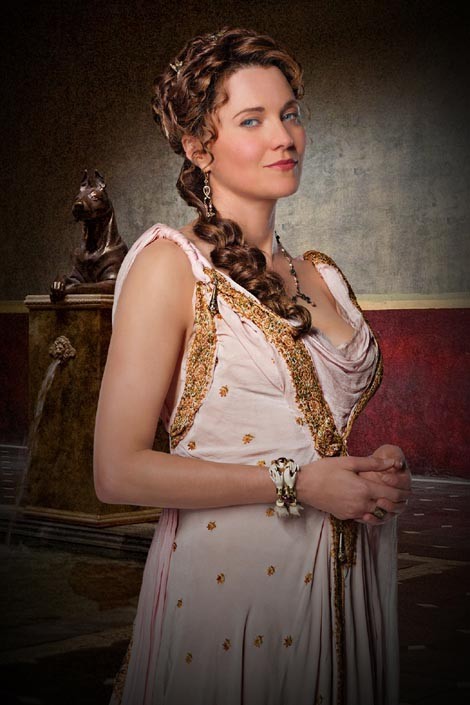 What can audiences expect from Lucretia's role in the upcoming prequel to 'Spartacus?'

Lucy Lawless: She's a much sweeter, kinder, and gentler Lucretia from the one we love to hate. She is still in the honeymoon phase and is crazy about her husband, whom she would never dream of cheating on. Lucretia's old friend shows up and teaches her a whole slew of bad tricks. Under the influence of opium, they get into some pretty weird things and then their world starts to fall apart. It's really fun to watch all of these characters go from being young and full of potential to getting into a rotten situation.

I heard that Lucretia wasn't supposed to be in the second season. Why do you believe it was important for Lucretia to return and continue being part of the 'Spartacus' story?

Lucy Lawless: I thank the fans for making her so popular. People blame the media, but I owe them everything! Lucretia is also such a great character. It's awesome to be the one that gets to stir up trouble.

You previously mentioned that you had difficulty filming nude scenes in the first season. Did you face any new challenges the second time around?

Lucy Lawless: Nudity is not hard to get used to, but sex scenes are almost impossible. We're not porn stars! Sex is something that you do in private with someone you really like, not in front of colleagues at a cold warehouse with somebody that you don't fancy (laughs). It's so unnatural on every level, but it's really choreographed. We use a lot of modesty garments, so there's no accidents. Otherwise, that would be a terrible health issue. It's very safe, but it feels dangerous to us because we're hard wired to protect ourselves.

When it comes to Lucretia there are no action scenes from her. As someone who spent several years doing just that, are you happy to finally have a break?

Lucy Lawless: Oh yeah! I hated that, but it was part of my everyday reality, so I didn't fight it. Doing the action scenes came with the business of playing Xena. I'm so happy not to have them now. It's like yay, a get out of jail free card, man!  

How do you prepare physically for Lucretia?

Lucy Lawless: I have been working with a trainer for the last 18 months. I try to stay in shape and healthy because I'm setting myself up for the rest of my life. When you're filming it becomes impossible to go to the gym every day. Sometimes you have to let things go. I've got kids, so my drive is to get home and do homework, reading, or whatever with them.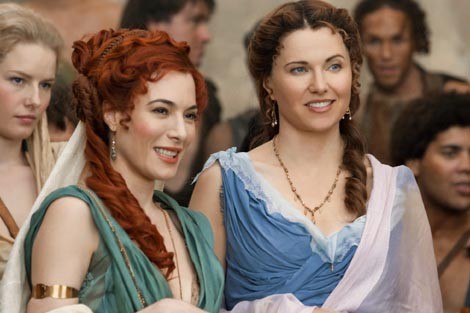 Speaking of your real-life role as a mother, how do you feel about being involved with a project that's getting so much attention for its violence and sexuality?

Lucy Lawless: It's definitely a grown-up show and that's why it's on cable late at night. The sex scenes are never about sex. They're about power, abuse, and cruelty. It's always about something else and they're handled very tastefully. You always think you're seeing more because the editors are just clever. However, you still feel very exposed. It's very challenging, but you put your neurosis in a jar, go film the scene, tell your story, and do the job to the best of your ability. A lot of people ask me about the sex and I'm like, 'What sex?' It's like a dream. On the acting side, this is the best thing I've ever done. I have such an amazing role in "Gods of the Arena" and I'm super proud of it. I can't wait for you to see it.

What was it like working with Liam McIntyre?

Lucy Lawless: I haven't worked with him yet. Liam is just being cast. He doesn't begin to play the role of Spartacus until April, so he's completely new. I met him because I made it my business to see the applicants (laughs). He was an early front runner. Liam is a very sweet man and quite young. He also had to beat out a thousand other people for the role. He's been training like crazy and gained 40 pounds of muscle. I'm really proud for him because that was a hard role to win. It was sad that it had to happen because of Andy's (Whitfield) situation, but we're going to give this boy all of the support he needs to be himself in the role and produce it his own way.  He's not alone.  

Have you spoken with Andy Whitfield since he departed from 'Spartacus?' to battle cancer?

Lucy Lawless: Yes, Andy emails us. He's responding very well to treatment. Andy is a very spiritual man, so he sees value in this terrible journey. Right now he's putting himself and his family first. We love and continue to support him. I believe he's going to have such a fantastic career, but for now, his health, kids, and wife are all that really matters.

In addition to being an actress, you're also a singer. Could we expect more music in the future from Lucy Lawless?

Lucy Lawless: I hope so. I had the opportunity to make music my career and I've never taken it. Even though it's such a drug for me to be up on stage, acting always wins because it's my first love. I would like to do musical theatre and straight plays. That's going to be my next focus.  

Maybe you'll do Broadway again someday?

Lucy Lawless: Yeah man! I always try to see shows whenever I visit New York. I definitely want to do a straight play soon.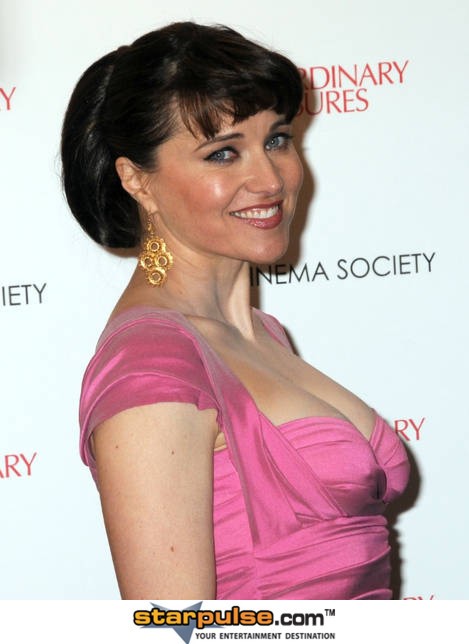 I have to ask. A lot of 'Xena' fans are still very upset about the show's ending. How would you have ended Xena if given the opportunity?  

Lucy Lawless: I would have them sailing off into the sunset together. That way, people could dream about what adventures they would embark on next, as opposed to separating them forever. That was the most hurtful thing about 'Xena.' It's a cool story if you think about it. In 'Spartacus' people are killed in the worst way all the time. It's part of the show. However, it wasn't right for 'Xena.' It's such a shame to look back because it really hurt fans. People related to those characters in a unique way, creating a different kind of fandom. The 'Xena' fans are an incredible bunch.

When is this merkin going to make its debut on Lucrecia?

Lucy Lawless: I think it begins now! I might have succumbed to the merkin in 'Gods of the Arena.' You'll have to tune in and find out.