Q&A: Lisa Marie Presley Reveals Personal Side With 'Storm & Grace'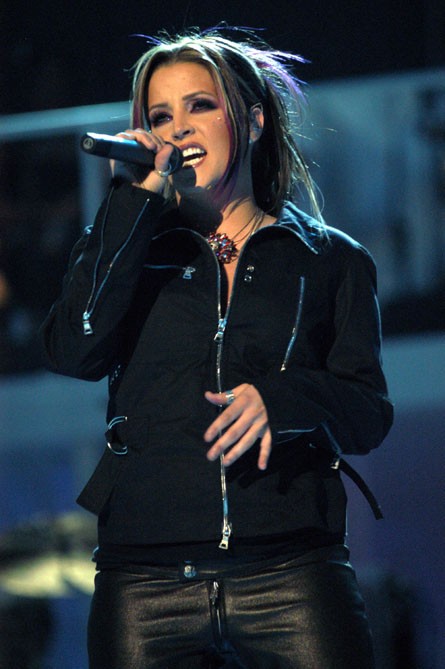 After spending her entire life surrounded by Hollywood's lights and cameras, the "princess of rock 'n' roll" is ready to give the world a peek of who she really is. It's been five years since singer/songwriter Lisa Marie Presley has released an album and with good reason. While many aspiring starlets are in training to be the next chart topper, the 44-year-old was busy discovering salvation on England's countryside and becoming a mother to twin girls. However, the itch to make music never left and over an eight-month period, she wrote 30 songs, channeling her southern roots. The result is Storm & Grace, an emotionally raw and revealing collection of tracks exposing Presley's determination to successfully overcome personal demons. While her lyrics are mysterious and may possibly hint on the many rumors surrounding her private life, Presley insists her goal is simply to create without having to go gaga for a top 40 hit. The songs, all sultry, smoky, and smooth, are tender melodies reflecting Presley's tumultuous past and hunger to satisfy herself with much-needed peace. While critics will always make tiresome comparisons to her famous father, the King's only daughter is ready to have fans and curious listeners alike rediscover her as an artist. In time for her major US tour, we spoke with Presley about returning to music, hitting the road with her children, and why you ain't seen nothing yet.
It's been several years since you released your last album and so much has happened in your life since then. What inspired you to return to music?

Lisa Marie Presley: I was completely uninspired after the two previous experiences with just being pushed to places I didn't want to go, constantly battling, and being surrounded by the wrong people and energy. I was being pushed to this pop world where I wasn't really ever supposed to be a part of. I went through a period where I just had to shed some skin and get rid of a lot of things that were around me. And then, thankfully, (manager) Simon came along and decided to help me out. I also had twins, so I was just adding and subtracting in life. Simon put me in a situation where I was with so many people with no agenda, just to see what happens. It was supposed to be for a month or two. I was given so much space and freedom in a faraway, different environment that it ended up being eight months. It was just about taking my time, finding my way, writing with different people, and seeing what came out.  But then it became very obvious after a certain amount of time that there was this style happening. It has a very strong presence on this record. It all just came very naturally.

How did collaborating with producer T Bone Burnett guide you in deciding which songs you wanted to include in Storm & Grace?

Lisa Marie Presley: We did it in 10-12 days. It was like rolling thunder with him. He's great. He would listen, I would sing. It was all about how he felt that day, to be honest. He would sit with the whole catalog of songs, listen, and just pick. He was magnetized towards certain songs.

That must have made the whole experience of going back to the studio a lot easier.

Lisa Marie Presley: Oh my gosh, you have no idea! (Laughs) The previous experience was so tumultuous, ridiculous, tortuous, tedious, and all these other things. I had no idea this is how it really goes. It was so different from the previous situation I was in. It's been…really nice.

Which was the most difficult song for you to write and why?

Lisa Marie Presley: Emotionally, they were 'Weary' and 'Storm & Grace.' Why? They were really close to me. Both of them. You see, I'm kind of old fashioned and I don't like to say who they're about, but emotionally I was really attached and going through things at the time. They came from a lot of emotions.

In the case of the track, 'You Ain't Seen Nothing Yet,' what do you hope listeners will get from it?

Lisa Marie Presley: I like it to be an open canvas for the listener. I can say what things are inspired by, but when I write, I try to take my experience and make it somehow relatable to the listener so that they can feel the same thing or at least something similar. I want the song to help the listener overcome a situation he/she may be experiencing. I try not to make it too much about me. I do, it is (laughs), but it's one of those things where I just like it to be more about the listener.
Entertainment Weekly stated your vocals evoke both Sheryl Crow and Courtney Love. If given the opportunity, would you consider collaborating with any of these women?

Lisa: Marie Presley: I think that was the previous stuff. Was that a while ago? Hmm. I haven't heard that in quite some time now. I think we're really different, though. I don't see that in the unforeseeable future, but not in a bad way. It's just a different…thing. That might have been from the previous album.

What about your son Benjamin? Any plans of working together?

Lisa Marie Presley: We are. I mean…he's contemplating coming out with us, so that would be, for me, great because I want him to be around and have fun. I'm working on him (laughs).

What was the most important lesson you learned as an artist while creating an album like Storm & Grace?

Lisa Marie Presley: I think the previous two albums got me through whatever I needed to get through at the time. I was able to battle my demons and slay the dragons I needed to slay. Now I was in a different environment with the right kind of people around me. All of that in starting from ground zero without anyone telling me what or how to write. All the things that were stresses are no longer. I think I was just allowed to create whatever I wanted on a blank canvas with no pressure. The freedom was the most important element for me.  No agenda.

For sure.

Lisa Marie Presley: Not trying to please everybody, not trying to go in a certain direction, you know? People in the past told me to come to Nashville and make a record there. I went and met some people, but I thought it was so contrived. I don't think I need to prove anything in Tennessee anyway (laughs). I don't need any of that. And none of that happened this time. That's the difference.

How do you handle the pressures of having your life constantly analyzed by critics when your goal as an artist is to create music?

Lisa Marie Presley: I don't know how anyone does it, to be honest. Because it's gotten even more intense. That's a good question because I don't know how anyone handles it. The pressure alone can drive people to substance abuse and I can see why. But, you just have to surround yourself with good company and hope your efforts pay off. Your goal should be to change someone's life with your work, not focus on the bad stuff.