Q&A: 'Law & Order's' Linus Roache Makes A Welcome Return
Linus Roache was the best district attorney ever to have graced the courtrooms of Law & Order. Tonight he reprises his role as Michael Cutter in the Law & Order: Special Victims Unit premiere - but before that, he was gracious enough to talk to me about stepping back into the franchise.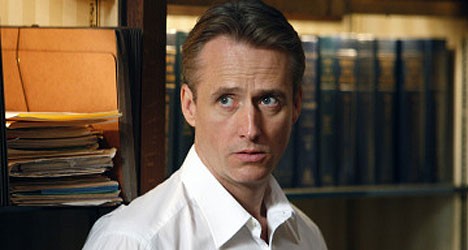 Roache's tenure began in 2008, when he joined the show amidst a significant cast shift. He left his mark immediately, bringing a startling intensity to the role of Cutter, a determined prosecutor whose zeal intimidated defendants and caused him to butt heads with his predecessor, newly minted District Attorney Jack McCoy. Cutter was never afraid to go that one extra step to ensure a conviction.
Likewise, Roache had a fire in his performances that made me fall in love with Law & Order all over again. No offense intended to Sam Waterston, who carried the Order side of the show for sixteen years, but Roache's Cutter was a force of nature. Every week I wanted to know what he might do next.
That "next" ended up being a promotion of his own. Cutter is now the Bureau Chief overseeing the Assistant District Attorneys for the Special Victims Unit, including ADA Alexandra Cabot (fan favorite Stephanie March). He's definitely moved up in the world; he's taking calls from "Hillary's people" and notes from a "new DA" besides. With another big change under his belt, here's Roache about Cutter, past and present.
How did you come back to the role of Michael Cutter?
It was quite a surprise but it was a nice surprise. My agent called up and said, "They're interested in bringing you into SVU." I thought, "What - as a killer? As a murderer? " Why I was intrigued to do it was because I got a chance to take the character into a new dynamic as someone who's having to take more responsibility than he was before and he can't just be so cavalier. So there was a kind of interesting challenge as well as an actor to do something different with the role as well.
We hear a lot about the Law & Order formula, which makes me curious - is there a difference between the original series and SVU for you as an actor?

I was thinking over the weekend [and] I suddenly realized that of the three Law & Order shows, that the mothership was like the moral philosophical show that dealt with the moral issues of the law often and Criminal Intent was dealing with the psychological. And SVU has really been very powerful because it stays very true to the emotional and I think that will continue to be its hook for the audience. 
You've only been away from the Law & Order franchise for about a year and a half (the series finale of Law & Order aired in May 2010), but it's a big departure for your character. How do you think Cutter's adjusting to the role of Bureau Chief?
It's quite a shift for Cutter to assume this responsibility, not because he is frightened of taking it but because he is now accountable for a lot of other people's actions as well as his own, and he can't afford to go be so cavalier in terms of going outside of the system.  What I do feel already having played the role for three seasons and now taking him into this new position is that he has learned a lot from his experience and it's interesting to see how his maturity can bring support and influence in the pursuit of justice.
I really like the fact that suddenly I find myself on the other side of the desk, telling someone who's very passionate to do the right thing that maybe they shouldn't do it, but actually wanting them to do it. I find myself standing where Jack McCoy was standing before a little bit and that was very interesting.
He was one of the rare L&O characters who got a personal subplot. It was implied in the original series that Cutter had romantic feelings for Connie Rubirosa (Alana de la Garza, below right with Sam Waterston and Roache). The show never got to explore those, but what do you think happened with Mike and Connie?
That's a great question. It was always interesting to see how people assumed there was something between Mike and Connie. My sense is that they did have strong feelings for each other but that that they both felt that it was never going to really work. Or would it have? I think they both felt both of those things and never knew how to handle it. That's what kept it alive.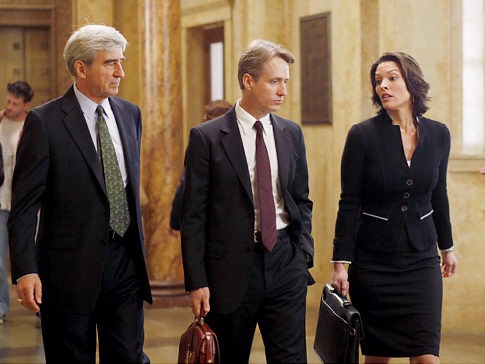 Is there anything you'd liked to have done with the character of Cutter that you didn't get to tackle?
I always wanted to do an episode where he had to face the fact that he prosecuted someone who was innocent and had to deal with it years after the fact. I thought that would be very morally interesting.
What's the thing that you love most about Cutter?
His zeal and not caring about whether people liked him or not.
He was definitely embraced by the fans. Is there a chance that we might see you in future episodes of SVU?
As far as I know, I'm doing four episodes. It feels like things are being mixed up in a very creative way and there's some interesting cross-pollination going on. So I wouldn't be surprised if we also see a lot of other characters from the past appearing through this season and making the most of all the much loved characters from the Law & Order franchise.
Have you seen the British version, Law & Order: UK? Would you consider appearing on it?
I love the UK version of the show. It's brilliant and the actors are fantastic.  And yes, I'd love to appear on it.  The question is ...what as?
Paging the Law & Order: UK writers room...My thanks to Linus Roache for this interview! Check him out when Cutter returns in tonight's SVU premiere, "Scorched Earth," at 10 PM ET/PT on NBC.