Q&A: 'La Reina del Sur' Star Kate del Castillo
Tonight, La Reina del Sur starts a second run on Mun2. The popular telenovela stars Kate del Castillo as Teresa Mendoza, who becomes the toughest woman in the Mexican drug world.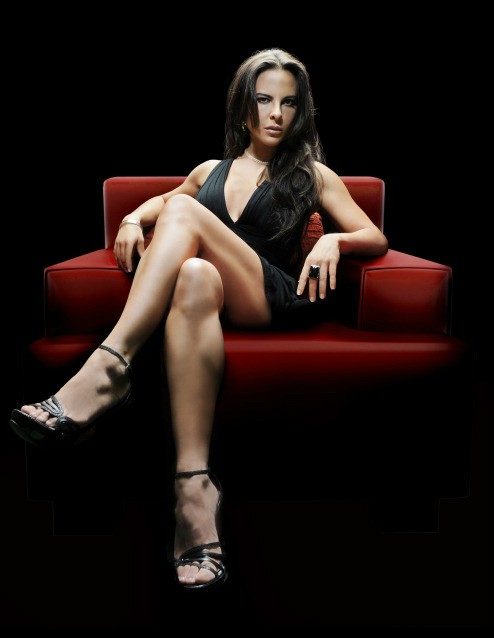 I recently sat down with Kate to ask her about the experience of playing 'The Queen of the North,' and the show having a second life.
Why this role, and how did it come to you?
I read the book probably ten to twelve years ago, and as an actress, you picture yourself doing a role like this. They were going to do the movie and I tried to seek this role [out] and I couldn't. Finally I stopped because Eva Mendes, I guess, was going to do the movie.
Then after a few years they called me and said, "We have the rights for La Reina del Sur and we want you to play Teresa." It's an amazing role and I think this time in my life, it was the right time.
This genre obviously has rich history in Latin American culture. You've done quite a few. Were you a fan, or what's your history with telenovelas?
I started in movies in Mexico and started doing telenovelas in Mexico. American Family was the first thing I did in English. They're very familiar to me because I grew up doing that.
Now, the thing about drug trafficking, it's so touching for a lot of us, especially with us Mexicans. As much as we come closer to reality, the more success we have.
What did you love most about this show?
Working with a great director, with a great author. We were all over the place. We were shooting the whole thing in Colombia and then we finished in Mexico. There's a lot of action, a lot of things that a leading lady doesn't have. It's not typical for a leading lady to be having a lot of action scenes.
She smokes pot, she drinks tequila, she sleeps with everyone she wants, and people love her - so it's a challenge. But at the end of the day, she's a victim, and she became kind of an icon of a strong woman after all this tragedy.
Would you say that was the biggest challenge of the part? Or was there another?
For me to go to Colombia and the novel is very big there, and for them to accept me, was very challenging. It's a lot of responsibility.
In the series, all the tragedy and all the things she has to live with, I did it with her. We grew together and we were surprised together. I didn't want to prepare much because she's not prepared in life.
The mun2 airing is actually the second, after the show debuted on Telemundo. What's it been like to revisit the project?
I finished the whole thing a year and a half ago. This is amazing because I'm getting to see my fellow actors and relive the whole thing.
We never thought it was going to be this successful. It's a pleasure and it's a blessing. A lot of English-speaking audiences wanted to see it, and my American friends said, "I wish I could understand." I think it's very fortunate.
You're also a novelist and a screenwriter - so how much does that change how you look at a script as an actor?
It definitely gives you a lot more, expands your mind in the way that you see things and read things, even books. I've read so many scripts that everything I read, I want it to be good. I can tell what I like.
Do you see yourself doing more writing, or primarily staying with acting? Do you have specific aspirations for your career going forward?

I will always be an actress. I couldn't see myself without acting. But I'd love to direct and keep writing. I don't think one has to be in place of the other.
I just finished a movie where I'm playing a transgendered [person] and that was very challenging, and that's what I want. To be in projects that are interesting to me and [where] I will learn from the character.
Is there a show or a movie that you've enjoyed recently?

I loved The Help and I totally adored The Artist. I love drama. Drama is like my thing. I want a movie that will move something inside me, that's going to shift something and keep me thinking.
My thanks to Kate del Castillo for this interview! You can follow her on Twitter (@katedelcastillo). For more on La Reina del Sur, visit the show page on Mun2.
(c)2012 Brittany Frederick/Digital Airwaves. Appears at Starpulse with permission. All rights reserved. No reproduction permitted.